In 2016, Delhi-based visual artist Nidhi Khurana was invited to visit Art Ichol in Maihar, a small town in Madhya Pradesh. When she reached there, she realised the area was a treasure trove of natural materials that could be put to creative use. "There were eucalyptus and palash trees. So during my first visit, I documented the trees in that area. This research led to collecting material for my project on natural dyes, eco dyes and naturally dyed silk," she said.
She conducted a workshop with the women living in Ichol to sensitise them to this medium of dyeing clothes. "The idea is to bring natural dyes among people so everyone can work from their home and it could become a community activity," she said.
Khurana is not the only one who is helping the village to earn a sustainable income. Fourteen Indian and international artists and indigenous communities of Ichol and Maihar have come together to participate in a multi-disciplinary, interactive exhibition-cum-haat, 'Disappearing Dialogues', a unique two-year collaboration between local communities of Madhya Pradesh around the areas of village Ichol.
The idea of this collaboration is to focus on the fast disappearing cultural and social practices of the area including music, art, environment, architecture and agriculture.
A show that is on at Bikaner House, New Delhi from November 23 to November 29, is bringing together works of several artists such as Khurana, who are helping the local artists to learn new forms of creating valuable art while providing them alternative means of livelihood.
As part of Disappearing Dialogues, Khurana has put on display pieces of silk that were dyed in Maihar. Some of them have the imprints of flowers and leaves. "All the displayed clothes have been dyed using natural dyes extracted from onion skin, harda, eucalyptus, and sirius. Flowers have been used to colour the cloth on which they have done embroidery," she said.
Disappearing Dialogues, was started by Ambica Beri, founding director of Art Ichol. Highlighting the core idea of the project, she said, "It was born out of the belief in supporting the arts parallel to her commitment to community service, skill development and sustainability. Disappearing Dialogues is like a vertical of Art Ichol, that has been initiated and curated by Nobina Gupta. Through the project, we have been able to reach out to many collaborators, government, artists, local communities and other important stakeholders."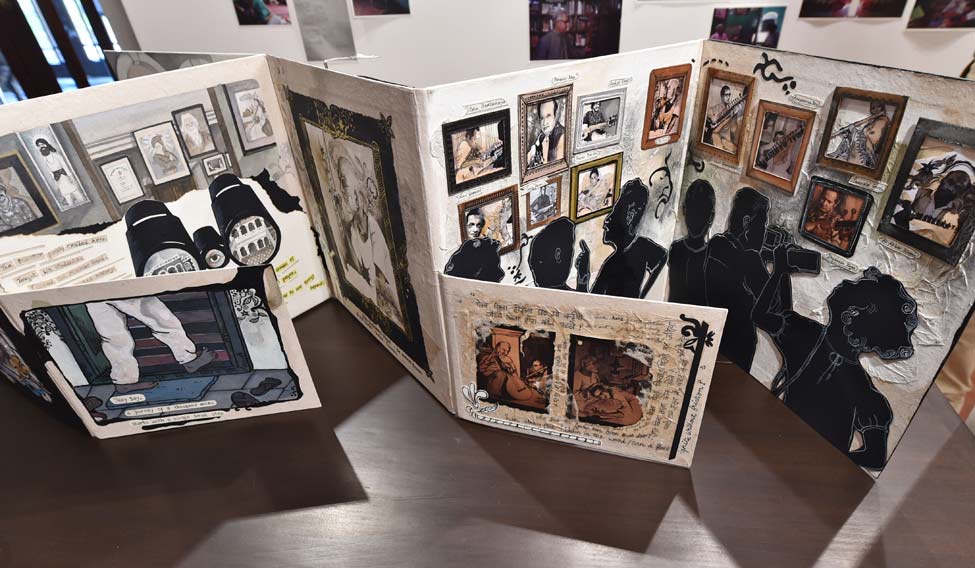 Designer Payal Nath from NGO Kadam, through this initiative, is working with women by engaging them to create crafts and is also helping them reconnect with their roots through folk music. "During my research, I couldn't find much about the history of crafts associated with that region. So when I visited the village, I realised that the only craft they knew was beedi making. However, women also knew folk music and made rangoli," she said. She asked women to use tar bags from the nearby cement factories and colourful threads to make bags and purses. "While making these bags, I also asked them to sing folk songs so that they could remain connected to their roots."
Another person using his skills to restore lost culture is photographer Sandeep Dhopate. Through his photographs, Dhopate has tried to restore the grace of Maihar gharana of Hindustani classical music. His work deals with Madina Bhawan that is the bastion of the Maihar gharana. Music stalwarts such as Pandit Ravi Shankar, Ustad Ali Akbar Khan and Annapurna Devi have all come from Maihar gharana.
The legacy of Maihar gharana is also unique as it is the only gharana where only one generation of musicians has made such a deep impact. However, the legacy of the gharana seems to be lost in time. So the photographer has tried to restore the grace of this place by giving people a glimpse of what used to happen here by using colours.
"I got inspired from Raag Mala paintings of 15th and 16th century. These paintings used Hindustani and classical music to evoke the emotion visually. The basis of Raag Mala is through Natyashastra where every sur is associated with the colours. So I totalled these colours, heard a lot of music from Maihar gharana and tried to understand the emotion a particular raag would evoke into me and accordingly planned my picture," he says.