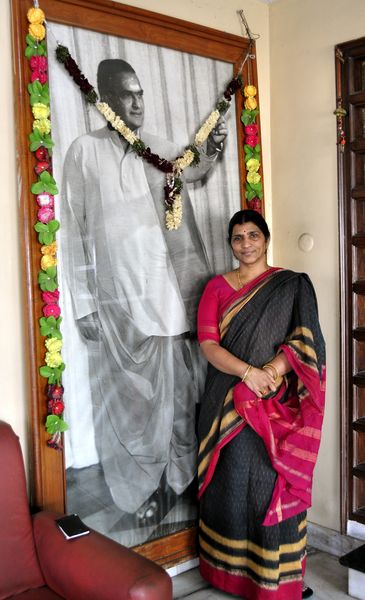 When Lakshmi Parvathi joined the YSR Congress in 2014, she had only one thing on her mind: take Telugu Desam leader Chandrababu Naidu to task. Author-turned-politician, Lakshmi Parvathi is the second wife of N.T. Rama Rao, actor and politician, who founded the Telugu Desam Party in 1982. "Chandrababu Naidu did something against NTR and I have to prove it," she said. "It is a fight for principles and the only reason why I joined the YSR Congress. I wanted a dais. I feel that Jaganmohan Reddy [party chief] and I are in a similar quandary."
It is a known fact that Lakshmi Parvathi is not on good terms with NTR's children from his first marriage. Recently, when his eldest son, Nandamuri Balakrishna, announced a film on his father, Lakshmi Parvathi wanted to know how he planned to portray the turbulent events of 1995 when NTR's second son, Harikrishna, and sons-in-law Chandrababu Naidu and Daggubati Venkateswara Rao staged a coup to dislodge him from the post of chief minister and TDP chief. She threatened to go to court if Naidu was portrayed as hero in the film. "I will not keep quiet if historical facts are twisted in the biopic," she said.
Two marble lions stand guard outside Lakshmi Parvathi's bungalow at Film Nagar in Hyderabad. She salvaged the marble statues from NTR's house on Road 13 in Banjara Hills after it was razed in 2012 by NTR's children. "They meant so much to him," she said. A three-storey apartment complex has come up in its place. Lakshmi Parvathi has built a museum with NTR memorabilia, including his film costumes and jewellery, right opposite the complex.
The house was registered in the name of NTR's youngest daughter Uma Maheshwari, who lived in the US. After NTR's death in 1996, Lakshmi Parvathi continued to live in the house. However, in 2011 she was forcibly evicted. "The family members do not know the facts. They seem to think that it is still owned by Uma Maheshwari," said Lakshmi Parvathi. "One day, my husband called her up and said that he wanted to keep the house and that he would compensate her in cash. She agreed and decided to build a house in the US and NTR paid her in three instalments and got this house transferred to his name. So, legally it should go to his wife." While Lakshmi Parvathi claims to have no interest in money or property, she said she will fight to keep NTR's legacy alive.
A former Sanskrit lecturer from Guntur, Lakshmi Parvathi met NTR in the late 80s and they kept in touch. Later, she volunteered to write his biography. Soon, they fell in love. They would talk for hours on the phone. "That was the time V.P. Singh was the prime minister and NTR managed to get me a phone connection at Narsaraopet in one week. One fine day, NTR showed me a phone bill and said 'see, I am paying a huge phone bill after falling in love with you'," she said with a smile. The bill was a whopping three and a half lakh rupees for one and a half years. "There was so much to talk about, to discuss. We would talk about everything," said Lakshmi Parvathi.
In 1993, when NTR suffered a paralytic stroke, Lakshmi Parvathi took care of him even when his children apparently didn't. She sought strength from him. "Cloudy, dark and muggy days depress me. Once aaina [NTR] and I were sitting on the terrace of our home and I was dull. So he asked me what was wrong. When I told him about my mood he said 'arrey yaar main hoon naa' and then gathered me in a tight hug. I had never felt safer in my life. Darkness simply lifted away from my soul. After his death, unfortunately, it keeps showing its dark face," she said.
Lakshmi Parvathi grew up idolising NTR. "I was fascinated with NTR since childhood," she said. "I would watch his films and drool over his good looks. I even wrote a poem when I was in 9th class and it was all about love. I was invited to TANA [Telugu Association of North America] conference in 1985 and that is where I met P. Upendra, who was then in the Telugu Desam Party. I told him how much I adored NTR and asked him if he could arrange a meeting for me. Well, Upendra remembered and I received an award from NTR at the Andhra Pradesh Bhavan in Delhi. Just thinking of meeting my idol was enough to send me into a tizzy. After receiving the award, I touched his feet and tears rolled down my face. NTR placed his hands on my shoulders and wiped off my tears."
Years later, Lakshmi Parvathi met NTR again during a TDP meeting. "He recognised me and called me by my name," she said. "I asked him for an appointment, he said we could meet the next day. I told him that I wanted to write his biography and he was impressed with my literary abilities and he readily agreed. Whenever I visited Hyderabad during the weekend, I met him at his Abids residence and we would talk over lunch. His family was around him and they knew I was a big fan. NTR told everyone that I was a lecturer and was writing his biography."
NTR invited her to spend more time with him and eventually they started living together. NTR's wife had died of cancer and he needed a companion. "I too had a lot of problems and so it was easy to share it with one another," said Lakshmi Parvathi, who had separated from her husband, artiste Veeragandham Subba Rao, by then.
One fine day NTR asked her to marry him. "I was shocked at one level and thrilled at another. I was in a quandary for I was not sure if the Hindu dharma allowed a second marriage," said Lakshmi Parvathi. "So I told NTR that I needed time. He was really impressed and touched that I would take so much of trouble."
They got married secretly in February 1992, after Lakshmi Parvathi's divorce came through. However, he died a lonely man. He never quite recovered from the shock of the betrayal. He died in January 1996, after a massive cardiac arrest. Eight years after his death, the two-volume biography was published. "After NTR's death, I stopped writing poetry," said Lakshmi Parvathi, who has written several books, including one on Buddhism.
NTR was a foodie and the story about him eating half a kilo of chicken every morning is legendary. Lakshmi Parvathi was never interested in cooking, but she learnt it for him. "I was interested in reading and philosophy, but because NTR loved his food, I learnt it especially for him," she said. A vegetarian, Lakshmi Parvathi cooked traditional chicken curry the way NTR liked it. Now, she has lost interest in cooking again, she said. Her only agenda now is to create trouble for Naidu and make him pay for betraying the man who relied on him.