Cherukuri Satyanarayana, 56, and his wife, Krishnakumari, 52, believe in miracles. Their faith and medical science gave them one on April 2, 2012, when Shivani, their daughter, was born of a surrogate mother. The couple has not stopped thanking for the gift and marvelling at it ever since.
Shivani, or Dolly, as she is called, is quite a spectacle. "You won't believe it, but she started stretching from the first month, and from the third month she was watching children at the academy while they were training," says Satyanarayana, who runs the Cherukuri Volga Archery Academy in Vijayawada, Andhra Pradesh. "When she started crawling, the first thing she wanted to touch was an arrow."
The lives of Satyanarayana and Krishnakumari revolve around Dolly, relishing her achievements and recording the milestones. "My son Lenin always wanted to win an Olympic medal," says Satyanarayana. "We have to live for another 20 years for Dolly."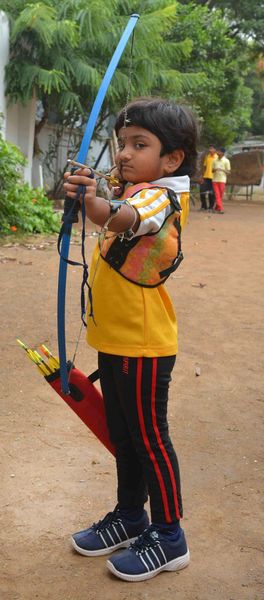 They lost Lenin in a car accident in 2010. The tragedy struck a few days after the proudest moment in their life. Lenin, 24, was felicitated at the Delhi Commonwealth Games as the youngest archery coach in the world. Later, on October 24, 2010, he was felicitated at Jubilee Hall in Hyderabad. The father and son met with an accident on their way back to Vijayawada that night. "I never allowed him to drive," says Satyanarayana. "That day I was tired. We had crossed the last toll booth leading to Vijayawada when we had the accident. Lenin died in that crash and I lost my eyesight."
It is impossible to figure out that Satyanarayana is blind until he tells you that he is. "I have the vision of my third eye. I live my life normally through the help of sound," he says. He has an uncanny ability to move around objects and people.
It was, however, difficult to move on from the loss of their son. Especially because they had lost their daughter six years earlier. Volga was only 17 when she died in a scooter accident on November 29, 2004.
Even after Lenin's death, however, Satyanarayana and Krishnakumari did not let the academy suffer. "We had a good name thanks to Lenin, and we focused on the academy. Then we decided to start a home for orphans from different states," says Satyanarayana. Most of these children have now settled down on their own. Currently, the couple takes care of two children, who are siblings.
"We enjoy looking after the children at home, but they go away," he says. "My cousin's son was doing research in genes and he explained everything in detail about surrogacy and we agreed. We went for the World Championships in Germany and then went to Italy where they were posthumously felicitating Lenin. We met some doctors there. We wanted another Lenin but instead we had a Lenina."
Dolly's archery lessons began even before she was born. As surrogacy was agreed upon, Satyanarayana recorded archery lessons, including Lenin's teachings, and requested the surrogate mother to listen to them every day. "The preparations started when she was in the womb itself," he says. Dolly was born in Satyanarayana's house.
Dolly has been groomed from birth to be a champion. Not surprisingly, she is the youngest Indian to score 200 points in five-metre and seven-metre distances. That means she shot 36 arrows at a target 5 metres away, then did it again from 7 metres away. She fired 72 arrows in total in 24 attempts. She uses arrows specially made for her out of carbon because it is difficult for her to carry normal arrows. In fact, she is shorter than her bow, but switches on and off with great ease. "She needs regular practice," says her coach Chandrasekhar Lagori. "Currently, there is no coach in India who is at Lenin's level. But, to get a good foreign coach is very expensive."
Dolly's custom-made bow was gifted to her by Alexander Nicholas, a Polish coach who is a great admirer of Lenin. It is made of fibre and weighs 250gm. Dolly will soon start using a 500gm bow.
Lenin let go of an MBBS seat because he wanted to concentrate on archery and took a job in the railways. His wife, Kranti, was aware of her parents-in-law's surrogacy plans. Satyanarayana says they have given Kranti their blessing to get married again.
"Our forefathers were freedom fighters," he says. He was a leftist as a young man and part of the Praja Natya Mandalam. "Our forefathers gave us art, dance, history. It is in us," he says.
Satyanarayana and Krishnakumari are extremely protective of Dolly. They do not leave her on her own. "She has Lenin's memory and she is a happy child. She never cries. All her friends are within the compound," says Satyanarayana. Their house and the archery academy are in the same compound. Dolly has started learning kuchipudi and has appeared in Amaravati Geetham, a theme song on Andhra Pradesh. And, a serial on her life is under production.