The university offers degrees and doctoral degrees in English, economics, music, fine arts and computer science. Most of its 1,500 students live on campus in three hostels—two for boys and one for girls.
When the BJP made the surprise announcement of Ram Nath Kovind's candidature for presidency, newspapers reported that a blind guru, Rambhadracharya, had prophesied it. On June 27, the guru confirmed it to me. "Kovind met me at a function in Samastipur [Bihar] in May," he said. "I told him that his good demeanour and humbleness will soon take him to the topmost post of the country. Soon after the announcement of his candidature, he called me and said 'I was just dreaming about [becoming] vice president, and you made me the president'."
I met Jagadguru Rambhadracharya at Tulsi Peeth, his ashram in Satna, Madhya Pradesh. He was born Giridhar Mishra in 1950 in Jaunpur, Uttar Pradesh. As an infant, he lost his eyesight to trachoma and throughout his life he has worked to uplift the disabled. In 2001, he established what he claims is the world's first university for the disabled, in Chitrakoot, Uttar Pradesh. Chitrakoot straddles two states and is about two kilometres from his ashram in Satna.
A Sanskrit scholar, poet, commentator and author, Rambhadracharya received the Padma Vibhushan in 2015 for serving the disabled. He travels the country reciting Ram Katha. He said he knew 22 languages mentioned in the Constitution.
As a child, he did not go to school or learn Braille but memorised religious texts just by listening to people who read them out to him. At 17, he enrolled at the Adarsh Gaurishankar Sanskrit College in Jaunpur, and then did his PhD and DLitt at the Sampurnanand Sanskrit University in Varanasi. "I never scored less than 99 per cent," he said. He visited Chitrakoot regularly while in college. "The place, its religious scent and the serene environs of the Mandakini river always enchanted me," he said. "It has a magnetic pull, which finally drew me here."
In 1996, Rambhadracharya established the Tulsi School for the Blind in Chitrakoot, but wanted to do something bigger. "He was so determined to establish this university that he said he would embrace samadhi [death] if he failed in his efforts," said Yogesh Chandra Dubey, vice chancellor of Jagadguru Rambhadracharya Handicapped University. The university was established through an ordinance in 2001 when BJP leader Rajnath Singh was chief minister of Uttar Pradesh. Rambhadracharya was appointed lifelong chancellor.
The university offers graduate, postgraduate and doctoral degrees in Sanskrit, Hindi, English, economics, music, fine arts and computer science. "The university began with a few broken almirahs, chairs and five disabled students. Today, it has 1,500 students and a huge campus," said Dubey. It is spread over 10 acres and owns another 25 acres for expansion. A majority of the students live on campus in three hostels—two for boys and one for girls. There are 60 teaching and 53 non-teaching staff. Basic facilities like hearing aids are provided to the students free of cost.
The guru's elder sister, Geeta Devi Mishra, is second-in-command at the ashram. "He has faith and uncompromising purity to accomplish any task he takes up," she told me. Better known as 'Buaji', she has been working with him for the past four decades and accompanies him on his visits throughout the country.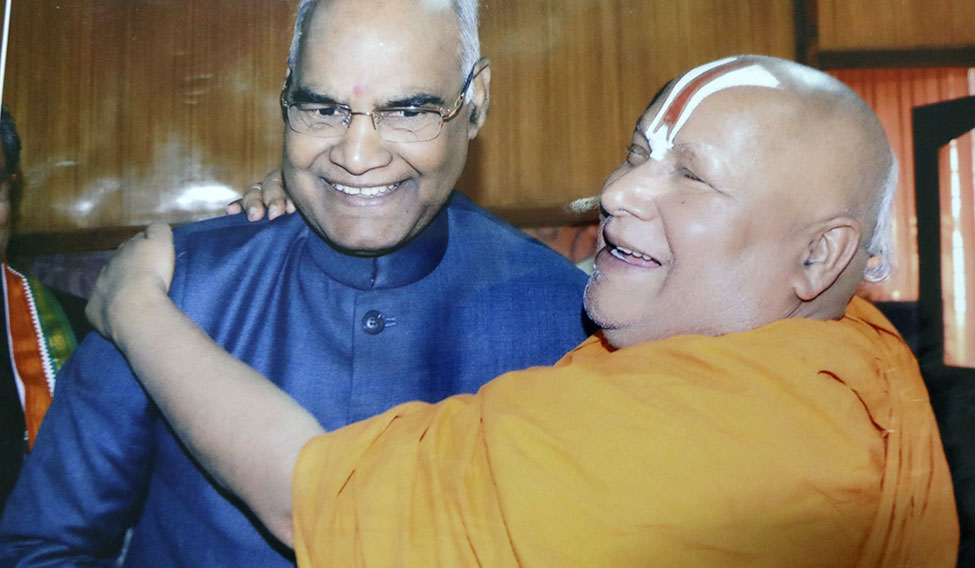 Students and teachers I met spoke highly of him. Jyoti Vishkarma came to the university in 2006 for her graduation and then did her postgraduation as well. After 11 years, she has a PhD and teaches music at the university. "My life changed after I came here," she told me. "I never thought that I would reach such a stage in my life one day. What guruji is doing for people like us even our people won't do."
The guru is writing an 8,000-page treatise on a scholarly work by the Sanskrit grammarian Panini, who lived 400 years before Christ. About a third of the work has been completed. His day begins at four in the morning, with one lakh recitals of the name of God. Around eight in the morning, he begins writing; his disciples jot down what he dictates. In the evening, he meets devotees in a hall on the first floor of Tulsi Peeth. He writes again for three hours from 6pm. Ujjawal Shandilya, who is assisting him in writing the treatise, told me: "Whenever he sits to write, he even forgets himself. Such is the commitment. He is a mystical person."
Rambhadracharya's latest dream is to make JRHU a central university. "Things have started moving in this direction and Union Minister Prakash Javadekar, who visited Chitrakoot last year, has agreed to this in principle," the guru said.