"The short profile of the person that appears on the app is not enough to separate those you want to avoid from the ones who want the same thing as you" - Mira Saraf, a Tinder user

"Dating apps are like party hosts. We try to invite the right kind of people and introduce two individuals. The role of technology ends there; it can't play a role in making matches a success" - Sumesh Menon, co-founder, Woo
In 1975, Aloke Shah had an hour-long meeting at a Nainital hotel with his future wife, Geeta. It was a supervised meeting. "In those days, marriages were arranged mostly through close friends and family members," says Shah, 65. "Once the families had come to an agreement, the boy and the girl were allowed to meet once or twice before they were expected to give an answer. There was no concept of dating. Geeta came with me straight after the wedding to a small place where there was nothing except the two of us and a determination to make the best of it."
Cut to 2016. Nikhil Narain, 33, swipes a decisive left on Tinder, a dating app that he has downloaded on his mobile. On Tinder, you can view profiles of people who have joined the app. You swipe right if you like the profile of a potential match and swipe left if you don't. "I'm looking to connect with like-minded women who have a similar political ideology, interest in food, music and travel," he says. "Once the inhibitions are lowered after a few text chats, one proceeds to the more traditional step of meeting in person. The idea is to be able to have an interesting conversation over a drink or coffee. Something long-term can happen in its own time."
Mira Saraf's parents found love next door; they were neighbours. "The process of meeting and knowing your partner was innocent in our time," says her father, Rakesh. "There was a certain inevitability about how it worked. I had a total of one date with my wife, who was chaperoned by her brother. It was enough for me to make a decision. Today, technology has made people into islands, with moats and walls. Discovering the right life partner often means a heavy investment of time and effort." His words bear the ring of truth because it hasn't been easy for Saraf, 35, to find love. She once swiped right to a stalker on Tinder. "The profile of Rahul stated that he lived three kilometres away. He was good-looking and into poetry," she says. But on their third date, he declared her his girlfriend and Saraf became wary. She sent him a text message ending it, but he kept on calling her until she threatened to report him. "The tricky thing with apps like Tinder is that they don't provide a context," she says. "The short profile of the person that appears on the app is not enough to separate the people you want to avoid from the ones who want the same thing as you, whether it is friendship, hookups or marriage."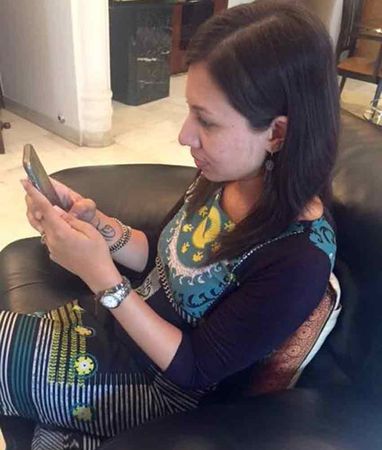 But on the other side of the coin, there are those like web developer Rohan Mehta, 23, "an introverted tech geek" who found that Tinder helped him come out of his shell. "I joined Tinder to become more social and ended up making a few good friends. I even met a girl and we dated for a while."
The urban youth, unlike their parents, are employing more thought and analysis in finding a romantic partner—one reason why dating apps, both international and home-grown, are finding a huge potential in this segment and flourishing. Tinder, launched in the US in 2012, is considered the global pioneer in this arena. The location-based app changed the face of online dating and with it came a new wave in urban relationships and popular culture. For instance, an app called Voizd allows Tinder users to anonymously record their experiences as a way of expressing dating fatigue. Mumbai-based artist Indu Harikumar has started an online art project that turns people's Tinder experiences into illustrations.
Tinder became available in India in 2013 and launched its operations here this year. Taru Kapoor, the app's India head, says the country is Tinder's fastest-growing market and has an energetic and diverse user base. "Digital natives" between 18 and 30 are its core group.
"We are seeing growth across metros and smaller cities fuelled by the youth who want to connect with those outside their immediate social circles," she says. "Traditionally, we don't often interact with those outside our school, college or family groups because of structural barriers and social conditioning. That seems to be changing with urban Indians becoming global citizens."
If Tinder represents the other extreme of a traditional marriage set-up, some home-grown apps like TrulyMadly (India's first indigenous matchmaking app started in 2014), Woo and Aisle are taking the middle path. All three came into existence with the founding members looking for a solution to their own dating woes. "Most of our team members working on innovative app ideas were seeking committed relationships," says Sumesh Menon, the co-founder of Woo. "We then came up with an app that matched people based on common interests and lifestyles."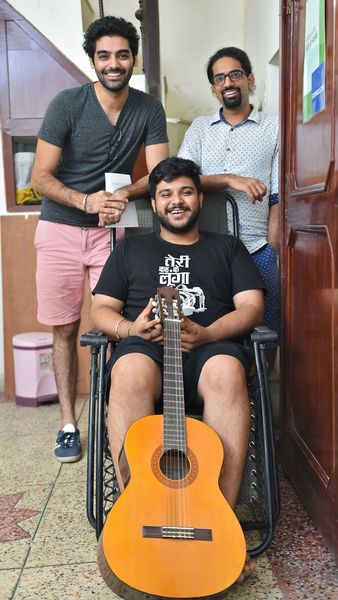 Lifestyles in India have evolved so much that it is now similar to those in mega cities around the world, he feels. "With demanding careers and long commutes becoming the norm, time has become a premium," he says. "In this context, meeting someone special has become challenging and people are acknowledging that." The app has a feature that allows users to do away with small talk and discuss meaningful topics, like life priorities or vacation styles.
Launched in India in 2014, it has got more than three million downloads, expanding to countries like Singapore, Malaysia and Indonesia. Unlike Tinder, Woo is designed to disallow married people from signing up. It also claims to weed out fake profiles. To empower them, women can log on with just their initials and can get more information about men than vice versa.
The founders estimate that the market of singles aged 24 and above is around 20 million currently and will grow to 50 million in the next three years. But how does love and technology mix? "Dating apps are like party hosts," says Menon. "We try to invite the right kind of people and introduce two individuals. The role of technology ends there; it can't play a credible role in predicting matches or making them a success."
Able Joseph, 29, who founded Aisle, feels a dating app must work like a "good event manager curating the right crowd at a nightclub". The two-year-old app calls itself the 'middle path between traditional matrimony websites and casual dating apps'. Joseph's own heartbreak in 2014 formed the bedrock for the idea. "I signed up on matrimonial sites and realised they weren't working for my generation because so many of us have moved out of our homes to work or study," he says. Aisle targets the 'money rich' segment of the late 20s and early 30s rather than the 'time rich' between the ages of 18 and 24. "The older age group lives in metros and have reached a point when their hormones have settled down," he says. Aisle claims to be among the top five profitable dating apps in India.
Joseph sounds disapproving of the casual dating space. "We are westernising at a pace like no other," he says. "It is an instant gratification generation. A number of casual affairs can have serious side-effects on the mind and body in the long term." Although mobiles and social networking platforms are unable to give the complete picture of a person, the virtual space has also brought down "approach anxiety", making it easier for men and women to mix more freely.
Also read: Swipe right for love
Recall the romanticised notion of locking eyes with someone across the street—a scene from your grandmother's era or a mawkish film? Happn, which launched in India this May, seems to have digitised that idea. The two-year-old meeting app from France allows you to discover people you have crossed paths with and want to find again. Happn is real-time geo-localised: each time you pass another user, her profile appears on your timeline. "It doesn't flag the exact location of users—only the neighbourhood where two users crossed paths—and another user cannot contact you unless you've chosen to 'heart' them," says Raajh Singh, spokesperson for the app in India. "It is perhaps the only app that gives you a second chance at a first encounter."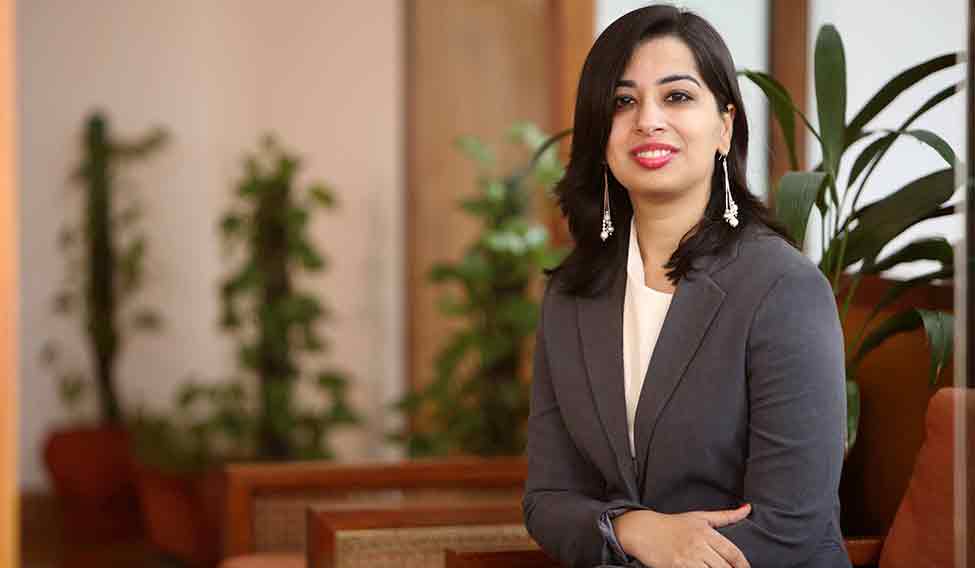 The democratisation of dating and romance through digital platforms also offers hope to those who may have found it tough to find companionship. Imran Garana and Anu Multani, a polio-affected couple from Gujarat, might not have met had Inclov not played Cupid. Gurgaon-based Shankar Srinivasan, 24, came up with Inclov, possibly the world's first matchmaking app for differently-abled people, in January this year. It connects users based on gender, age, location and disability/disorder preference, if any. "It can be used for dating, matrimony or companionship," says Srinivasan. Within six months, the app had 3,200 users, with 65 per cent of them having a disability or disorder. "The remaining 35 per cent, who are without a disability or disorder, are open to being paired with someone who has one," he says. "We have had more than 800 matches on the app so far, with several people meeting face to face. Users had been looking for a partner for many years on different platforms and services unsuccessfully. We felt the need to do something about it." Of the 1.2 billion people with disabilities, 600 million people between the ages of 20 and 60 are single. Nearly 70 per cent of people with disability in India don't find a life partner.
Also read: Love in the time of Tinder
If these dating apps are aiding young Indians to discover love and seek relationships, then a startup is helping them express it. Stayuncle, which was started in 2015 by Sanchit Sethi, 27, and his partner from Europe, digital marketer Blaze Arizanov, came up with the campaign 'couples need a room, not judgement'. It tied up with 'couple friendly' hotels to rent out rooms on an eight- to ten-hour basis. "We started off by catering to business travellers but found many of our queries came from couples," says Sethi. That's when we changed tack." How was the response in a country where some people campaigned against Valentine's Day? "The reactions were extreme," says co-founder Shubhneet Kohli. "People either loved or hated the idea. When we distributed our pamphlets with the campaign slogan, several young people tore them up."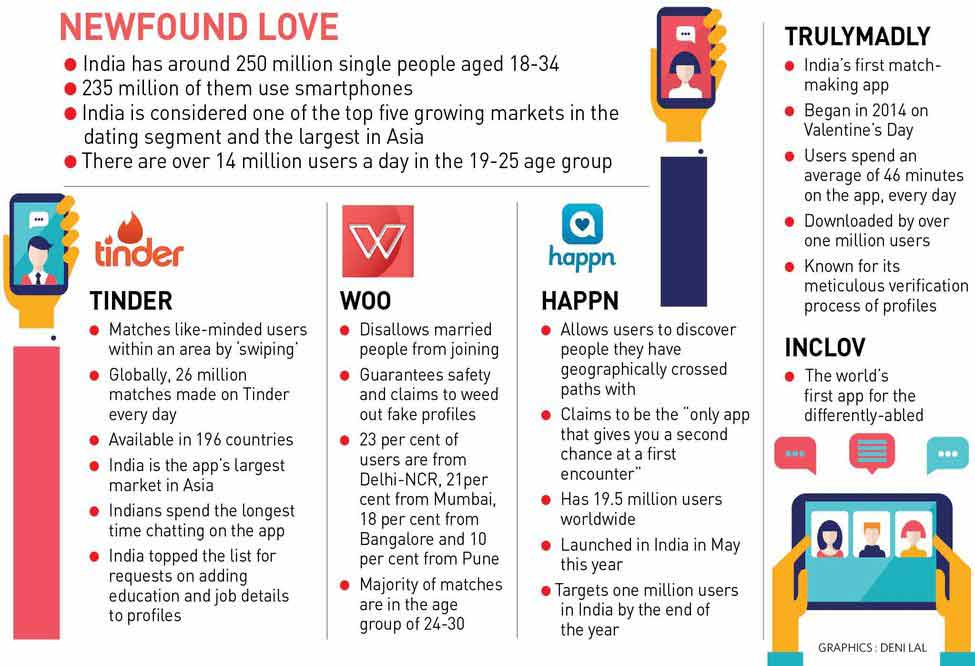 The startup, which is currently funded by Airbnb India, has had nearly 2,000 bookings and tie-ups with more than 100 hotels in Delhi, Mumbai, Bengaluru, Kolkata, Hyderabad, Pune, Jaipur and Gurgaon. Interestingly, the five-star chains don't deny rooms to unmarried couples. "We want to break the stigma among the three- and four-star hotels so that a couple has a safe, four-walled place to go to, instead of using their cars or public parks," says Kohli. The idea, he says, is to normalise the environment around sexuality and relationships."
Depictions in cinema and popular culture also reflect a dynamic society. Films like Masaan showed an unmarried young couple in a non-metro expressing their sexuality. Ki and Ka explored changing gender dynamics in a city. "We wanted to make a film about a sensitive man," explains filmmaker R. Balki. "In the urban context, fewer people are aspiring to spend their lives with one person. Why should they be deprived of the emotional and physical aspects of a relationship because they are not married? It is a healthy sign to experiment with multiple people before finding the right one. Dating apps are making relationships easier to access. Like in life, why shouldn't one have options here too?"
New online resources are coming up to help youngsters negotiate the occasionally confusing terrain of sexuality. Yashraj Films' youth arm has launched a new web show, touted as India's first sex education fiction series, called Sex Chat with Pappu and Papa. It is about a father and son openly discussing sensitive subjects like masturbation, menstruation and contraception.
Agents of Ishq is a bilingual online multi-media project in Hindi and English, founded by a Mumbai-based filmmaker, that aims to give sex a 'good name'. It uses popular culture and language in the form of video, podcasts and downloadable posters to help young people make up their mind about consent, respect and fantasies.
With sexual violence becoming a talking point in society and the virtual world democratising access to love, the idea of sex positivity becomes important. "With the median age being young, sexuality is coming out of the Indian closet," says brand expert Harish Bijoor. "If the digital arena has impacted every aspect of our lives, relationships couldn't have been left behind. We are a closet people: A Dr Jekyll and Mr Hyde society wearing bigger masks at home than outside. Many young Indians find themselves in this cusp society where 20 years from now, the scene is going to be like in the US. Right now, Indian parents are accepting 'someone else's kid doing it'; soon, they will have to accept it with their own." India, it seems, will be re-establishing its Kamasutra society status in times to come. "We may not build new Khajuraho temples but we are moving towards a more open, sexual society with greater mixing of the genders aided by technology."
Bishakha Datta, editor of Deep Dives, an online imprint exploring 'uncharted waters' on sexuality and identity, says the digital world has opened up doors when it comes to romance and love, even for the LGBTQ community. "There is greater scope for experimenting today. You can create a flirtatious image of yourself if you wish to in the online space which might be difficult in a society that hinders sexiness. But there is also a fragmenting of love in urban India. A temporary versus permanent dimension. The idea of choices is changing the nature of our equations, that begins with the fundamental aspect of how you begin a relationship today."
For now, that's one swipe at a time.
Dear (digital) diary…
Heartbreak had long healed. Family references were exhausted. Matrimonial bureaus demanded more money for 'better' profiles. Old friends got hitched and started spawning. Cosy circles gave way to new, disparate ones. Ideas of love and relationships became a blurry churn. Then, dating apps started to appear on the scene. Being a journalist and single, if not love, one hoped to find a story. Here's mine:
Owner of a second smartphone in three years, I downloaded a popular dating app. Friends on the virtual bandwagon familiarised me with its use and jargon. Remember, they said, rolling their eyes, it is an app for casual romance. Don't bother seeking true love on it. Isn't it what you make of a medium? I shot back, stating in my profile, 'not here for hookups'. Up went some images that I felt would reflect my character: a caricature of a nerd, a sepia-toned photo from a field assignment in a forest, a cartoon titled 'Jean-Paul Sartre's Cookbook'. From painfully serious to unexpectedly funny. The idea was to be visible, not distinctly recognisable.
I set the parameters to match with people within a certain radius and age range. Then began the swiping. Swipe this way for yes, that way for no. I swiped right on those I had common friends with on Facebook, since the app used an algorithm through the social networking site. That way, if I met someone, there could be some reference check. No phone numbers would be given out without consent. The apprehension about the neighbour's son or the local grocery store owner seeing me on the app—and judging me for it—was allayed by telling myself that, well, they were on it, too.
There was a plethora of profiles. The new-age entrepreneur. The brooding artist. The self-proclaimed funny guy. Men with newly-married wives. Men with children. Swinger couples with invisible faces. Men with no pictures. Posing in front of waterfalls. Swanky cars. Foreigners visiting India. Indians from other cities. Most smiling. Several hiding behind sunglasses. And, to my initial shock, some 'happily married' friends, too.
A few quick chats ensued. The first coffee date was with an entrepreneur at my favourite hangout. In the course of the short conversation, I made it clear I wasn't up for a 'casual' affair. We became friends. The second date was with a good-looking lawyer who asked if I lived alone. We never met again. The third, with a sports writer, led to at least one good conversation about right and left wing politics.
Then boredom set in. I dipped into my offline singles network. We exchanged views and experiences on our WhatsApp group. One lamented about how no girl swiped right on him. Another had devised a rather interesting strategy. If he met a girl and liked her, he would order a hot coffee. Adding sugar, stirring it and sipping it slowly took time and that helped him get to know her. If he didn't like his date after meeting her, he would order a cold coffee, gulp it down and excuse himself within half an hour. Romance was being rewritten. We laughed. Underlying the humour, there was something poignant. We were all seeking companionship of some kind. Like the 250 million single people in India.