What was the spirit in Santiniketan that moved its art to find a place in history?
In 1901, it was just a village in the khoai [a geological formation of laterite soil shaped like tiny mounds] with just a few trees around when Rabindranath Tagore started a school with five teachers and five students. Today, it is an acknowledged university with an international ambience.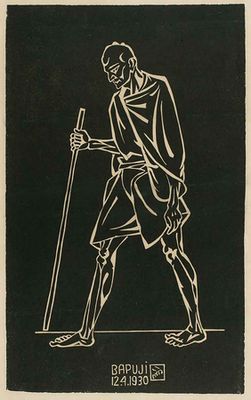 When Kala Bhavan opened in 1919, Nandalal Bose was invited by Tagore to head the art school. He accepted, but with misgivings as he left behind a career in Calcutta, bringing only the bonsai gifted by his guru, Tagore, that he planted in earth, which was indeed symbolic of the change. Over 40 years, this 'master moshai' with his students built a sensibility in art rooted to the soil yet stamped with individuality. His devotion to the Mahatma can be seen in his iconic image of Gandhi on the Dandi salt march.
Such works of Tagore, Bose and two other great masters of the art school—Benodebehari Mukherjee and Ramkinkar Baij—were displayed at The Art of Santiniketan exhibition held at the Delhi Art Gallery, which is on till December 10.
Bose's paintings transformed from stylised figures of mythology to encompass the open undulating landscape, often without figures. Watercolour and the wash technique were his forte, influenced by the far eastern art. When he travelled to Benares, Darjeeling and Nepal, he began his innumerable letters with sketches on postcards. I marvel at his innovations, compressing into compact size with pen and ink the details of mountainsides and valleys, to define man's place in the universe. This sensibility was nurtured by Santiniketan's masters to behold "the vastness of nature, massive as that of the skies, the change of seasons, the sunsets and sunrises, the tumult of the rains...." (from Rabindranath Rachanabali).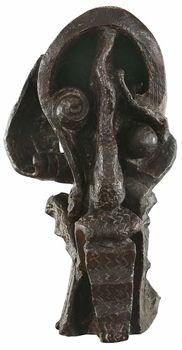 Tagore's own paintings explore these mysteries. He started painting late in life—after the age of 63. Painting brought him freedom; it came as a release of his inner imagination, an exciting discovery by accident—beginning with doodles in pen and ink to scratch out his words and lines on paper. Humour found release in a medium where it was possible, and the lyrical cadence of his songs invaded his pictures. Invariably, the mysterious woman in his images had the same haunting face, dark and melancholic, associated with his sister-in-law, Kadambari. In Europe, he held two exhibitions in the 1920s, which got a mixed response—the paintings seemed too naïve for the poet laureate. Yet it was Tagore's paintings that freed the vocabulary of Indian painting from mythology and narrative to express the inner essence of nature and people or one could call it their soul.
Tagore wanted the focus in Santiniketan to move away from western influence to Asia. In accord with Chinese and Japanese traditions, these masters then stamped their paintings with a red seal in a corner instead of the usual signature.
Mukherjee's perspective is closer to nature, but peopled with human figures, as seen in his drawing of Benaras and in his faded fresco of the Birbhum landscape on the ceiling of Kala Bhavan.
The paintings and sculptures of Baij focused on men and women, especially the Santhals living on the outskirts of the campus—of labourers in fields, of industrial workers in Mill Call. The far eastern art held no appeal; Baij was instead inspired by European modernism and fascinated by the Bauhaus exhibition from Germany that came to Santiniketan. The most powerful impact of this is seen in his portrait of Tagore—the poet's head is rendered with lopsided eyes and a prominently large nose. There is no flattery; it is an irreverent and startling closeup.