On September 6, the defence ministry tweeted a 50-year-old picture of the then 22-year-old Flying Officer Vinod Nebb, a hero of the 1965 war, who had shot down a Pakistani Sabre jet and had been awarded the Vir Chakra. The tweet was a tribute to a living hero who, later in the 1971 war, earned another Vir Chakra.
However, Defence Minister Manohar Parrikar's announcement the previous day, stating that those who opted for "voluntary retirement scheme" would not be eligible for the One Rank, One Pension (OROP), had already jolted Nebb, who had put in his papers in 1990, shortly after suffering a heart attack. So now, would he be rendered ineligible for the enhanced pension?
Ex-servicemen raised their voice, stating the peculiar nature of defence service, which doesn't have VRS, but a premature retirement after 20 years of pensionable service. This is to allow the medically unfit to be boarded out and to offer an exit to those superseded by the steeply pyramidal promotional system.
The following day, Prime Minister Narendra Modi made a reassurance that those who were "forced to take premature retirement would be eligible for OROP". Over subsequent days, the Union government made further remarks, including one from Parrikar again, stating military personnel who adhere to proper procedures (while applying for premature retirement) would get OROP.
The OROP implementation will incur an additional cost of Rs.10,000 crore initially and it will increase with time, said Parrikar.
The VRS/premature retirement issue, however, has several rankling points, which have rendered the OROP announcement rather flat. So while veterans called off their fast unto death after Modi's announcement, nothing else has changed in the ongoing agitation at the United Front of Ex-Servicemen (an umbrella organisation of 40 ex-servicemen bodies) pandal at Jantar Mantar. If anything, the number of volunteers for the relay fast is only increasing. A soldier doesn't turn back midway from a fight, say the veterans.
Indeed, while the Modi government is trying to score brownie points for settling an issue unresolved for 42 years, the UPA alliance is quick to counter that it had approved OROP at the end of its term in 2014 and that Modi's OROP formula is anything but one rank, one pension. "If ex-servicemen are rejecting six of the seven announcements, how can the government claim to have implemented OROP?" asked National Conference leader Omar Abdullah. However, Rajya Sabha member Rajeev Chandrasekhar, who was the interlocutor for the veterans, feels the main issue, which was to bring servicemen who retired several years ago to present day pension scales, has been achieved. He says other issues could be ironed out through talks over the next couple of years.
The VRS/premature retirement caveat in Parrikar's announcement came as a shocker as this point was not raised in recent OROP discussions or mentioned by the Koshiyari Committee, based on whose recommendations the UPA government had approved the scheme. However, government sources insist that premature retirement has been a major reason why OROP was routinely scuttled.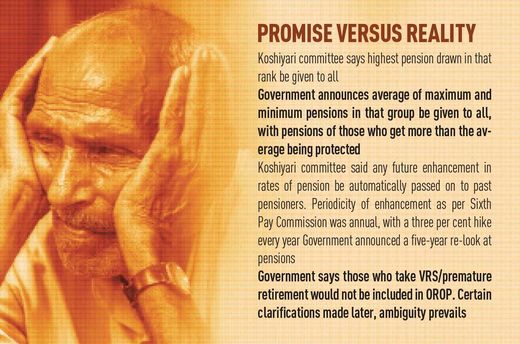 "It's okay if they want to do this with retired men, who are only cannon fodder now," says Nebb. "But how does the government hope to encourage fresh blood into the services this way?" Adds Colonel A.K. Kaul: "A percentage of men, called the X group, are kept as reserve force for a certain age even after they take premature retirement, so that, in case of requirement, they can be recalled. In 1971, many premature pensioners were recalled to handle administrative and logistical responsibilities. The services are a different ball game altogether, one needs a proper understanding of it."
This issue apart, the ambiguity of what's left unsaid may lead to the government getting less political mileage from the announcement than it hoped. According to Parrikar, arrears will be paid from July 2014, in a single instalment for widows and in four equal half-yearly instalments for others. But there is no date set on when these funds will be disbursed. Sources say at least half the arrears could be disbursed during this fiscal.
Officers who had won a case for getting arrears of rank pay from 1986, introduced in the Fourth Pay Commission, haven't got a paisa yet. Their contempt of court petition against the government has been pending with the Supreme Court for two years. They are a cynical lot and don't believe a promise till they see it fulfilled.
Other vexing issues remain. Parrikar's new definition of uniform pension is the average of the maximum and minimum for a particular band, with pensions of those who get more than the average of the group being protected. The initial proposal, however, was to give everyone the top pension of the scale. The periodicity of review, as decided by Koshiyari committee, was annual, but the government has settled at a five-yearly review initially, and has announced a one-man judicial commission to submit a report on it. The terms and mandate of this commission haven't been stated. Meanwhile, there is anxiety that even the announced enhancement may not happen till the commission submits it report. Maj General Satbir Singh, a leader of the agitation, says if at all a commission is appointed, it should be a five-member one with representation from veterans, too.
The veterans' agitation is gaining support from civil society and donations pour in ceaselessly. The 1990 batch of students from Delhi's Army Public School sent a cheque of Rs.1 crore, while a group of NRIs in the US has sent a million dollars. One veteran's family came from Kathmandu to hand over a contribution. "We have no shortage of either funds or volunteers. The agitation continues," says Kaul.
Para parity
The paramilitary forces won a major battle recently when the Delhi High Court directed the Centre to treat all group A officers of the paramilitary forces, namely Border Security Force, Indo-Tibetan Border Police, Central Industrial Security Force, Sashastra Seema Bal and Central Reserve Police Force on par with the civil services for service upgrade pay, or non-functional upgrade (NFU), which was introduced for babus in the Sixth Pay Commission. The court directed the government to pay arrears since 2006. The order benefits around 11,000 officers.
Paramilitary units comprise two types of officers, those from the Indian Police Service (IPS) and those from what are referred to as "home-grown cadres". While IPS officers got NFU, the home-grown cadres didn't, thus creating two sets of salaries for the same work.
Military officers, however, have been kept out of the NFU ambit, an issue that is rankling since 2006.