A few days ago, an assistant sub-inspector in Latur district in Maharashtra, Yunus Sheikh, was beaten up and forced to hold a saffron flag in a rally taken out to celebrate Chhatrapati Shivaji's birth anniversary. His offence: he tried to carry out orders of the district administration, which had declared a certain area in Panegaon as a 'sensitive zone'. When Sheikh told the local people that hoisting the saffron flag was not allowed, he was assaulted and forced to participate in the rally, holding a saffron flag as the crowd raised slogans. An inquiry into the incident has been ordered.
A few months ago, members of the Shiv Sena attacked Sudheendra Kulkarni, chairman of the Observer Research Foundation, and smeared black ink on his face. His crime: he organised an event in Mumbai to launch former Pakistan foreign minister Khurshid Mahmud Kasuri's book Neither a Hawk, Nor a Dove. "They thought we would get scared and cancel our programme," Kulkarni later told THE WEEK. "But I told the media that we were going ahead with it. That sent out a strong message."
The controversy related to the charges of sedition against students of Jawaharlal Nehru University has once again put focus on ugly Indian patriots, those who have appointed themselves as keepers of nationalism. Their jingoistic fervour leaves no room for debate and dialogue, the essential features of a democracy.
On the other hand, an argument could be made against the 'secularists' who provoke the ugly patriots. Dissent is one thing, and glorifying a terrorist convicted by the Supreme Court, and whose mercy petition was rejected by the president, is another. According to former attorney general Soli Sorabjee, slogans such as 'Tum kitney Afzal maroge, har ghar mein Afzal niklega', which a group of JNU students allegedly raised, amount to incitement.
The problem posed by ugly patriots, however, is the most worrying one, say observers. "The idea of patriotism concerns us all," says Abhinandan Sekhri, cofounder of the media site Newslaundry. "Nationalism is a political tool that can be misused to horrific ends."
It seems to be a time when one's love for the country must be shown either by cornering people into raising slogans (like what lawyers in Delhi did with a TV crew, saying they would answer questions only if the crew chanted 'Vande Mataram') or by hoisting a 40ft-long national flag on a pole 207ft high (as the HRD ministry asked authorities in all central universities to do). "With the new order, there will be an additional expense of Rs 40 lakh a flag, adding up to about 060 crore to get standardised ones, as estimated by my colleague, Anand Ranganathan," says Sekhri.
Jingoism has found takers even among those who are pledged to uphold the rule of law. Lawyers shouting slogans recently went on the rampage at the Patiala House Court Complex in Delhi, injuring protesting students and teachers and journalists. A sting operation caught three lawyers admitting that they had beaten up Kanhaiya Kumar, the JNU Students' Union president who was arrested on sedition charges, in police custody for three hours.
THE WEEK met Vikram Chauhan, one of the lawyers accused of leading the violence at the Patiala House Court Complex. The 37-year-old, who hails from Rewari in Haryana, said he was "basically from the Congress". Son of an Army man, Chauhan graduated from the Maharshi Dayanand University in Rohtak. "In Rohtak, I have canvassed for [Congress leader] Deepender Singh Hooda," he said.
Asked about his supposedly close links to BJP ministers, Chauhan said people make that assumption because of the photos on his Facebook page. "I get clicked with many celebrities and politicians and put those photos up [on Facebook]."
Was he involved in the violence at Patiala House? "Two TV channels are saying that Vikram hit people," he said. "Why aren't they turning eyewitnesses? Why is [journalist] Rajdeep Sardesai or NDTV reporters silent now? They are trying to divert the issue…. Their agenda is to paint us lawyers as goons. Channels are also running someone else's photo under my name."
Chauhan said he and colleagues told a TV crew that they would reply to questions only if they raised patriotic slogans. "They didn't say it," he said. "If you don't say it, and love Pakistan so much, why don't you go live there? Kya Vande Mataram kehna goondagardi hai (Is it hooliganism to tell people to chant Vande Mataram)?"
The viewpoint of people like Chauhan gives a sense that the idea of nationalism is being narrowed. If an act, person or perception does not fit into the mainstream definition of patriotism, it is seen as anti-national. And alternative views are deemed subversive.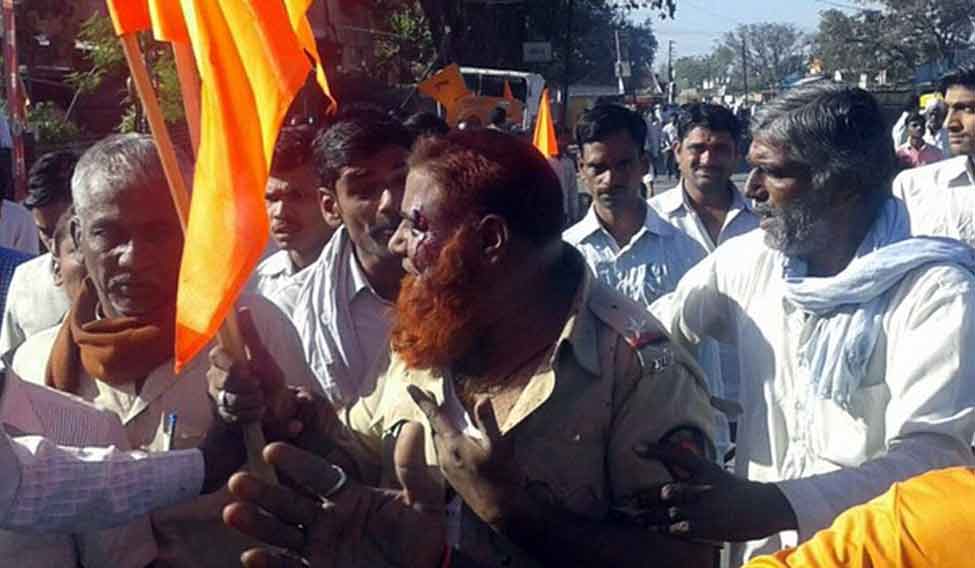 According to Deepak Pawar, who teaches political science at Mumbai University, a totalitarian regime wants conformity of thoughts, not just actions. "If individuals do not express their love for the country, they would be looked upon as anti-nationals," says Pawar.
Author Tabish Khair offers a philosophical take. "In a lot of countries—not just the highly nationalist US, but also places like Denmark—where many people deny being nationalists, they hoist their national flags on almost every occasion, at private houses and public institutions. In Denmark, paper flags are put out during parties and birthdays as a decoration. A flag is like the concept of God. It all depends on what you do with it: You can seek to create with it, or you can seek to destroy with it," says Khair.
Others stress on the need to go beyond symbolism. "What we need in universities is the space where debates on social issues take place in a congenial manner," says professor and activist Ram Puniyani.
A defining feature of ugly patriotism is the glorification of the soldier as the only true patriot. While the sacrifice of life is seen as the highest one in the case of a soldier, there are others who perform equally noble acts—a doctor treating the poor for free, a reporter shedding light on human rights issues, an activist standing up for the rights of the marginalised, an intellectual offering his valuable insights and so on. According to Puniyani, all who swear by the Constitution are patriots. "Singling out a soldier is a jingoistic exercise," he says.
According to Sekhri, the politics of a battle and the duty of a soldier are two different things. "As soldiers, their duty is to protect civilians. As civilians, it is our duty to debate the reasons for that battle he goes into, risking his life. Their patriotism is to take orders. Our patriotism is to ensure their service isn't demeaned," says Sekhri.
The ugly patriot also tries hard to manage public perception, which reflects in their bids to spread disinformation through social media. "There is an army of trolls who are out to create an atmosphere of pseudo-nationalism for their political goals," says Puniyani. "They pick up some issue and present it in an aggressive way to browbeat those who don't agree with them. So the soldier, flag and anthem come handy for the construction of mass hysteria."
Says Congress leader Ratnakar Mahajan, who has been at the receiving end of ugly patriotism in channel discussions. "For the current dispensation in power, patriotism is essentially dictatorial, high-handed and not in keeping with the spirit of evolution of patriotism in India…. The present dispensation wants primacy of their own religion," he says.
The Latur incident, says Pawar, is a template of ugly patriotism. "When patriotism of some groups results in such templates, what is the guarantee that these forces won't start beheadings, as is being done by the Islamic State? That is why it is important that sanity must prevail at the highest levels of governance and that institutions like universities be handled in a sensitive manner," he says.
Perhaps, the ugly patriots would do well to read what Rabindranath Tagore wrote about nationalism a hundred years ago—the idea of nationalism as one of humanism. "I have no hesitation in saying that those who are gifted with the moral power of love and vision of spiritual unity, who have the least feeling of enmity against aliens, and the sympathetic insight to place themselves in the position of others, will be the fittest to take their permanent place in the age that is lying before us, and those who are constantly developing their instinct of fight and intolerance of aliens will be eliminated," wrote Tagore. "For this is the problem before us, and we have to prove our humanity by solving it through the help of our higher nature."
WITH DNYANESH JATHAR