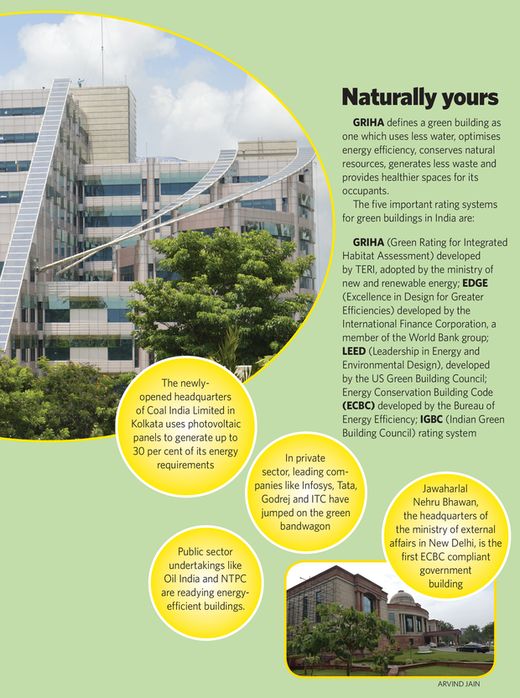 On May 15, Piyush Goyal, Union minister for power, coal and new and renewable energy, was in Kolkata to inaugurate the new headquarters of Coal India Limited. He arrived well before the scheduled time to have a look at the building. A week before the inauguration, the architects had told him how several thousand photovoltaic panels were used to generate up to 30 per cent of the building's energy requirements. The minister looked impressed and he praised Coal India chairman S. Bhattacharya for augmenting renewable energy sources in the behemoth.
Coal India is not alone. A number of public sector undertakings and corporates, including the National Thermal Power Corporation and Oil India Limited, are readying energy-efficient buildings. "We are aiming at making a statement with symbolism as well as substance," said Kamal Meattle of Paharpur Business Centre in New Delhi. The company has engaged an Australian firm to make its one-lakh-square-foot business centre at Nehru Place environment friendly. "Delhi's ambient air is unbreathable. Moreover, indoor air is ten times more polluted than outside. We understand that productivity will not go up unless the wellness of the people working here is ensured," said Meattle.
Software giant Infosys is developing a 40-acre green campus in Nagpur, and ITC has started work on one coming up in 16 acres in Kolkata. Even the pharmaceutical industry, often criticised for being a highly-polluting sector, is looking to change its worldview. Ahmedabad based pharma major Zydus Cadilla has commissioned work for a green building to serve as its corporate headquarters.
Residential projects, too, look to go green as comfort, clean air and energy become more important for home buyers compared with prime location, price or facilities like pools and club houses. Giving a fillip to this trend, a new green building code called GRIHA (Green Rating for Integrated Habitat Assessment) to suit Indian conditions was developed by The Energy and Resources Institute, Delhi, with support from the ministry of new and renewable energy. This takes the number of green building codes used in India to five (see graphics). "There was a vacuum when it came to having an India-specific green building rating system for residential buildings," said Manit Rastogi, an architect who contributed towards formulating GRIHA.
In India, till 1991, there was little awareness about green buildings, probably because pollution was not acute and resources were so constrained. However, the situation changed quickly and, by 2003, India's first green-rated building, the CII-Sohrabji Godrej Green Business Centre, came up in Hyderabad. Following this, the Leadership in Energy and Environmental Design (LEED) rating system, developed in the US, became popular. It has so far been used for developing 1.2 lakh square feet of commercial property in the country, according to the Indian Green Building Council.
"The existing green building parameters set the energy efficiency bar way too low. Also, building materials that are considered 'green' often need to be imported and add to the cost burden," said Rastogi. "With GRIHA, we started with ensuring a sustainable site development so that dust and waste from building material do not become a problem."
While it may not be easy to convert an existing building to a green one, experts suggest many easy solutions to make them more energy efficient. Using right-sized windows and skylights, cutting out the heat with natural screens like water curtains and terrace gardens, and using thicker, insulated walls can bring down the power needed for air conditioning by up to 40 per cent. The technique of radiant cooling, which involves cool water pipes running through concrete walls or ceilings, can keep temperatures down even during the peak summer season, without using air conditioners.
Delhi Lieutenant Governor Najeeb Jung has formed an ecological research group to look at steps to make green buildings more pocket friendly. "For buyers, it should be a cost-effective proposition and should not come at a premium," said a member of the group. "These buildings are definitely cheaper to run and consume much less resources. A waiver on property tax is under consideration for green buildings and we are working to establish the basic norms for implementing this."
In Pune, GRIHA has been made mandatory for all new buildings. "This has fast tracked environmental clearance and has also allowed us to increase the floor area ratio in projects," said Lalit Kumar Jain, president, Confederation of Real Estate Developers of India.
Builders like Tata Housing and Godrej Properties have started marketing their green projects with innovations like water harvesting and water recycling. "Sewage is treated by physical and biological treatment units. As part of the natural treatment system, wetland species are used. The treatment efficiency is 90 to 98 per cent," said A. Harikesh of Tata Housing Development Company.
Homebuyers are enthused about green buildings because of their energy efficiency. "An aware client appreciates the value that green buildings provide and demands it," said Prashant Kapoor, principal industry specialist with the International Finance Corporation. "There are a lot of locally available solutions for green buildings in India.... What is needed is the right instrument to defy the assumption that green designs belong only to the affluent," he said.
Delhi-based architect Raj Rewal, who designed the Coal India headquarters, said Indians had been the first in the world to create micro-climatic zones within houses, using courtyards and fountains. "Now, we need to marry the traditional with modern science to have the ideal green buildings," he said. Subsidies would possibly nudge people towards adopting green practices. "Despite the bureaucratic apathy towards subsidies, what is needed perhaps is a subsidy regime for five years to kickstart green building practices. A start could be made by including a green building mandate for the 200 smart cities the government has proposed and make them more than just internet smart."