A battle is breaking out in the fields. Seed producing companies are in a race for a share of what farmers sow and reap; and the government is coming up with prohibitions that could chase away genetically modified (GM) traits in the country.
In the past few months, the Union agriculture ministry under Radha Mohan Singh has been firing salvos at the Bt cotton industry; especially Monsanto, the American agricultural biotechnology corporation, which holds the patent for Bt cotton—the only GM crop commercially cultivated in India. Monsanto collects trait fee and licensing fee from seed producers and royalties from farmers.
Last December, the agriculture ministry brought out a Cotton Seeds Price (Control) Order that sought to cap the fees charged on Bt cotton seeds to 10 per cent. The order was notified in March, and it stipulated a ceiling of Rs 25 lakh a year on the upfront fee for a new cotton trait and put a caveat that if the GM trait is reported to have lost its efficacy, the licensee cannot claim any trait value. Monsanto's right to collect royalties and trait fee was recognised under section 66 of the Indian Patents Act.
In India, 15 seed companies produce their own lines of Bt cotton using Monsanto's research on disease and pest resistant traits, such as Bollgard and Bollgard-II. Earlier this year, some of these seed companies accused the multinational of anti-competitive practices and petitioned the agriculture ministry to take up the matter with the Competition Commission of India. The commission has ordered an investigation of the complaints against Mahyco Monsanto Biotech (India) Ltd, an equal joint venture between Maharashtra Hybrid Seeds Company and Monsanto Holdings.
In May, the ministry circulated a notification titled Draft Licensing and Formats for GM Technology Agreement Guidelines, 2016, which mandated that any technology developer, if approached by a seed company seeking its research, should give it within 30 days. In effect, the draft sought to intervene in trade secrets and patents rights.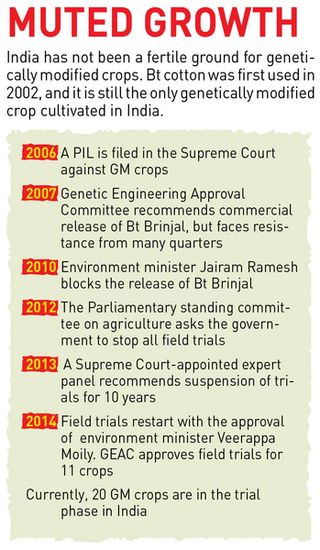 Minister Radha Mohan Singh said the government was not against Monsanto. "The government is trying to bring in a fair, reasonable and non-discriminatory (FRAND) system of evaluating patents in the new regime under the National Intellectual Property Policy [NIPP]. On genetically modified cotton technology, we are only extending the same systems as defined under NIPP," Singh told THE WEEK.
In response, Monsanto withdrew its application to Genetic Engineering Approval Committee, India's biotech regulator, for approval to commercialise Bollgard II Roundup Ready Flex technology. In a letter to GEAC, Mahyco sought the return of all data and scientific reports of the new crop variety that it had submitted for approval. "We had developed the herbicide tolerant variety of transgenic cotton after years of research, and its withdrawal to commercialise the technology in India proves that there are major challenges ahead for the government's policy on licensing seeds technology," said Raju Barwale, chairman of Mahyco.
National Seed Association of India had long been the only industry lobby in the sector. But recently some members broke away from it to form a new lobby group under the banner of Federation of Seed Industry of India. "Seed is a game-changer to improve productivity and farmers' income. We will work closely with the government on all policy matters on seeds research and commercialisation. Prime Minister Narendra Modi's vision is to double farmer's income by 2020. We would like to work towards achieving that vision," said M. Ramasami, chairman and managing director of Rasi Seeds, who is set to be president of FSII.
These seed companies are batting for a market-determined price for Bt cotton. "We collectively spend 0525 crore every year on seed research and employ more than 900 scientists. All research expense on developing Bt lines is paid by the seed industry. We believe that the market should determine the prices. We are for the market-driven mechanism rather than any regulatory mechanism," said Ramasami.
Scientists want the government to take note of the concerns of the industry. "There are 10 different Bt cotton research available in India and 49 different bilateral Bt technology companies with technology provider, seed companies and several state seeds corporations. All of them will be impacted by this ruling. The maximum retail price of Bt cotton is regulated under the Essential Commodities Act. The ministry of agriculture could well be overstepping into another jurisdiction with such orders," said Bhagirath Choudhary, biotechnology expert and founder of South Asia Biotechnology Centre. "Such moves will stifle innovation and we will be left behind with age-old farming techniques and high levels of hunger."
Many scientist-supported groups have written to the government to reconsider its take on agricultural patents. The ministry is yet to drop a hint on which way it would go.