NCAP seeks to replace CISF with security guards of airlines or private security guards approved by BCAS.

Ground handling operations contribute a good share of airlines' revenues.

ICAO (a UN agency) and IATA have questioned India time and again about lack of training for ground staff and the low-cost flying model.

NCAP allows airlines to provide non-core security at airports and even lend their personnel to other airlines.
On December 24, 1999, a group of terrorists hijacked Indian Airlines flight IC-814 from Kathmandu to Delhi, with 178 passengers and 11 crew members, and ordered the pilot to divert it to Lahore. The pilot, captain Devi Sharan, told the hijackers that there wasn't enough fuel and landed it at Amritsar to refuel. Sharan had thus provided a small window for the Indian government to intervene. During the halt of 45 minutes, authorities allowed a bowser to refuel the plane. They discreetly told the airport not to disengage the bowser till a response team was formed to tackle the situation.
The bowser operator, a contract employee at the airport, however, disengaged the fuel line immediately after the refuelling and the flight took off. "That is where the Indian government lost its last chance to intervene in the hijack," said A.S. Dulat, former chief of the Research and Analysis Wing and author of the book Kashmir: The Vajpayee Years.
Many important decisions taken by the cabinet committee on security (CCS), along with the aviation and home ministries, after that hijack 17 years ago are still not adhered to, said Dulat. "There were recommendations for raising an airport response group that specialises in handling hijack situations. Only Delhi and Mumbai airports have such a response team," he said.
The major recommendations of the CCS were to streamline the ground handling business and reduce risk by keeping contractors and their workers out of sensitive areas in the airport. The committee recommended that only bonafide whole-time employees should be allowed to work in high security zones. To improve accountability, it wanted to restrict the number of ground handlers that could operate in a non-competition environment. It also recommended different service providers for different services for an aircraft from arrival to departure.
"These firewalls are crucial to ensure that airport staff gets a minimal chance for any collusion," said Captain Mohan Ranganathan, an air safety consultant. "Today, the security levels at airports are at a level where everyone does everything. Standard operating procedure laid down by manufacturers and global safety agencies are bypassed every day. We are lucky that we still fly."
The Ground Handling Policy of 2007—suggested by the CCS in 2000 and 2004—was notified in 2010, three years after the deadline given by the government to airlines. But it was reversed soon. The Federation of Indian Airlines got the Supreme Court to delay the policy for another six years.
The airline industry's displeasure was understandable, as ground handling operations contributed a good share of their revenues. Currently, the matter has inched to a pushover victory for them. They have now found a preference in the National Civil Aviation Policy, 2016 (NCAP), as they have seen an opportunity to take over other operations centred on their aircraft and passengers at airports.
The Ground Handling Policy of 2007 required airlines to outsource ground handling in Delhi, Mumbai, Kolkata, Chennai, Hyderabad and Bengaluru airports to an airport operator along with a partner; an arm of the national carrier, Air India; or a company selected by the operator. Elsewhere, airlines were allowed to manage ground handling on their own or through agents.
"The 2007 Ground Handling Policy was stayed after airlines went to court, saying it would make operations more expensive and take away their unique selling proposition of providing extra services to passengers," said Piyush Gupta, counsel for many airlines and head of aviation and competition law practice at Kochhar & Company. "Allowing the airlines to handle ground handling themselves may lead to cost savings for the airlines, but there are concerns regarding safety and security of personal belongings of the passengers. It would be prudent for the government to quantify standards and benchmark costs for ground handling such that safety and security may not be compromised."
The International Civil Aviation Organization (a UN agency) and the International Air Transport Association (IATA) have questioned India time and again about lack of training for ground staff and the low-cost flying model. "The job at any airport is a highly specialised one and needs intensive training and background check of employees. Security lapse occurs when airlines are allowed a free hand to engage or hire from manpower suppliers on flimsy grounds," said Prem Bajaj, chairman and managing director of Bhadra International, a ground handling agency. He said there were about 30,000 non-trained and non-entitled entities in Indian airports but only 14,000 entitled airport employees.
Bajaj was critical of the government's decision in the NCAP to have more ground handling agencies at airports for the sake of 'fair competition'. "Despite Delhi and Mumbai airports having more than 40 million passengers, ground handling agencies who have entered the business after the initial two agencies have gone bankrupt over time. In airports of other metro cities, the numbers fall to 10 million. There is not enough flights to sustain more than one private agency at our airports," he said.
The civil aviation ministry, however, sees nothing wrong in airlines doing non-core functions. "Have you ever seen or felt that airlines were not performing their duties as per norms?" asked Rajiv Nayan Choubey, civil aviation secretary. In response to a question on allowing employment of contract workers, he said no contract workers would be allowed.
NCAP allows airlines to provide non-core security at airport and even lend their security personnel to another airline. Domestic airlines, though allowed to do self-handling at all airports, will not be permitted to do third-party handling. They, however, are allowed to hire equipment from third parties. "Let us hope there will be no outsourcing to manpower contractors and there will be level playing conditions now," said Murali Ramachandran, CEO of the ground handling company Celebi Aviation. "We hope that it is adhered to diligently by the authorities and the deployment of non-entitled entities is now abolished. The ministry has not been successful in this area till now despite clear policy and court directions."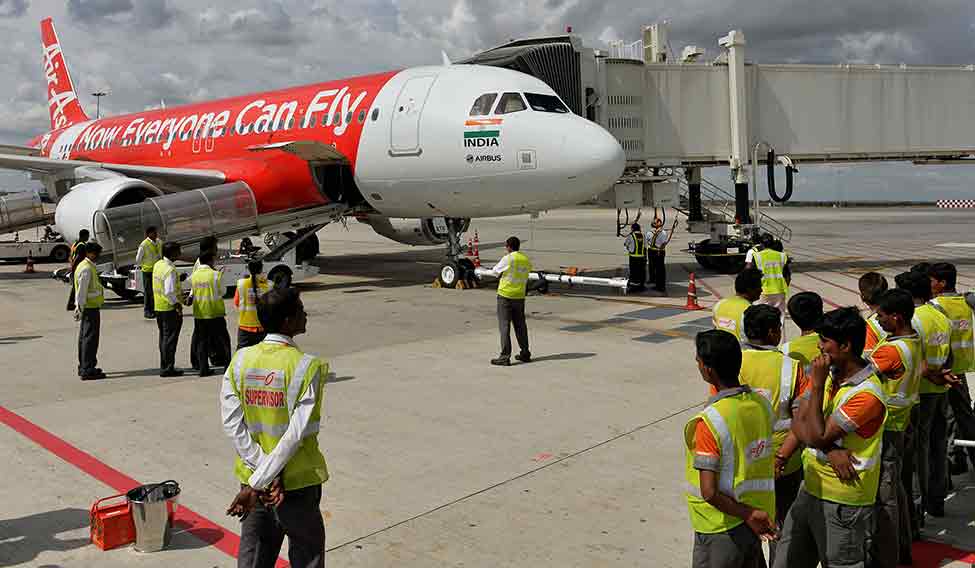 The bigger concern, however, is security. Most domestic airlines fail to adhere to even basic security protocols. On July 21, a SpiceJet flight from Dubai to Amritsar took off with the baggage of a passenger who had not boarded. The passenger, an Indonesian woman, had missed the flight in Dubai. The incident triggered panic and the aircraft was isolated on the runway in Amritsar and the unclaimed baggage was removed from the plane's baggage hold. The Directorate General of Civil Aviation is investigating the incident.
Recently in Delhi, two cleaners of Indigo Airlines were caught with goods stolen from an aircraft and hidden in their garbage bag. The Central Industrial Security Force handed them over to Delhi Police. Earlier, Delhi Police had arrested two ground staff of the Indira Gandhi International Airport for stealing valuables from passengers' baggage. The two men, who were employed by Air India SATS, were nabbed with the help of CCTV footage.
Smuggling is rampant at international airports in Delhi, Ahmedabad, Mumbai, Bengaluru, Chennai and Kochi. In Kochi last year, Air Customs Intelligence arrested a customs officer and 32 airport staff for their alleged involvement in a racket of gold smuggling that used passengers as carriers. The crackdown began on March 25, with the seizure of 13kg gold from a bus ferrying passengers from the aircraft to the terminal.
Recent incidents of gold smuggling by flight stewards also underline the need for a ground handling policy that keeps the airlines out of it. Finding security glitches in Air India's hub-and-spoke policy, the home ministry has red flagged the national carrier's ambitious plan for connecting several tier-II cities with international destinations. In this, international passengers are required to clear immigration and security at the boarding airport but no check is done at their port of exit. Since such flights also carry domestic passengers who get off in Delhi or Mumbai, there is a risk that someone can leave the country by exchanging boarding passes with someone who might have a pass for the international trip.
"This is a very serious security risk which we can't ignore. We want Air India to ensure that the system is foolproof," said a CISF officer. The home ministry has sought a security and immigration check at hubs. In the past two years, Air India has emerged as a hot favourite of smugglers. Incidents of international passengers exiting without immigration check at airports like Ahmedabad, Panaji and Amritsar have been reported.
In another bizarre incident in the Delhi airport in July, several kilograms of gold was replaced in a customs locker with a fake yellow metal. Earlier, too, there had been cases of gold and valuables missing from the vault. "The known pilferage since 2014 had gone up to 24kg of gold. Complaints for all of these have been registered at the IGI police station," said Sanjay Mangal, customs commissioner at Delhi airport.
Airport security officers said no one other than customs personnel was allowed to enter the vault area. The police have started an investigation alongside the Central Vigilance Commission's investigation of some customs officers.
Airline employees have taken advantage of the lack of screening of air crew while exiting airports. Some of them work as couriers for gold smugglers. Airline employees and ground staff at some airports have been found working in collusion with smuggling rackets.
Another rising threat to airlines was reflected in the arrest of Anitesh Giri Goswami by Delhi Police's cyber crime cell. The 23-year-old from Pune was accused of hacking frequent flyer member accounts to get the points and selling them to travel agents. The police raided an apartment in Jaipur and confiscated Goswami's laptop, several mobile phones and documents. An IT expert, he had earlier worked with Kingfisher Airlines and Air India and was well-versed in the online ticket-booking system and functioning of Air India's intranet.
"We are all vulnerable and there is no guaranteed way to stay a step ahead. That makes real time collaboration and information exchange with governments and across the industry critical. Make no mistake. We face real threats," said Tony Tyler, chairman of IATA, during a recent visit to India.
NCAP seeks to replace CISF with security guards of airlines or private security guards approved by Bureau of Civil Aviation Security. "A single security jawan needs to be paid 060,000 a month. This adds to the cost of operations at airports. Now airlines will be allowed to hire their own security," said Choubey while unveiling the policy.
Security experts, however, said that would be disastrous. "So far, only the CISF has a dedicated air emergency response team," said an expert. "Over the years they have formed the airport security group as a tightly knit operation that engages in intelligence gathering to be able to even intercept a hijack or deal with a natural calamity situation at the airport. Their contribution and expertise cannot be measured by money alone."