Origami is an ancient art form that is more than 1,000 years old," says Anto, an art therapist, to six students between the ages of 12 and 14. "Origami was brought to Japan, where it flourished, by Buddhist monks from China."
We are sitting at Udhaya Bhavan, a home run by nuns in an economically backward part of Kochi. Volunteers and therapists of the NGO, The Art Outreach Society (TAOS), come here to hold sessions of art therapy for the children. "Through Origami, I teach children concepts of mathematics and geometry," Anto tells me.
"Do you remember what we learned in the last session?" he asks the children.
"To make water pumps, boxes and butterflies," the children chorus.
Soon, slips of coloured paper are distributed and the children are taught in various steps how to make an origami box. Some of them learn the concepts faster and it is heartening to see how they lay aside their work to help the others.
"Art is not just something to be bought and sold," says Tanya Abraham, who founded TAOS in April last year. "It can give intellectual and emotional stimulation that can help you connect to your creative side. Ultimately, it can help you perform better as a human being." She says art therapy has helped her personally as an individual. "I was always interested in art as my family is deeply involved in it," she says. "My father is an artist and filmmaker and my grandfather was a patron of an ancient art form. I myself went to a small school in Fort Cochin where it was mandatory to study art for four hours a week. I used to have an art teacher from America who used to teach us papier mache and various other art forms. I know it helped me greatly. That's the kind of art education I want to impart to children today." Abraham worked as a journalist for 12 years (she is the author of Fort Cochin, History and Untold Stories) before getting into art curation. Currently, she is the creative director of Kashi Art Gallery in Fort Cochin.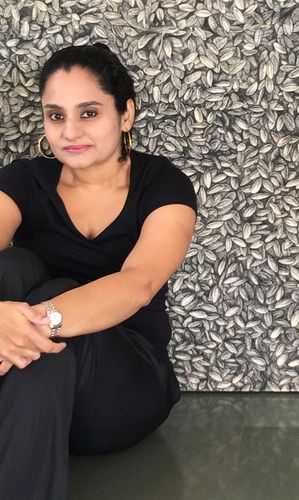 "It was after attending one of these art therapy workshops that I got the courage to start TAOS," she says. "I'd always wanted to do it but something was holding me back—maybe the fear of failure. Then I attended this workshop and felt something loosening within me. Suddenly, I knew I had to start TAOS."
TAOS, she says, has three objectives: to promote art education among less privileged children, to use art for emotional healing and to build communities through art. The NGO has, so far, held various workshops on papier mache, puppet theatre and mask-making at many schools in Kochi. Going deeper into the psyche of a child, it has had workshops where the therapist asked the students and teachers to sit in groups and, together, draw a concept decided upon by everyone. Everyone expressed an emotion connected to this concept and put up a mini theatrical presentation.
In another workshop, children found emotional healing through movement. A trained classical dancer and creative movement therapist taught the students how to move their bodies and hands to express emotions like anger, hate, happiness and joy.
"I use art therapy to help participants gain self-awareness, self-esteem and understanding and to help them think about how they look and feel about themselves," says Andrea Tabernero, an art therapist from Spain who collaborated with TAOS. With the help of a psychological framework made by clinical psychologist Saisha Partiman, Tabernero devised methods for participants to express their emotions in a wave format—negative emotions that helped them understand the root of their pain and trauma gradually turning into positive emotions. The workshop aimed to enable individuals to heal past experiences that had hindered them from leading fulfilling lives.
"Art therapy has personally helped me a lot," she says. "I ventured into it seriously after my father's death. My grief made me question the meaning of life. That's when expressing myself through art gave me direction and helped me tide over the rough times. I think that people have an innate tendency towards self-realisation, a thirst for awareness, a desire to be happy, to live a full and meaningful life. At the same time, they have the resources within them to bring this to fruition. Here is where art therapy can help."
Abraham talks of how art therapy has helped children. "Once, we'd given all the children a picture of a face and asked them to finish the drawing," she says. "There was this one girl—she must have been 14 or so—who drew a hand throttling her face, which had a calm look. She meant that people around her were choking her but she had learned how to take care of herself. Another time, we asked children to use colours to depict their emotions. Most children used colours that were predictable—yellow for happiness and red for anger. There was this one child who used black for happiness and other vague colours to depict his emotions. All this doesn't come from a conscious level at all. It is extremely personal for each child."
As Eckhart Tolle, a spiritual teacher, once said: "All true artists, whether they know it or not, create from a place of no-mind, from inner stillness." Says Abraham: "We might not all have the genes to be a great artist but we have the creativity."