"The NISH will pave the way for other institutes of the kind in the country, for the disabled and the needy" - Thaawar Chand Gehlot, Union minister for social justice and empowerment
Thiruvananthapuram and the southwest monsoon are not the best of chums. When heavy rains lash Kerala in June and July, its capital city is sweltering on most days. Notwithstanding the vagaries of weather, a few eight-year-olds are engrossed in a rather cool conversation. Says Unni Dev: "See the picture of Lord Ram hanging on the wall." Retorts Devika: "But my favourite God is Lord Shiva." Interrupts Seethamol: "Ram is smaller than Shiva, isn't he?" There is a pause and Ammu joins: "Devika, see Hanuman prostrating in front of Ram. Isn't he a God? Then, why is he doing it?" Unni Dev, Devika, Seethamol and Ammu spend their weekends at the National Institute of Speech and Hearing in the city. Born with hearing deficiencies, they underwent a successful early-intervention programme at the institute. Now they can speak, albeit with the aid of hearing devices. They have joined regular schools and are doing well.
Located on the outskirts of the city, NISH was recently elevated as India's first university for disability studies and rehabilitation sciences. A blueprint has been prepared and the detailed project report has been submitted to the Union government for an official takeover. Said Thaawar Chand Gehlot, Union minister for social justice and empowerment, to THE WEEK: "I am happy to see the progress that NISH has made over the years. The Central government is immediately allocating $100 crore for the institute. More money will follow. A cabinet approval is the last hurdle before NISH is officially taken over as a Central university. I am sure everything will be done in two or three months. The NISH will pave the way for other institutes of the kind in the country, for the disabled and the needy."
Since its establishment in 1997, NISH, which functions under the social welfare ministry of the Kerala government, with around 500 students, has made notable contributions in improving the quality of life of individuals with hearing and speech disorders. Not just early intervention programmes for children, the institute also offers degree courses for students with hearing problems. Courses include bachelor of fine arts, BSc in computer science, bachelor of commerce, audiology and speech language pathology. There is a diploma course for those interested in teaching children with disability. The Kerala government has spent $30 crore on NISH, since its inception.
NISH is the brainchild of G. Vijayaraghavan, technocrat and member of the state planning commission, who played an important role in ushering in information technology in Kerala in the 90s. The Kerala government proposed the idea to set up NISH in 1996 on Vijayaraghavan's suggestion; it was registered as a society in October 1997. The first batch of teachers was sent to an institute in Chennai for training. A pre-school for children with hearing problems was started. Says Vijayaraghavan, honorary director, NISH: "I want NISH to develop into a university like Oxford or Cambridge. If people want to work in the area of disability, this is where they should come. I want NISH to be the largest institute for people with disability in Asia."

Vijayaraghavan's twin daughters—Lakshmi and Parvathy—were born with hearing problems. The worry he had for his twins motivated him to conceive NISH. "When my daughters were young, I had no option but to take them to Mysuru and Chennai for check-ups," he says. "There was no good treatment those days in Kerala." Now, there are more reasons for Vijayaraghavan to be content. Lakshmi and Parvathy, who did their bachelor of fine arts at NISH, married people with the same disability. Says Abin Pious George, Vijayaraghavan's son-in-law: "I belong to Idukki. I went to a normal school till graduation. But I got the confidence after joining NISH."
Vijayaraghavan says he had no issues with the government. Things went smooth, he says. "Everything was executed by the state government the way I wanted. I got support from successive governments that came to power from 1997," he says.
Says Daisy Sebastian, coordinator, NISH: "The first language of the deaf is the sign language. You are not born deaf and dumb. Because you are deaf, you are mute. We help children detect hearing problems at an early stage. There are early intervention programmes which help students pick up the language and speak." Ears are very important, Daisy says, "We never close our ears, unlike eyes. Deafness is more complex than blindness." Motivating parents, she adds, is important. "There is a stigma associated with children with hearing problems. If parents are motivated, half the task is over. Teachers merely facilitate."
NISH has training programmes for parents, too. Saritha P.V. is one among them and from Kasaragod, the other end of the state. "My son Nanda Mohan, 7, had hearing problems," says Saritha. "It was detected early at the institute and proper remedy and training were given. Now, he is attending school like any other normal child. He comes to NISH on weekends to learn English through sign language, as the early intervention programme here was in Malayalam." Saritha even teaches at NISH. "It is my service towards others like my son," she says.
Vijayaraghavan says that money is not the primary goal of the faculty and staff of NISH. They want to work passionately for the disabled and want to make a difference, he says.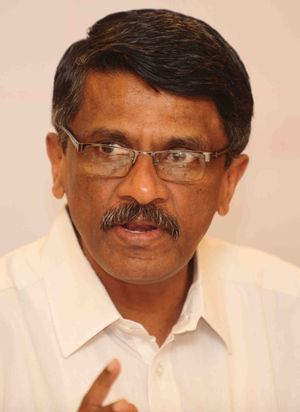 Vijayaraghavan wants NISH to be modelled on the Gallaudet University in Washington DC, which is considered the best institute for hard of hearing students. In fact, his daughters did a postgraduate programme at Gallaudet. "The degree certificate given to graduates of Gallaudet University is signed by the US president," says Vijayaraghavan.
He adds that people with hearing problems should feel privileged. "They need to get empathy, not sympathy from others. The NISH changed that to a great extent," he says, and goes on to share an interesting incident. "Once I took students from NISH to the legislative assembly of Kerala to make them see the proceedings of the house. The Speaker said I can tell the students to sit in the visitor's gallery and see the proceedings. But I told the Speaker that I don't need his permission for it. I told him that if he doesn't allow us, we will go inside the assembly. The Speaker had to finally agree. Students went up to the dais of the Speaker." The incident was widely reported by the media. Says Vijayaraghavan, "Malayala Manorama's headline was the best. It said 'Children of NISH stand where even MLAs dare not'."
Says Samuel Mathew, executive director, NISH: "We are here to serve society. We have connected people with disability to the mainstream. The Union government's decision is a mandate that we have got for our work." Mathew is happy that some students with hearing problems who graduated from NISH have joined companies like Wipro and Allianz Cornhill. "Society used to give these special children petty jobs earlier. Now they are being recruited by multinational companies on merit basis. All of them have high intellectual capabilities," says Mathew.
Kannan R.S. did his BSc at NISH a few years ago. He is now employed in Wipro, Bengaluru, and can speak and hear with lip movements and sign language. He mailed us this note: "My work was a bit tough here, initially. But now I have no problems. I work in a team and get full cooperation from my colleagues." His mother, Shobhakumari, is on cloud nine. "I had faced a lot of problems educating Kannan. In school, classmates used to make fun of him. But NISH changed it completely. He is now supremely confident of his abilities. My son and I owe a lot to NISH," she says.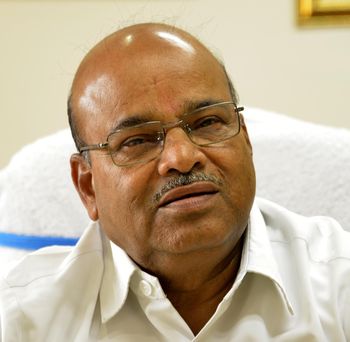 Balu Gopakumar, who graduated from NISH, is now an employee of Allianz Cornhill in Thiruvananthapuram. Says Balu in an email: "I got the job because of the course I did at NISH. The entire experience has changed my life. The lab sessions, communication and external academy projects at NISH have helped me evolve as a person. It improved my technical skills as well as soft skills."
Arun Gopal, another NISH graduate, topped the BFA course in July 2013 and now teaches fine arts at the institute. "I started working as a fine arts lecturer in November 2013," says Gopal. "I gifted my painting to prime minister Manmohan Singh during Emerging Kerala 2011. I got the third prize in a cartoon competition held during Kerala University festival in 2012."
Apparently, every year more than 6 lakh infants in the world are born with hearing difficulties. Says Dr Jeena Ajish, an ENT specialist in Thrissur: "If detected and treated early, there is a solution for all kinds of deafness. Hearing aids and cochlear implantation are not the last resort to cure deafness. It is, in fact, the beginning." Apparently, scientists are developing stem cell technology as a therapy to cure deafness. These cells, they believe, could be converted into hair cells and neurons in the inner ear. "But it is too early to say if this could act as a permanent solution to all kinds of deafness," says Ajish.