"At our ashram, the primary focus is to teach yoga. Yoga is filling a spiritual vacuum in the west and the east." - Nataraj, director, Sivananda Ashram, near Neyyar dam
The Neyyar dam lies in the lap of the low hills of the Western Ghats, surrounded by verdant gardens, 35km east of Thiruvananthapuram. Adjacent to the 60-year-old dam stands the Sivananda Ashram; one of the 60 Sivananda centres and ashrams worldwide. People wearing yellow T-shirts and white bottoms greeted us with folded hands and 'Om Namo Shivaya'. In the huge yoga hall next to the reception sat a group of 20 people who had joined a vacation course in yoga. Instructions came over the loudspeaker—'inhale, exhale, turn to your right, lift your leg, move forward'. A notice outside the hall blazoned out the major rules of the ashram: no smoking, no drinking, no skinny-dipping in the lake.
Established in 1978 by Swami Vishnudevananda, the Sivananda Ashram is devoted to the practice and circulation of yoga as taught by his guru, Swami Sivananda. People from all corners of the world visit the ashram to experience yoga, ayurveda and Vedanta. There are teachers training courses and ayurveda counsellors certification courses open to students of all levels.
"At our ashram, the primary focus is to teach yoga. Yoga is filling a spiritual vacuum in the west and the east," said the ashram director Nataraj, a catholic from Britain who has adopted a Hindu name. "I extend my Indian visa every five years. I go to the UK once in a while. I can see God in any form. Yoga and Swami Vishnu's teachings tell us that there is only one God and one truth," he said.
The day at the ashram begins with group meditation and chantings. Yoga classes are held every morning—from 8am to 10am—for different batches. There is also one post noon. It is an in-depth study of asanas, pranayama, meditation and yogic diet. Vegetarian food and tea are served in between. Inmates retire to bed before 10pm.
People say there is growing anger and discontent in today's world. So, I asked Nataraj if the Sivananda ashrams had a solution for it. Said Nataraj, "If you want to have a peaceful world, find peace within yourself." Nataraj came to the ashram in 1997 and became its director in 2003. He met his wife here. She works at the accounts section. "I am thinking of getting an Indian citizenship," he said. "It is mandatory to know an Indian language for it. I would prefer Hindi to Malayalam." The ashram has 90 paid staff, 30 voluntary staff and 60 guests at any given time. "During peak seasons, we get even 400 guests," said Suresh Kumar, administrator at the ashram.
This year marks the 60th anniversary of Sivananda Yoga Vedanta Centres worldwide. The group has 11 ashrams, 20 centres and many affiliated centres worldwide. The headquarters is in Quebec, Canada. Four ashrams are in India, two in the US and one each in Bahamas, Austria, France and Vietnam. The centres are in Brazil, China, Germany, Israel, Italy and a few other countries. "We will be soon setting up an ashram in Gudur in Andhra Pradesh," said Nataraj.
More than 40,000 yoga teachers have been trained worldwide, since the first Sivananda teachers' training course was held in 1969.
Srinivas, executive board member, Sivananda Yoga Vedanta Centres, was critical of the way yoga is spreading abroad. "Much of the practice of yoga in the west is reductionist, as a physical and at times a mental health regime or strategy. It is not yet an existential awakening that addresses the root causes of suffering and conflict," said Srinivas, who is based in the US.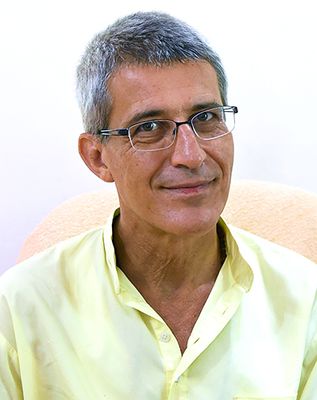 Cathal Sheehan and Katie Barrow have been seeing each other for a while. Cathal is from Ireland and Katie is from Great Britain. Now settled in Australia, they have been attending a yoga course at the Neyyar dam ashram for 20 days. "Earlier, for us, yoga was just an exercise. Now after attending the programme here, we have realised it is much more complex and deep," said Cathal, who is a chartered accountant. I asked him why an anti-immigrant and anti-Muslim sentiment was resonating with more and more voters in Europe. He said, "There is a lot to learn from yoga and the teachings of Hinduism. No country can afford to blame its minorities." Katie said, "Yoga can help kill such a thought. Brexit makes me uneasy to go to Britain again." She is a fashion buyer and plans to marry Cathal in September.
Yoko from Tokyo has been at the ashram for three months. "In Tokyo, yoga is considered more of an exercise. There is no philosophy attached to it. I wanted to get into the depth of yoga," she said. Yoko had done a teachers' training course at the ashram some years ago. "At the end of the course, I felt I wanted to stay in India for a longer period," said Yoko, who goes by the spiritual name Kalyani. She said after learning about yoga and Hindu rituals, she was more inclined towards Hinduism. "I am basically a Buddhist. Hinduism and Buddhism are more or less same. Yoga, I feel, is not religion-centric."
Peace can only be spread by those who live it fully in their own beings, and are an example and inspiration to others, said Carmel Johnson aka Kaivalya, a long-time teacher at the Sivananda Yoga Centre in Paris. "Therefore, the most powerful thing we can do for the world is to become a powerhouse of peace and universal love, through intense spiritual practice, from which we can truly serve and help others find their own peace," she said.
She said that the Sivananda centres in Paris and Orleans attract more than 5,000 students every month. "This year we have given a record number of six teachers' training courses at the ashram, where students experience a full immersion into yoga life in order to prepare them to be ambassadors for peace," she said.
Swami Sivananda was a Tamil doctor from Malaysia who joined the Ramakrishna order founded by Vivekananda. Sivananda set up his ashram in Rishikesh and taught the lighter path to spirituality. He sent out his favourite student, Vishnudevananda, a Malayali, to establish yoga centres all over the world. Vishnudevananda was also known as the 'flying' swamy, as he took the message of peace to some of the world's troubled spots. On September 15, 1983, he flew over the Berlin Wall and showered letters of peace and flowers from his plane. "He was a remarkable personality," said Nataraj.
The ashram organises free ayurveda medical camps in Thiruvananthapuram district. There is an ayurvedic doctor at the ashram and panchakarma treatments are given to guests round the clock.
Said C.K. Hareendran, the local MLA, who is a Marxist, "The ashram is doing good work. I have visited the ashram many times."
Suresh said a group of people from Iran had attended a residential programme there for a few days in May. The women came in burqas but wore the uniform of the ashram after they enrolled for the programme.
One of the interesting programmes is for children of 7 to 14 years of age. They live in the ashram for 21 days, strictly following the rules and having no connection with home. "It transforms them," said Suresh. "They get to learn Hindu culture in detail at such a young age. We teach them basic yoga and make them read the Gita. All of them gradually develop a liking for it."