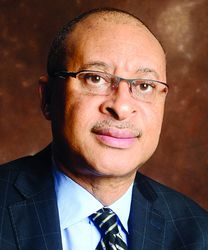 Top Nigerian economist Patrick Okedinachi Utomi, aka Pat Utomi, is the founder of Centre for Value in Leadership and co-founder of the Lagos Business School. He was adviser to former president Shehu Shagari and, in 2011, ran unsuccessfully for Nigerian presidency. In an exclusive interview with THE WEEK, Utomi talks about India-Nigeria relations and the attack on Nigerians in India.
Nigeria and India are emerging economies. Nigeria is India's biggest trading partner in Africa. What potential does the relation between the two countries have?
India is the most populous democracy in the world and Nigeria is the most populous democracy in Africa. Their collaboration can result in the global balance of power sought in the original Bandung conference of non-aligned nations and even in the South Commission [South Centre].
In Nigeria, you have Indian companies run by the Nigerians and Nigerian companies run by the Indians. How special is the relation between the Nigerians and the Indians in Nigeria?
I come to this question with many points of personal reflection. I have served on the boards of more than one company founded by Indians. I shared friendships with the people in the Indian professional forum and some Indian diplomats. Lalit Mansingh, who was the Indian high commissioner to Nigeria in the mid-1990s, was often generous in his remarks about me. He inspired my first visit to India in the 1990s. The relation between our countries runs deep with Indian businessmen having a better understanding of Nigerian culture than most other foreign businessmen in Nigeria do. This should enable partnership for large-scale ventures that Europeans and Americans could find challenging from the many stereotypes out there, as commerce is largely about trust and managing uncertainty. Managing Uncertainty is, ironically, the title of my 1998 book on strategy and private enterprise-led economic growth.
In which sectors, specifically, should India and Nigeria work?
I think opportunities abound in agriculture, manufacturing and information and technology. Nigeria has much to learn from how India conquered the bleak history of a country that could not feed itself and companies like Mahindra could manufacture agriculture equipment on ground in Nigeria while spreading good practice. An area with much potential, which has been ignored, is the creative arts. A collaboration between Nollywood [Nigeria's film industry] and Bollywood can be quite impactful.
What are your views on PM Narendra Modi and his model of development?
I admire his tenacity and focus and I believe his commitment to dismantling the licence raj will serve India well.
Nigerians have been assaulted in some parts of India. Does it remain a concern for the Nigerians? Do you fear that there could be retaliatory attacks in Nigeria? The government of India has promised strict action against the culprits. What more needs to be done?
Clearly, Nigerians are concerned by the violent attacks in India. Xenophobia is not acceptable in this age, but Nigerians have a decent record of coping with such. We have experienced it in South Africa with no reprisals but it is important to state that a Nigerian's life is highly valued everywhere, and where that inalienable dignity of the human person is assaulted, there will be consequences.
You, recently, urged people to halt impending anarchy in Nigeria and said the country was walking towards failure.
For 40 years I have canvassed for honest, accountable governing in which the interest of the citizen is central to the essence of public life. This is because I believe the public sphere should be about thought leadership that gives society ideas that seed culture in a way that makes progress continuous. Jared Diamond's research in the book Collapse points to how societies have failed through history. It confirms the essence of a Harvard colloquium on how values shape human progress, which was captured in the book Culture Matters by Lawrence E. Harrison. So, I always think proactively about how to shape culture, which in my view is the prime goal of leadership. In some ways, this was not done well during the years of state capture [systematic political corruption] which marked Nigeria's political experience since military rule. The result is that we have a society in which the perception is of injustice writ large and fears that this could degenerate along the lines of Robert Kaplan in the book The Coming Anarchy.
You have said that President Muhammadu Buhari is ruling Nigeria with a medieval mindset. Why oppose him?
I do not oppose President Buhari. Indeed, many hold me accountable for his being elected. This is especially the case with the business community, the youth and intelligentsia. I was just making reference to a leadership style I thought is not the most appropriate for a complex, multi-ethnic modern society where the emphasis should be on loving everybody inside the house rather than plenty outside.
You ran for the presidency of Nigeria in 2011. Will we see you contest again?
It depends. If the situation is right, I may. The objective is not to have a title but to build a nation and a better society.
Is Boko Haram finished in Nigeria?
Not yet. As far as territory is concerned, they have been pushed back significantly, but work remains to be done.