I love new technology―and all the things we can do that were impossible only a decade or so ago. It amazes me a smartphone can be so clever and sleek, and I can stand on a street, lost in a strange city, and geo-locate myself to the place I want to go. Technology opens up creative possibilities for governments to reach their citizens, and vice versa. I like the remote cleverness of my laptop, wirelessly telling a printer what to do. I even admire the 'internet of things'―the burgeoning ability of objects like cars and fridges to communicate their needs to the world. It might be useful, once the Swachh Bharat Abhiyan is well under way, to have dustbins and dumpsters that can tell the municipal authorities when they need to be emptied. What bothers me is the growing use of technical innovation as a means to block genuine interaction.
Last week, I had to recover the hacked, or hijacked, email account of a relative. I thought this would be a fairly straightforward process. It was easy enough to prove his identity, and that he had been using the same account for years. I had not reckoned with the closed ears of Microsoft. Recovering an email account had to be done through an online form, and since we were unable to answer a few of the questions on it, we were finished: game over. It was not possible to talk to a human being, so as to explain why some of the questions were unanswerable, or to suggest alternative methods of verification.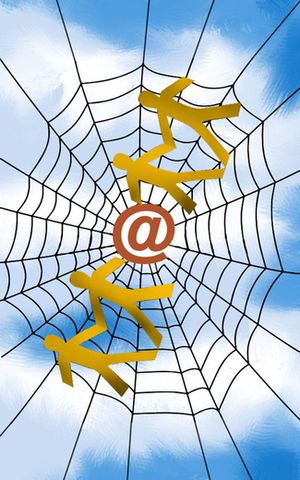 Instead, identical online procedures had to be repeated time after time, to no avail. Microsoft's own staff knew the process was absurd, and that we were being sent round in circles. As 'Sheryll' (who in real life might be called Shaukat or Suhasini) wrote in one of several dozen online 'chats' we had: "Like what I said, only that team will be able to provide you access to the account and they can only be reached via email through that email form." The consequence was that after a week of automated obstruction, we had to abandon the account―although it contains personal information that does not exist elsewhere. When I meet Satya Nadella, I intend to ask him for his smartphone and hide it down the back of a chair until he has filled in the same online form seven times.
Although Microsoft was the villain in this case, the experience could have happened with many other companies, or with offshoots of the state. Particularly in western countries, government departments are often unreachable except by an impregnable automated phone system that will connect you to nobody, or by email that comes back with an auto-reply saying they will deal with your urgent inquiry within 30 days. In India at least it is usually possible―if you have plenty of spare time―to find a human workaround.
Increasingly, large companies use their technical skills to give the illusion of being customer-facing even while making it impossible for a customer to find an answer to a non-standardised question. More than anything, technology is now used to restrict the opportunity for useful personal interaction. Again and again when dealing with some absurdity online or when speaking to a call centre, I realise the employee on the other end of the line is caught in the same cyber-bureaucratic trap as I am: we are all tangled up in the same web.
Information technology is here to stay. Digital jobs in India in software, robotics, services and product design are growing fast, and by the end of this decade, India's IT market will be the second largest in Asia, after China. Powerful tech companies now face the difficult task of bringing humanity and flexibility into their interaction with customers, and helping the rest of us to do the same.
Follow French on Twitter: @PatrickFrench2