The debate over the nation's future is nothing compared to the current kerfuffle over its past. Political rivals are making spirited attempts to claim their version of independent India's history is the correct one. The argument goes like this: 'Is your idea of India the same as my idea of India? If not, you must be wrong―and probably wicked, too.'
On a recent TV show, I was asked whether Narendra Modi had deftly appropriated the memory of Sardar Vallabhbhai Patel by holding a commemoration of his birth on the anniversary of Indira Gandhi's death. My response was that he was seeking to appropriate Patel, but in doing so he was only playing Congress at its own game.
For half a century, viewing itself as India's natural party of government, the Congress sought to deify leaders of its choice. It has been perfectly willing to name countless government schemes or buildings after members of the Nehru-Gandhi family, but happy to ignore important but politically awkward figures such as P. V. Narasimha Rao. On Rajiv Gandhi's birth anniversary, the previous government would allow ministries to spend taxpayers' money on hundreds of adverts in national newspapers praising the late prime minister as "a great visionary leader".
Why is anyone surprised that the BJP seeks to promote its own revisionist version of India's modern history? Sardar Patel is seen as low-hanging fruit, ripe for the picking, since he was an organiser of peasant rebellions in Gujarat, a tough operator and the driving force behind the integration of the princely states into independent India. The BJP, however, faces a difficulty with the counter-factual claim being made by some of its supporters that if Patel rather than Nehru had been the nation's first prime minister, India would today be a rich, muscular and unpartitioned country.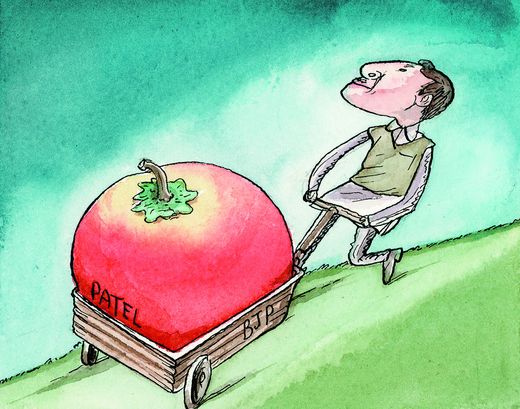 In fact, on almost every major policy issue where Nehru and Patel worked together, they reached some sort of ideological accommodation. Certainly they were temperamentally very different, but after Patel's death, Nehru wrote, "There is no one to take his place. Sorrow and calamity may bear down upon us or encompass us. But we have to carry on, to the best of our ability."
Regarding the crucial question of Partition, it was Sardar Patel who persuaded the Congress Working Committee in March 1947 to accept Pakistan, on the condition that Punjab was divided. He may have believed, as others such as Maulana Azad did, that the two 'wings' of Pakistan might one day come back under a form of transborder control.
When a political party makes a claim over a past leader, it opens itself up to questioning, which is all to the good. So when Congress decided to hold an international commemoration of the 125th anniversary of Nehru's birth, but not invite the elected prime minister, it miscalculated. The party should be glad that Modi has chosen to invoke the words of Nehru and Patel, and declared recently, "Our culture and legacy is of unity in diversity. Let us rise over differences of creed, community, language." What, indeed, is their alternative? Would they be happier if the prime minister confirmed their worst fears, and only invoked the legacy of historical figures such as K. B. Hedgewar, Veer Savarkar and Syama Prasad Mookerjee?
If Narendra Modi wishes to appropriate Congress heroes, Congress should be applauding. But if last week's TV panel was anything to go by, he will be resisted fearfully. The BJP and Congress spokesmen went for each other like a pair of rats in a sack over the true meaning of Patel, Nehru and their ideas of India. "Who are you, who are you!" shouted a member of the BJP and was met by an angry Congress voice saying, "Will you stop interrupting!" Let the debate continue.
Follow French on Twitter: @PatrickFrench2