I used to spend a bit of time in South Goa, not doing anything in particular, just riding a two-wheeler along the coast and hanging out in the cafés and on the beaches. Goa seemed different from the rest of India, and its self-conscious image of relaxation always reminded me of the Caribbean.
Last month I went back for the first time in a decade―and how Goa had changed! There were many more tourists, both Indian and foreign, and alongside the young hedonists was an older generation of retired people, who might previously have been seen holidaying elsewhere. What struck me most though was the explosion of yoga practice. All along the beaches each morning, solemn white people stood on their heads and engaged in complicated asanas. Some were guided by teachers, but others looked as if they were dedicated practitioners who needed little instruction. The prime minister was surely surfing a wave when he proposed at the United Nations that the world must have a dedicated 'International Day of Yoga'.
I asked Deepak Sharma, who runs a 'yoga beach village' in Agonda, why it was so popular. "It's an exercise medicine. These westerners are already motivated in their own country―the UK, Scandinavia, Australia, France―but India is the selling point," he said. "They get physical exercise with a spiritual coating on the capsule. Your body becomes flexible and you still get to look sexy in your yoga outfit―and have a feeling of purity with it. India has a magnetic pull for them. They feel they can come here and align their behaviour and personality with the laws of nature."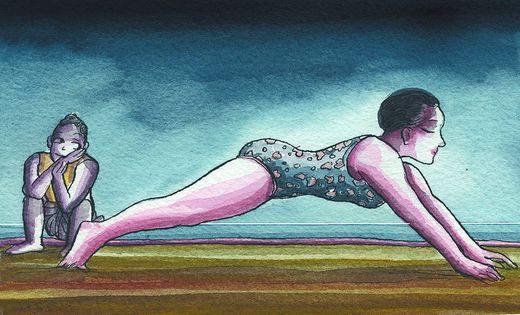 Yoga is now a growth industry in many western countries, matching the rising popularity of alternative forms of exercise as a supposed antidote to a high-pressure, stressful way of living. Bikram Choudhury, the controversial but successful founder of Bikram Hot Yoga, claims the industry is a $120 billion business in the US.
One of the most surprising things I noticed in South Goa was that foreigners were teaching their own brand of yoga. Gunnar is a former naval officer and car industry engineer who is now instructing a daily class of 21 enthusiasts. "We do yin yoga, where you hold a pose for a long time and it brings you down from stress. My students come from all over the place, but it's mainly a very middle-class thing," he told me. "I have an Indian couple from New York who say they are learning yoga because they want to rediscover their culture. In the future, more and more young people in India will be doing yoga to avoid burnout." This was quite a cultural leap―being taught about elements of your parents' culture by a German yogi. He believed Goa's reputation for partying was being replaced by one of peace and soul-searching. "If something is missing in your day, you must do yoga. It's not hedonistic: it's for a stage of life when you want silence. Goa is a place for party and shanti."
For Deepak Sharma, whose father is a yoga teacher in Bilaspur, the spiritual aspect is secondary to the allure of the training. Foreigners are clearly drawn to his yoga beach village by the opportunity to develop their bodies and improve their health. "For me personally, Baba Ramdev is the man of the match," he said. "People are inspired by him because he's like a normal person. He's teaching physical yoga to the masses." This dynamic, competitive yoga in Goa seems in a way to match the demanding lifestyle that westerners claim they want to escape. It is, however, a long way from the more traditional yoga discipline still practised every day by millions of Indians.
Follow French on Twitter: @PatrickFrench2