Acronyms for people of Indian heritage, like NRI, PIO and OCI, have been all the rage in recent years. India's émigrés are a source of national pride, whether it is Indra Nooyi heading Pepsi, Salman Rushdie being feted in print, or Satya Nadella taking over as Microsoft CEO. But the first wave of migrants from the subcontinent in the 19th century has been forgotten: the indentured labourers who, after the abolition of slavery across the British empire, went off to work in treacherous conditions in the sugarcane plantations of Fiji, Guyana, Mauritius, Trinidad and Natal in South Africa.
Only around 60,000 people, majority of them from north India, made the long sea journey to Fiji. But it was enough to alter the destiny and history of this south Pacific island. By the time of World War I, leaders like Gandhi and Gokhale, and even the Viceroy of India Lord Hardinge, opposed the indentured labour system, and it was abolished.
Last month, I had the chance to visit Fiji for the first time, to teach a literature course to a group of writers from Pacific countries like Samoa, Kiribati, the Solomon Islands and Papua New Guinea. Fiji is a beautiful land, with lush forested mountains dropping down to sparse beaches. Relations between indigenous Fijians and people of Indian descent are now better than they were, but still far from easy. The cultures of the different communities in Fiji appear noticeably dissimilar (even more so than in the West Indies, which also has an Indian minority).
One of the surprises was that descendants of the indentured workers often had only a vague knowledge of the land of their ancestors, but were curious about it. Their language, known as Fiji Hindi, is the strongest link to the land of the past. Indian films are popular, as is a giant stuffed street food called roti, which looks like a tortilla wrap.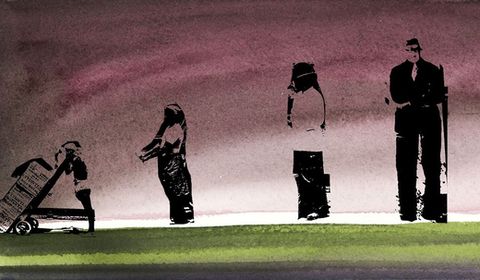 In Suva, the capital, I met a man named Ravi, an engineer in his twenties. When he learned that I lived in India, he was overwhelmed. He wanted to know what the country looked like, and what it was like to be surrounded by so very many people. Fiji has a population of less than a million, making it much larger than its neighbours. After falling silent, Ravi said, "India, eh. Do you know Deepika?"
"Which Deepika?" I asked.
He could not pronounce the surname, but he meant Deepika Padukone.
One of the reasons for the differences between communities is religion. Civic events in Fiji usually begin with a Christian prayer and a statement such as: "First and foremost, I would like to acknowledge the presence of God, our creator, who created everything in the Pacific." The population is Methodist or Roman Catholic, following conversion by missionaries, while the majority of Fijian-born Indians are Hindu.
More noticeably, south Pacific culture depends on a sense of hierarchy and tradition. When you have a conversation with a regular Polynesian or Melanesian, you are struck by their formality. It is considered disrespectful to look someone in the eye, to raise your hand to answer a question, to express open disagreement or to speak louder than a quiet murmur. A lecturer at the University of the South Pacific told me she had a problem with a student who was obliged to kneel whenever her male cousin, who also happened to be a student at the university, was present in the room. Most Fijian Indians tend to be―well, you can probably guess―more voluble and outspoken than the indigenous Fijians. Their historic journey has been a tough one, and they carry echoes of their ancestral motherland.
Follow French on Twitter: @PatrickFrench2