Catering to a flourishing number of high profile 'wired' and 'tired' guests, the luxury hospitality industry in India is embracing digital marketing, social media and smart technology like never before. While Starwood Hotels have collaborated with Apple to enable its watch with an app that could assist in unlocking rooms with just a wave of the wrist, the ITC group of hotels is running a dedicated Twitter account to address guest queries in close to real time.
For a generation that has grown up glued to smartphones and tablets, a luxurious stay at a five-star property entails not just a personal butler and bespoke menus but also consistent virtual engagement from the hotel. Right from detailed destination itineraries to travel tips, selection of one's favourite wines to reserving a midnight meal or registering pillow preferences online, young and restless travellers are keen on ensuring a smooth stay without really having to talk to the hotel staff. "When I pay Rs20,000 a night as tariff, I want the hotel to anticipate and remember my needs. I can't waste time on explaining how the eggs for my breakfast should be done or my wife's preferred shopping stores. Most of my holidays are extensions of work trips, so I need to be well connected at any give point, be it the golf course or the restaurant in the hotel. An e-concierge takes care of all this in advance," says Shobhit Jain, who lives out of the suitcase almost 15 days a month.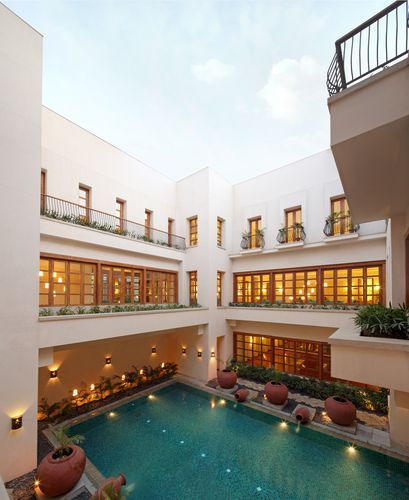 Elevating the guest's experience through a constant virtual connect, The Leela Group has worked out a social media strategy that is in favour of not just the clients but also the hospitality group. "We have paid special attention to the role of social media because we need to be where our guests are, especially on Twitter, Instagram and Facebook. Our effort is to create relevant and highly curated content along with high-quality imagery for our guests, so they can better connect with The Leela experience. For example, we give our fans the first virtual taste of the chef's menu, the first look of a maharaja suite or an ESPA spa, along with specially designed offers to attract travellers from both domestic and international markets," says Rashmi Vasisht, corporate director, public relations and corporate communications, at The Leela Group.
"As a result, we have found that our social media assets have been organically discovered. The fan following on Facebook alone, with virtually no marketing spends, is four times higher than this time last year. Our rapidly increasing engagements with guests have helped elevate the group's visibility, which, in turn, has increased their likelihood of returning and sharing The Leela experience with their friends and influencers online," says Vasisht.
The uninhibited adoption of social media tools for promotion and technological improvisation in products is driving a major shift in the hospitality business. On the one hand there is an obsessive attention to detail to ensure everything goes right for the guests―from a good night's sleep with smart beds, pillow sprays and hot toddy to curated deals that match personal tastes. On the other, there is an attempt to give guests privacy and freedom with minimal human intervention. "There is a great need to be tech smart, but tradition and personal touch will always play an important role in hospitality," says Gautam Anand, vice president, pre-opening services, ITC Hotels.
Imbibing the best of both worlds, ITC's new luxury resort in Gurgaon, the Grand Bharat, is engaging its guests with 'Swasthya Philosophy―eating for health and taste'. "Swasthya extends beyond the cuisine at ITC Grand Bharat. It incorporates a holistic wellbeing approach that takes into account mental fitness as well as the physical aspect of our guests―understanding their body type in consultation with an ayurvedic doctor and curating a suitable menu all through their stay," says Anand.
Enticing today's fickle luxury connoisseurs is not an easy job. Hankering after distinct experiences, cut off from obvious tourists hubs, the millennials spend quite conspicuously. To catch the fancy of these finicky travellers, five-star resorts are now integrating local culture and outdoor experiences in elaborate travel itineraries. At The Leela Palace in Udaipur, one can check into tented spa suites with private plunge pools overlooking the tranquil lake Pichola. The wellness programmes here combine yoga and meditation sessions with guided visits to the ancient forts and the Eklingji, Nagda, Nathdwara and Jagdish temples. The holy Jain temples at Ranakpur and the historic Kumbhalgarh Fort can be experienced in the longer programmes. The days begin with a traditional ceremony at the 150-year-old Shiva temple and end with a serene sunset boat ride on the lake.
Known for its elaborate spa retreats, the Jaypee Greens Golf & Spa in Greater Noida has added 'Yogic Sleep' to its recently launched yogic programme. Designed to boost relaxation and improve sleep, the programme combines yoga nidra, pranayama and gentle yoga practice with relaxing spa treatments. "Globally, vacations are getting more holistic with health and wellbeing becoming the centre of the getaways," says Tracey Poole, spa director at Six Sense Spa, Jaypee Greens Golf & Spa. "We have detox and sleep therapy programmes customised for our guests. This includes yoga, meditation, hamam treatments and dietary recommendations. We also have eight therapists trained in water and floatation therapies, [which are] highly effective in relieving stress."