At the entrance of the spraw-ling Kashi Mumukshu Bhavan Sabha near the famous Assi Ghat in Varanasi stands a small blue handcart, selling golgappas. A few old, sari-clad women surround the cart, chitchatting and laughing even as they await their turn to relish the delicacy. It looks like a bunch of women having their moment of fun, without a thought or care for the future. But as they make their way back to the Bhavan, one realises they are here for kashivaas (stay in Kashi), biding their time till they breathe their last and attain salvation.
The desire for salvation is strong in a religious country like ours. Take, for instance, this couple from Paitpura in Madhya Pradesh. In the hope of ultimate redemption from all sins, Sukhe Kushwaha and Hariya, who had rejected social norms and lived together for 50 years, recently got married at 80. Their wedding was attended by their four children and many grandchildren.
But, in the many nooks and crannies of Varanasi, moksha—release from the cycle of rebirth—is wedded to morbidity. As Harvard University professor Diana Eck writes in Banaras, City of Light: "Kashi is the whole world, they say.... Kashi is not of this earth, they say.... Kashi is the permanent home of Shiva, they say.... Kashi is Light, they say.... Kashi is famous for Death, they say...."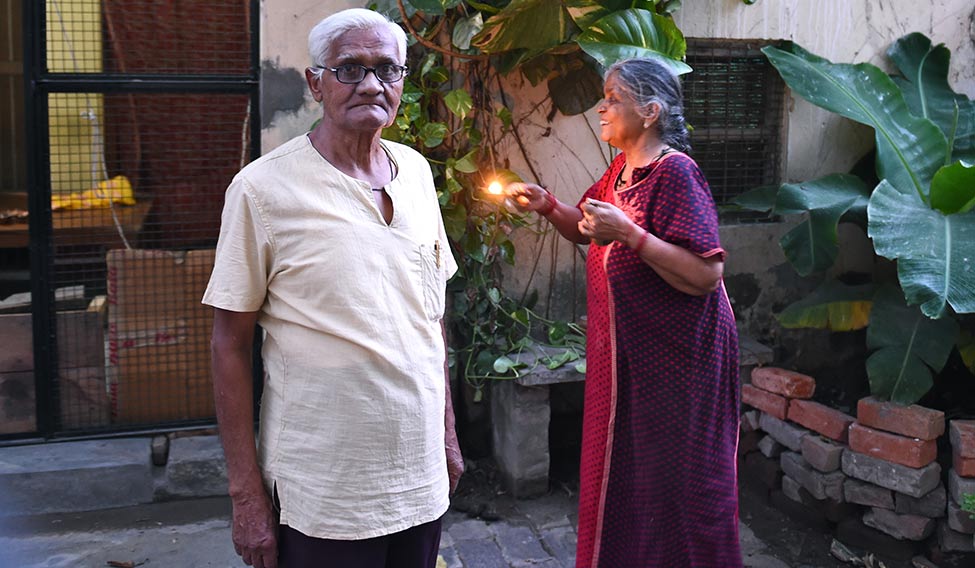 The almost century-old Mumukshu Bhavan is spread across five acres, and at one end of the edifice are two houses. After having their fill of golgappas, Girish Kumari Mishra, 67, and two other women are resting near the three steps leading to the houses. While the two women indulge in idle talk about a woman who took a shrub from the courtyard and planted it outside her room, Mishra invites me to sit next to her.
Mishra, who grew up in Varanasi, had to leave the city after her marriage to B.P. Mishra, a professor at the Central University of Haryana, almost 45 years ago. She has three daughters and a son, but she never felt at home in Haryana. "No matter how hard I tried, my mind was always restless. The only thing I wanted was a life on the banks of the Ganga," she recalls. "I had to come back. This is where I wanted to be." Mishra took a two-room set at Mu mukshu Bhavan in 2007 after paying a donation of Rs 2.5 lakh. Her husband, who mostly stays with their son's family in Gurgaon, visits her now and then. She doesn't know if just staying on the ghats of Kashi will help her attain salvation—"Something like this is not in your hand," she says.
"It is all in the hands of the Almighty," says Bhairavnath Shukla, who manages the Mukti Bhavan, set up by Vishnu Hari Dalmia in 1958 to offer a place for pilgrims to die peacefully (the Dalmia family trust covers all expenses). He recalls that, about two decade ago, a 50-year-old from Kawardha in Chhattisgarh brought his 80-year-old father, who was disenchanted with life. "Call it destiny or anything else, after two days of their stay, the son had diarrhoea. It was the son who passed on." The father, though upset, accepted God's will gracefully. A year later, the father visited the city again, and this time around he died. "There have been many such stories," says Shukla.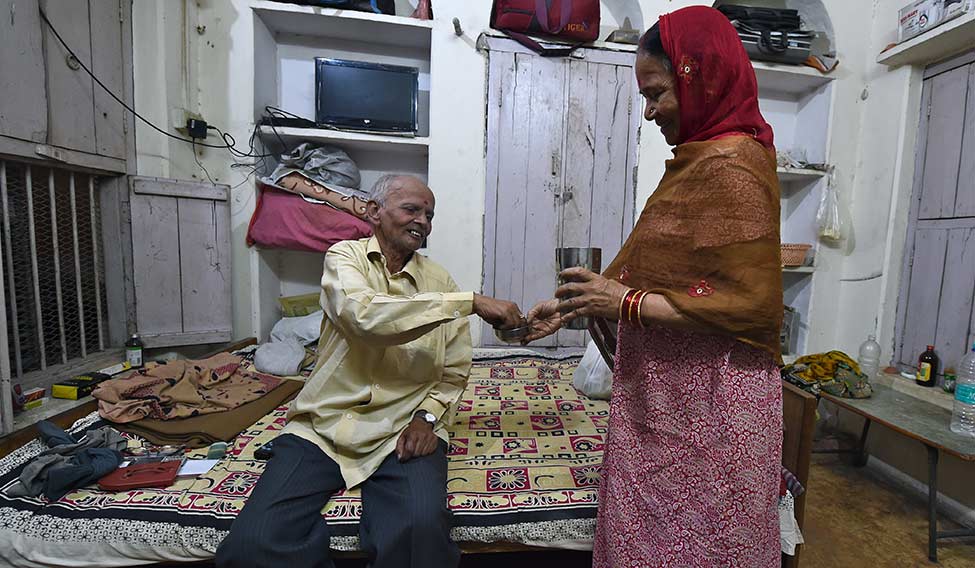 At the Mukti Bhavan, visitors are allowed to stay for 15 days. In rare cases, the stay is extended if the person is still alive. For a year now though, the 12 rooms at the bhavan are being refurbished, and Shukla claims that more than 1,400 people have come seeking death in that period. "I have no option but to ask them to leave," he says. He refers the visitors to the Ganga Labh Bhavan near Manikarnika Ghat.
The dilapidated Ganga Labh Bhavan is visited mostly by the chronically ill—"they or their kin know that they are not going to survive for more than a day or two," says Sunil Gupta, who owns a timber shop opposite the building. Gupta never wanted to be in a business that dealt with death; he was happy running a grocery store. "But at a place where people come to die, timber seemed like a better business," he sighs. He sells timber logs for at least two funerals in a day and, unlike earlier, earns enough to support his family.
This fascination for salvation is steeped in mythology. And, mythology, says Gupta, is still important to people. Author Devdutt Pattanaik, in one of his columns, notes its significance: "The story goes that Shiva took the form of Bhairava to behead Brahma who became arrogant after creating the world. Brahma's head seared into Shiva's palm and he wandered the Earth chased by Brahma-hatya, the infamy of killing the creator. Shiva finally descended from Kailas southwards along the river Ganga. A point came when the river turned north. At this point, he dipped his hand in the river, and Brahma's skull became undone and Shiva was thus liberated form Brahma-hatya. This became the site of the famous city of Avimukta [where one is liberated], which is now called Kashi."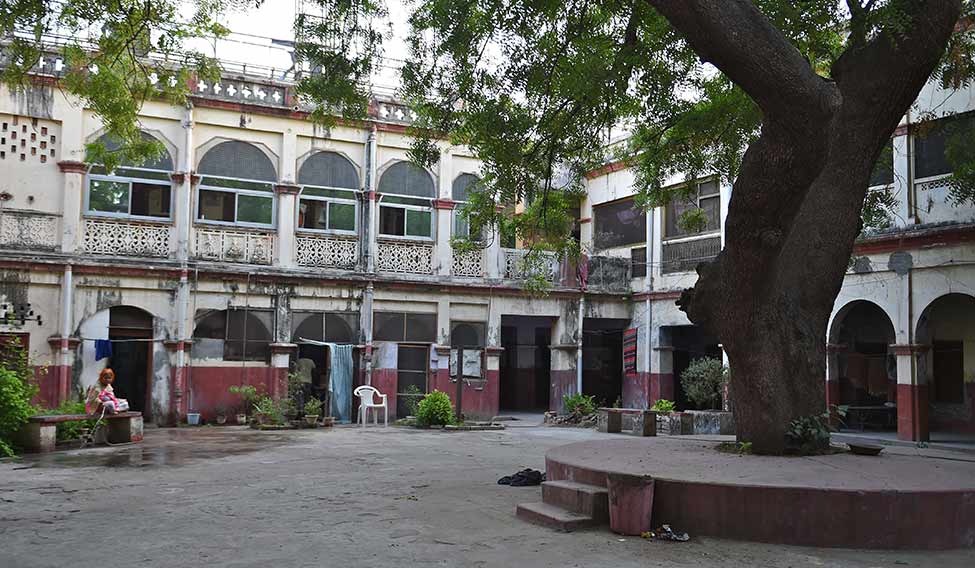 Early this year, two films—Mukti Bhawan, a feature, and Mumbai To Varanasi, a short film—beautifully captured one's desire to attain salvation. "Human life is full of truth and falsehood," says V.K. Aggarwal, engineer in-charge, construction and maintenance at Mumukshu Bhavan, since 1986. "No one is perfect, but everyone wants a perfect, peaceful death. That is the reason why they turn to Kashi."
Mumukshu Bhavan is divided into four sections—one each for Brahmins, travellers, students and death-seekers. The last section has 60 people, aged above 65 years. Some of them, like 86-year-old Gulab Bai, have been at the bhavan for 30 years, while others like Sushila Kumari, 66, a retired headmistress, and her husband, Dr B.L. Pandey, a retired school principal, have been here for the last five years.
The Pandeys have two sons and daughters back home in Dehri-On-Sone, Bihar, and get a monthly pension. They left it all behind to come to Kashi. Sushila would rather be with her grandchildren though. "I never wanted to come here," she says. "What is the point of staying away from your family longing for something that you don't even know exists?" But her questions go quiet before her husband. "He is a staunch believer," she says about her husband, who has found solace as well as work here. "He keeps himself busy [in the administration office], but I long for home and kids. I don't understand the logic of staying here."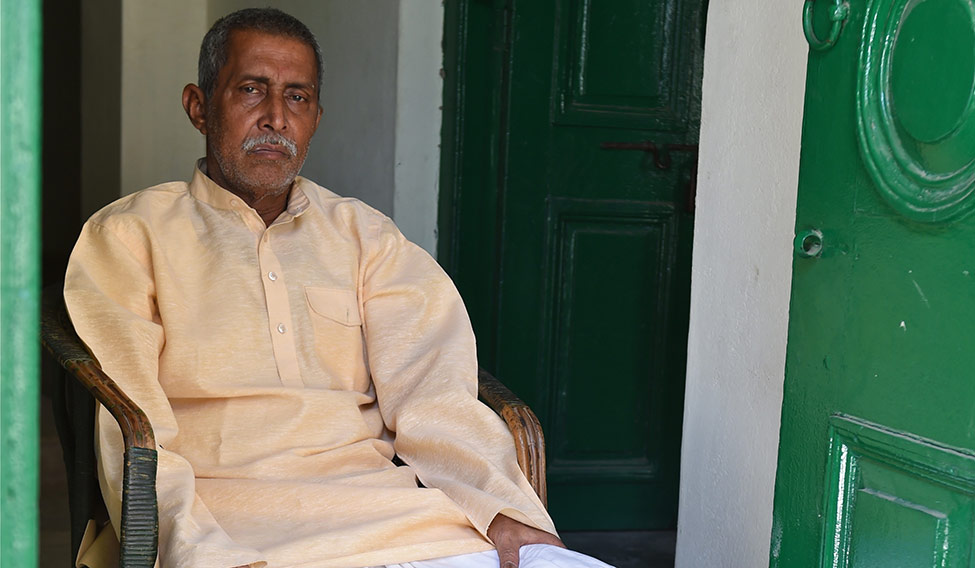 But Sushila is a minority here. "The desire for salvation is more powerful," says Aggarwal, "and the majority are believers." He says even when there are no rooms, the queries never stop. To stay at Mumukshu Bhavan, which is run by a trust, one has to pay a one-time donation—from Rs 50,000 to Rs 3 lakh—depending on the size and condition of the room, besides the regular maintenance charges.
Times have changed and people have more money these days, says Hriday Nath, a constable on patrol duty near the Manikarnika Ghat. He says the beliefs of both the young and old who visit Varanasi are rooted in mythology. "If these people don't get a room in the ashrams, they stay in hotels, guesthouses or just any place," he says. "You would never be able to locate all the death-seekers that this city gets on a daily basis. It can be anyone—the family staying next to your room in the hotel or the man who just passed you by on the road—there is no dearth of people wanting to get rid of the cycle of life."