"I am a digital filmmaker. I don't even mind being called a videographer" - Q

"Looking back, I find it scary that I convinced myself to do something with that little money. But once I got the funding, I had to find a way to do it" - Pawan Kumar

"It started with a spurt of anger, but when I decided to travel with my film, I started enjoying it" - Sandeep Mohan
When most filmmakers are interested in the commercial viability of a film, there are some for whom the art of filmmaking matters more. Neither the regimental mindset that the country has been dealing with for long nor the financial setbacks that hit them at every juncture of the filmmaking process affect them. Take, for instance, Qaushiq Mukherjee aka Q and Sandeep Mohan, who didn't let the Central Board of Film Certification dictate terms in their directorial ventures. Then, there is Pawan Kumar who didn't let lack of funds deter him from making a film he wanted to. As for Raam Reddy, whose debut film is doing the rounds of international festivals, he lets his work do the talking. Meet the trailblazers of Indian cinema who are changing the way films are made and seen.
I don't measure my life in money: Q
Q had major run-ins with the CBFC in 2010 over his "explicit" Bengali film, Gandu, which never got a theatrical release. But that didn't stop him from making an English sex-comedy, Brahman Naman, set in the Bangalore of the 1980s. The film promises to be more salacious, with multiple references to sex, masturbation scenes and quite a few digs at the prevalence of the caste system in India. He no longer has to worry about cuts and censors, as the film will be globally released on Netflix on July 7. It is Netflix's first acquisition from India for Netflix Original.
"It opens a lot of doors," says Q. "I am as comfortable speaking in English as I am in Bengali and there is no reason for me to not make films in English. That was a great thing to understand even for me as I have overcome that nerve-wracking hurdle of whether to do something or not. Also, in terms of distribution it was about to happen. It was always on the anvil, we were just not sure exactly how to go about it. But with Brahman Naman and Netflix, it is the kind of marriage we would have liked to have."
Always up for an experiment, he dabbled with digital technology with Tepantorer Math. "I am a digital filmmaker. I don't even mind being called a videographer," he says. Tepantorer Math was shot on a handycam, and Gandu was shot in 7D. "Nobody was shooting in 7D then, nobody," he says. "They were shooting on other digital platforms but not on a DSLR. They were doing short videos but nothing on a big scale."
Brahman Naman is Q's first commissioned project. The film has been written by Naman Ramachandran and produced by Irish-British filmmaker Steve Barron. "Steve chanced upon Gandu and other stuff and decided that I would be a good choice as a director. When I got the mail, it was surprising. But I quickly realised that they couldn't get a dirtier person in India, which meant I had to probably do it," he quips.
A lot was also spoken about the seven-figure deal that the film attracted. "Yes, it is a seven-figure deal and yes, it is in US dollars," he says. "But here we are now looking at an internationally viable system of production. That is what I am more interested in. Filmmaking is not my occupation, it is my life and I don't measure my life in money."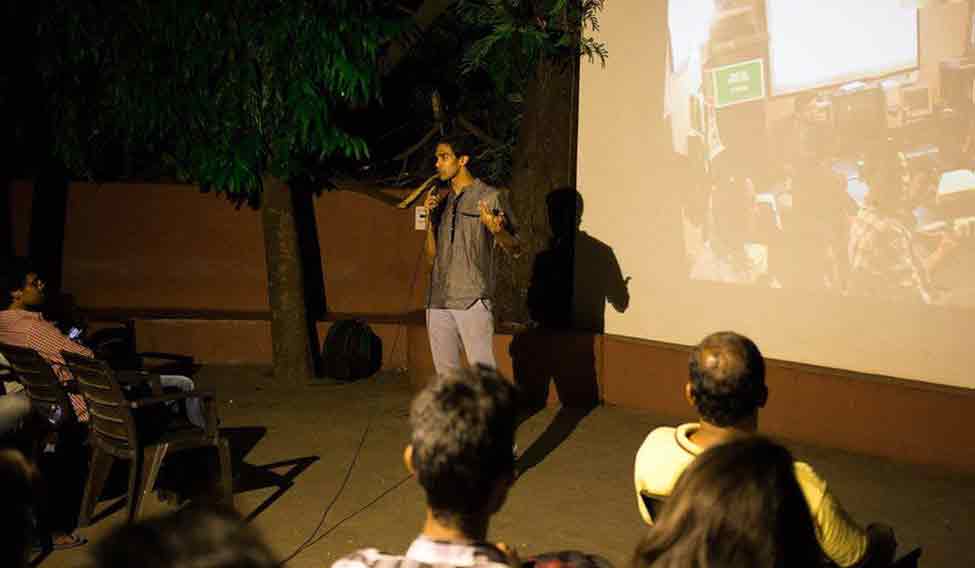 I get my audience when I travel with my films: Sandeep Mohan
Sandeep Mohan may not be very popular but his passion for filmmaking is undiluted. The censor board played spoilsport with his first film Love, Wrinkle-Free, suggesting more than 30 cuts for a U/A certificate. "I wasn't making porn to deserve that," he says. It got a limited release, with an A certificate, in PVR Director's Rare and a few other theatres. So, he devised an alternate plan for his second film, Hola Venky, which tracks the journey of a middle-aged techie from his groin to his heart. Made on a budget of Rs 10 lakh, the film has been screened at least in 92 places. Mohan travels with a print of the film and a second-hand projector. "I have screened it in various cities across India and have even been to the US and Singapore," he says. "It started with a spurt of anger, but when I decided to travel with my film, I started enjoying it."
Now, Mohan is working on his third film, Shreelancer, a travel film tracking the story of a freelancer. With a budget of Rs 30 lakh, he opted for a guerrilla-style filmmaking. "In Mumbai, a small-budget film means spending at least Rs 3 crore, but I don't have that privilege. Three different people have put in money in the film and no one is from the film industry. I get multiple investors so that the burden can be shared," says Mohan. He will again hit the road with Shreelancer. "The live input from the audience helps a lot," he says. "After a round of travelling with the film, I will take it to the festivals before going for a formal release."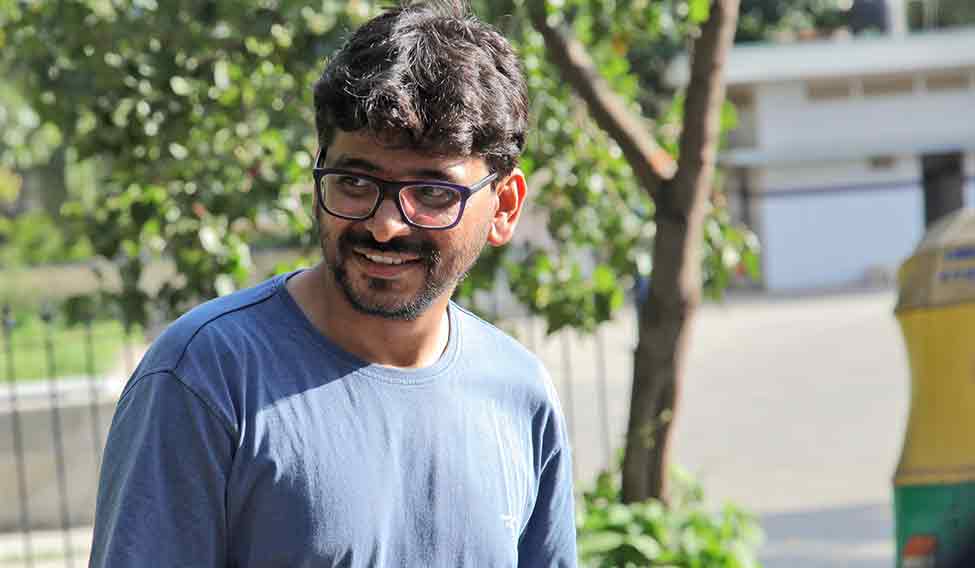 It's easy to write a film, but difficult to get it produced: Pawan Kumar
Pawan Kumar made his name as the poster boy of crowdfunding in India with his award-winning Kannada movie Lucia. Storytelling has always been his forte, be it writing the screenplay for Manasaaree, Pancharangi or for his first film as director—Lifeu Ishtene, a romantic comedy. All these were stories he wanted to tell. But when he tried to break away from formula films with Lucia, the film didn't find any takers. "I wanted to try something new. That's how Lucia [a psychological thriller] happened. But in India, it is very easy to write something. But for it to get made into a film and find a producer is a task," says Kumar. "As a genre, it needed a reading that the producers didn't want to do."
Frustrated, Kumar started writing blogs. One of his "angry" posts went viral, and suggestions starting pouring in to crowdfund the film. In 27 days, Kumar managed to collect Rs 50 lakh. "Looking back, I find it scary that I convinced myself to do something with that little money. But once I got the funding, I had to find a way to do it."
However, when Kumar tried to crowdfund his next project, C10H14N2 (Nicotine) two years ago, he didn't get the desired response. He then started working on another film, U-Turn. He didn't want to do the crowdfunding exercise all over again and instead opened a production house where each investor can be a stakeholder. "We got [67] people to buy shares in it so that more films can be made through the funds sourced."
Besides getting a good release in India, U-Turn also got a decent release in the US, Europe and Australia. The film will now be put up on digital platforms. Additionally, talks are on for remaking U-Turn in Telugu, Tamil, Malayalam and Hindi.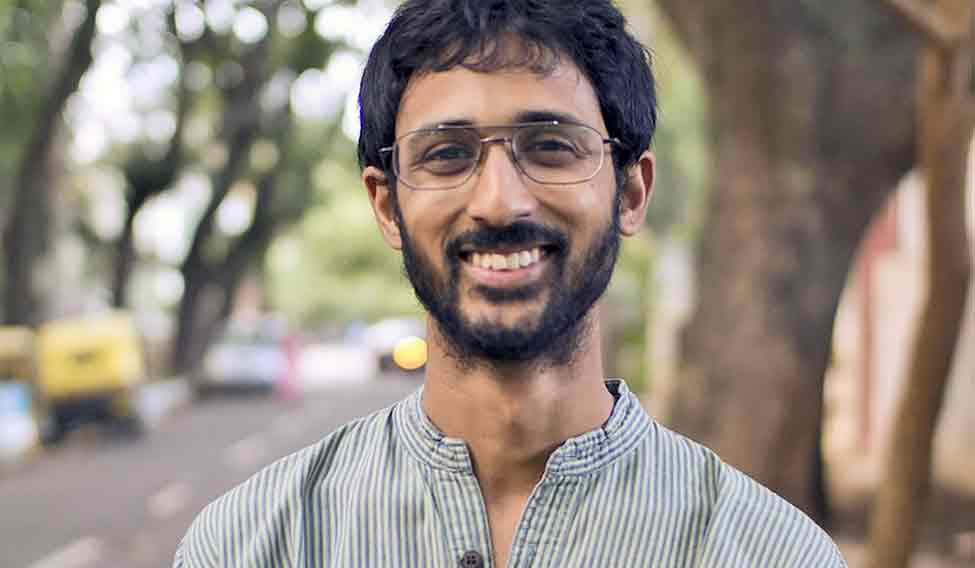 Thithi is not a micro-budget film, nor is it a super hit: Raam Reddy
Thithi, made with a bunch of non-actors, has appealed to the audiences globally, winning 12 awards at ten film festivals, including two at the 2016 Shanghai International Film Festival.
But the filmmaker, whose film is being praised by bigwigs like Francis Ford Coppola, was never exposed to cinema as a child. He played the tabla though. "I also grew up with poetry," says Raam Reddy, who later took up photography as well.
The Bengaluru boy was studying economics at St Stephen's College in Delhi when he realised that his heart lay elsewhere. He started writing. It's Raining In Maya was his first foray into a full-fledged narrative. "I realised the potential of a narrative while writing the book." A little later, Reddy went to meet one of his seniors, Saumyananda Sahi, now a well-established cinematographer, on his film set and it was epiphany. He realised filmmaking was the medium that brought together all his standalone hobbies and interests.
For the next year-and-a-half, he made short films with a DSLR camera. The idea for Thithi came to him and cowriter Ere Gowda while shooting for his eighth short film, Ika. He, however, didn't have trouble finding a producer—he had his father's backing. He formed Prspctvs Productions, and produced the film along with Sunmin Park and Maxmedia, an American production house.
The financial aspect of the film hasn't been disclosed, and Reddy says it doesn't really matter. "It's not a micro-budget film and as per the popular perception, it isn't even a super hit," he says. "It has taken three years to complete with an international crew and at studios around the world. And it has had a small but successful release."
With digital technology supporting new-age filmmakers, Reddy thinks a lot more such experiments are on the anvil. He already has another ambitious project in mind—a film on magical realism.