"We have worked together for so long that we understand each other and communicate in shorthand" - Naseeruddin Shah, about his wife, Ratna Pathak
In his memoir And Then One Day, which released almost two years ago, Naseeruddin Shah fondly writes about the first time he saw Ratna Pathak Shah, his wife. "I took to her the moment I saw her, and really felt I would like to get to know her. I even at once considered the possibility of spending my life with her...We had not yet spoken to each other and I knew nothing about her but somehow I felt certain that she was my kind of person."
The couple has spent more than four decades together now. Recently, when we met them at their Carter Road apartment in Mumbai ahead of the staging of their play Dear Liar, it did look like that they were meant to be together for life. Little things like completing each other's sentences or chuckling when the other was speaking about a memorable incident from their lives, said a lot about the synchronicity that they possess.
"I think we have found harmony. At last! It has taken a while but I think we have finally found it. I always thought we would and that's why it has lasted so long. Though it doesn't feel so long," Naseeruddin laughs when asked about their equation. "And the friendship," Ratna adds as she talks about their first play together, Sambhog Se Sanyas Tak (From Fornication to Salvation)—a production by theatre stalwart late Satyadev Dubey. Incidentally, Dear Liar that dramatises the letters exchanged between Irish playwright George Bernard Shaw and English stage actress Patrick Campbell, too, was directed by Dubey and the couple has fond memories of working with him. They believe that working with Dubey has been a reason for them to be together.
"We immensely miss him," both of them agree. The next 10 minutes are spent talking about Dubeyji and recalling some of their best memories with him. Like how he never bothered to see the play after directing it. "He saw it once or twice and then he never even came for the shows. He trusted us and used to say, "Tum log kitna hi bura kar logey [how bad can you guys possibly do]," laughs Naseeruddin as he also remembers how Dubey was never interested in money but the people and the play.
Ratna thinks that it was Dubey's mood during Sambhog Se Sanyas Tak that brought many of them together. "It was a bunch of people we met then and we have stayed friends, ever since. We were working of course, but it felt like we are a bunch of friends working together. Luckily for us in theatre, we have carried forward that feeling. In fact, Motley started with a group of friends wanting to do plays together," says Ratna as she talks about the theatre group (Motley) started by Naseeruddin and Benjamin Gilani in 1979.
Naseeruddin adds that whenever the friends wanted to meet, they planned a play. "And so we get together and we rehearse and we have greater fun," he says.
In the last decade or so many more such groups have come up and have flourished. The couple is only delighted. They want the tribe of people who enjoy theatre to increase. Seema Pahwa and Manoj Pahwa work that way. "And there are so many. Rajat Kapoor's group, Rage (anchored by Rajit Kapoor, Shernaz Patel and Rahul Da Cunha), or Atul's (Kumar) group. They really look like people who enjoy spending time together and working together unlike the Gujarati commercial plays for which you meet Saturday to Saturday and that's it," says Ratna as Naseeruddin adds, "If it's staging at seven, they will meet at five."
In fact, Ratna recounts how as a kid she saw many Gujarati plays as her mother, Dina Pathak, worked in them, and she never wanted to do that. She again mentions the influence of Dubey in her life by recounting the time she watched Yayati (written by Girish Karnad and produced by Dubey). "I have a vague memory because I was only 10-12 years old that time but I have had a huge impact. Yayati particularly, 'oops, nothing on the sets, just blocks and just people.'"
"Or, Hayavadan," says Naseeruddin, "I have never seen anything like that. It is the only time when I thought that justice was done to that play. Empty set, bare stage, three actors." "One folding, tin chair," adds Ratna, "like they have in the old natak companies. And that's it."
Interestingly, Motley, mostly has similar set-ups in its productions, minimum use of props and the stage is kept as empty as it can be. Whether it's A Walk In The Woods that has been directed by Ratna Pathak Shah and sees two diplomats (Naseeruddin and Rajit Kapoor) having a conversation in the midst of a park, or the now very popular Ismat Aapa Ke Naam in which Naseeruddin, Ratna and Heeba Shah tell three stories of the great Urdu writer, the set's minimalistic—with just a bench or a block to sit.
"We are trying. Because we have seen those plays," says Naseeruddin and goes on to add, "You know, I am from the (National) Drama School where Alkazi sahab used to do these spectacular plays. If a person was writing, he used to have this beautiful ostrich feather. Even the ring, if the characters had to wear, were bought from the jewellers. But then I saw Dubey's plays and there was none of that and they were equally effective."
Coming back to their equation, when we ask them if they have to detach themselves from their personal lives to work together as thorough professionals, Naseeruddin smiles and says, "It will take too long to explain but we have worked together for so long that we understand each other and communicate in shorthand."
"And basically, our tastes are similar. That helps. If both of us had very different views about what is good theatre or good acting, it would be difficult," adds Ratna as Naseeruddin is quick to add, "My taste has been somewhat improved by Ratna's influence. As everybody present in the room laughs at his humility to accept her influence in his life, Ratna gracefully thanks Naseeruddin.
But there's more to their synchronicity. They are complementing and critical of each other. As Ratna says that criticism doesn't mean a negative notation, but a critical analysis that is very important. That's why after doing just English plays for years under Motley, Ratna's prodding to find an idiom in their own language led to the production of Ismat Chughtai stories in Hindustani. "Naseeruddin and Benz's natural tendency is towards the English language. They really love the language and speak it beautifully. Their inclination is to act in that language. I felt that we must look for stuff in our own languages. But I couldn't find it, Naseeruddin eventually only found Ismat Chughtai."
Naseeruddin, on the other hand, has always believed in his wife's talent. Ratna, who is quite vocal about not getting enough work in films in her younger days and still has regrets about it, has been applauded for her work in films like Khoobsurat, Kapoor and Sons, and Nil Battey Sannata. Call it love or his faith in her talent, Naseeruddin has always been certain that this long due appreciation would come her way. "I have always believed deeply and very strongly that any ability you have never goes to waste. You have to just keep nurturing it.
"I am not surprised that Ratna didn't get the work she wanted as a younger actress because our filmmakers can't think out of the box. Unless you look like a certain kind, they don't consider you, or, unless you have had the opportunity to prove yourself," says Naseeruddin, who thinks he was fortunate enough to have got films like Nishant and Manthan in the initial stage of his career. "It was just sheer luck for me. A lot of such movies that were being made that time were around village folks. Ratna wasn't cast in those movies because she couldn't look like a village person. But she has kept at it and has been persistent. I think Ratna will get better work as an older actress. Even I am getting better work as an older actor," he says, though he only considers Waiting to be a really good film in the last couple of films that he has done.
"Certainly, much more interesting work. It is also because there are much better scripts being written," says Ratna, who thinks that with web opening up a new space, it's going to just get better.
And as they talk about the present times, it's imperative to ask about their kids—Heeba, Imaad and Vivaan, who are also engaged in theatre. While Heeba is intricately involved in many of the plays that Motley does as an actor and is also directing Parindon Ki Mehfil—an adaptation of 12th century Persian Sufi Farid ud-Din Attar's poem, The Conference of the Birds, Imaad has found his calling in music. Besides creating music for his indie band Madboy/Mink, he contributes music every now and then to the plays Motley does. As far as Vivaan is concerned, after a stint in commercial Bollywood ventures, he recently turned a director with the play Comedy of Horrors based on the stories of Edgar Allan Poe and Ambrose Bierce.
When we ask how it feels to see the three of them taking interest in theatre and working for it, like a proud father Naseeruddin is quick to share a few anecdotes. "They have been involved in theatre since the time they were babies," he says and informs that Imaad went on stage as a three-year-old kid for the first time in Julius Caesar. Heeba, Naseeruddin's daughter from his first marriage, joined the couple only when she was 12 and at 15 she was on stage. "They are all very comfortable on stage. At this stage, their approach to theatre is a little immature but so was ours at that age," he says as he hopes that they will find their way certainly as time passes.
Naseeruddin, is particularly very happy with the way Imaad has found his calling in music. "I am extremely proud of him. He is a tremendous person," he says and adds, "Heeba and Viv will soon find their path." Ratna, however, is quite appreciative about the topics that Heeba and Vivaan have chosen. "They chose rather adventurous projects. Heeba chose a movement-based piece, and Viv chose Edgar Allan Poe, my goodness. I couldn't read Edgar Allan Poe when I was 20, let alone be able to perform him," she says as they both laugh.
When the family is not busy with work and they are spending time with each other, most of their conversations are usually about theatre, films or sports. They discuss books and even recommend books to each other. Ratna informs that Naseeruddin has just got a Kindle and is getting used to it. However, Naseeruddin is quick to add that he still prefers the old ways of reading.
Ask them if they like being addressed as he first family of theatre and Ratna has twinkling eyes. "Yes, yes, I love it," she says with a wide smile as Naseeruddin laughs on the other side in agreement. "First, second doesn't matter. I love the thought of a family in the theatre. It is beautiful," she concludes.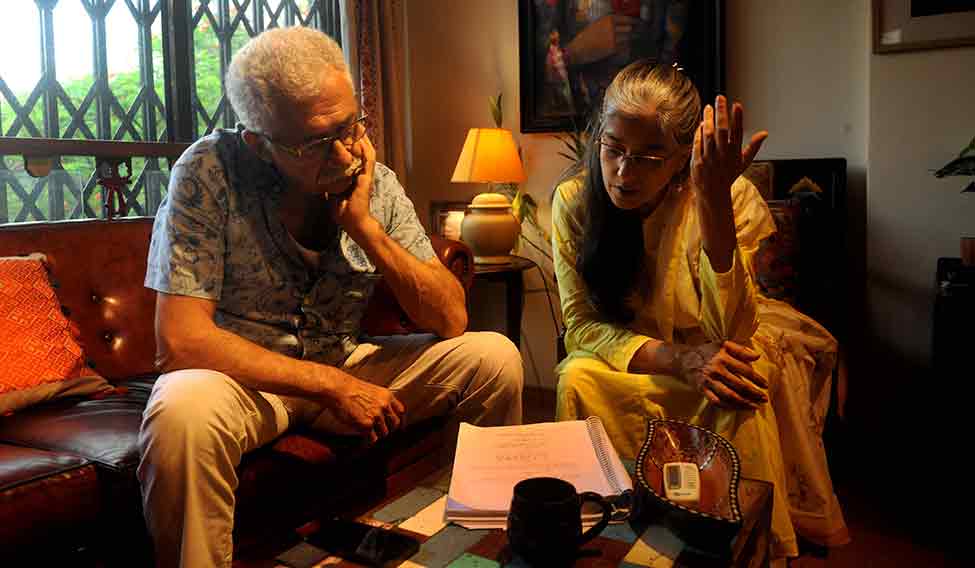 Some of the recent plays that Motley is doing:
Ismat Apa Ke Naam in Hindustani
Motley's tribute to Ismat Khanum Chughtai surfaces after a long gap. The Shah family enacts three stories by the famously provocative and irreverent Urdu writer.
The three stories are Chhui Muee, Mughal Bachcha, Gharwali.
Cast: Heeba Shah, Ratna Pathak Shah, Naseeruddin Shah
Director: Naseeruddin Shah
Kambakth Bilkul Aurat (Ismat Apa Ke Naam - II) in Hindustani
Three more stories by Ismat Khanum Chughtai
The genius of Ismat Chughtai is again celebrated in these hilarious and heartbreaking stories.
The three stories are Amar Bel, Nanni Ki Naani and Do Haath
Cast: Manoj Pahwa, Lovleen Misra and Seema Pahwa
Director: Naseeruddin Shah
Einstein in English
Gabriel Emanuel's Einstein directed by Ratna Pathak Shah and enacted by Naseeruddin Shah, is a 'line drawing' suggesting the spirit of the lovable figure, who despite being a towering thinker and great scientist was plagued with doubts, disappointments and failures in common with the rest of mankind.
Writer: Gabriel Emanuel
Cast: Naseeruddin Shah
Associate Directors: Ratna Pathak Shah
Director: Naseeruddin Shah
A Walk In The Woods in English
Two diplomats in the middle of peace talks take a private walk in the woods trying to achieve a breakthrough in the muddled negotiations between their two countries.
Cast: Rajit Kapur and Naseeruddin Shah
Original play by: Lee Blessing
Adapted by: Faisal Rashid and Randeep Hooda
Directed by: Ratna Pathak Shah
GADH-HA aur GADD-HA
Written by Krishen Chander
Directed by Naseeruddin Shah
Comedy Of Horrors
Using elements like Vaudeville, Puppetry and Mime, the play features pieces by horror-masters. The three pieces that make up the performance are: Edgar Allan Poe's 'The Man That Was Used Up', Ambrose Bierce's 'Moxon's Master', Edgar Allan Poe's 'The System of Dr. Tarr and Prof. Fether'. –
Writer: Edgar Allan Poe and Ambrose Bierce
Director: Vivaan Shah
Cast: Shiv Subrahmanyam, Jaimini Pathak and Joy Fernandes
Parindon Ki Mehfil
A theatre adaptation of the Persian poem, Conference of the Birds, the story recounts the longing of a group of birds' to know the great Simorgh or the phoenix.
Directed by: Heeba Shah