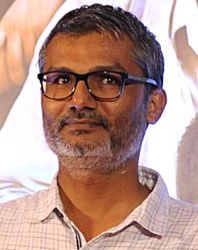 How did Dangal happen?
I have a few friends at the UTV-Disney office who called me with a brief story on Mahavir Singh Phogat and his daughters. Even though it was very brief, whatever they told me excited me a lot. I was on it since then on. I left from there and started searching on the family on the internet. This was almost four years ago. I couldn't find much. But it hit me that the story has the potential of being very engaging and entertaining, at the same time being very meaningful too. I told the Disney team that we should go and meet them and then figure out if it has the potential of becoming the film. And, we set out on a journey to Haryana.
Who all did you meet?
I met the two girls —Geeta and Babita, their coaches, Mahavir Singh and other family members. I spent some time with everyone to get more information on their story. I spent close to nine days with them and I knew on my way back that it has fantastic ingredients. The only thing was that how interesting a dish can we prepare with the given ingredients. With storytelling, there's always a possibility to have very interesting individual stories but as a collective, it may fall flat. I sat with my team of writers and started working on the screenplay. Through the process of writing, I made numerous calls to the family to get more details.
This was in 2013?
Yes. I worked on the screenplay for almost a year. Alongside, I was also working on Bhoothnath Returns. But once the screenplay was ready, we were quite convinced of it. I went to Ronnie Screwvala and Siddharth Roy Kapoor and they too were very upbeat about it. While writing the script, I hadn't kept anyone in mind. I usually don't do that because it then overshadows the story. But once this question was raised, I took a few seconds to come up with Aamir Khan's name, and everyone agreed to give it a shot.
Was it difficult to get Aamir Khan on board?
He loved the script. He just didn't know when would he have the time to do it. He told us that if we were willing to wait, he would do the film. He didn't ask for any alteration. What also interested him was the humour in the script. He had met the girls and Mahavir Singh during one of the episodes of Satyameva Jayate. It's a serious subject but the layer of humour keeps it lighthearted, keeping the message intact. Between my first draft and final draft, the only change that you will find is in the wrestling scenes. In the first draft, the wrestling matches were not very detailed.
But considering it's a real life story, did you have trouble in casting?
It was not an easy screenplay to write in the first place. The lead character has to go through so many transformations in the film. He had to be a young wrestle and then transform into a father of grown-up daughters. Physically, it was extremely challenging because the actor had to get into the heart and soul of the wrestler, who belongs to Haryana. To top it, the role of the daughters was equally challenging because they didn't have to just look like wrestlers but also play the sport with authenticity. This is exactly the reason we took so long in pre-production. The girls, Fatima Sana Shaikh and Sanya Malhotra (who play Geeta and Babita), went through the wrestling training for almost a year.
It was a grueling session for everybody in the team. For the actors, it was tough in the sense of getting the body language and the sport right, besides the emotional mindset and the Haryanvi dialect. For the production team, it was challenging to get the aesthetics right—the costumes, backdrop, etc as we were not diluting any of it. We also took a call to shoot at real locations rather than building up a set.
The movie was shot mostly in Haryana instead of Punjab?
When we wrote, we had Haryana in mind. But after the recce, we decided to shoot in Punjab. In terms of look and feel, the two states are quite close. Shooting with a known face like Aamir, you have to be extremely planned and careful. Also, in Haryana, the kind of fields we were looking for were at quite a distance from the kind of markets we were looking for. Same with the schools and houses. It was getting a little difficult for the production team to put it all together as per our vision in Haryana. In Punjab, however, it was easier. We made Ludhiana our base and shot in six different villages around it.
This is your first film based on a real life story. Were you ever conscious of going wrong?
When you are writing a story, you are very well aware that you are going to take certain liberties. You need to keep the overall graph in mind—every character and individual stories within the larger story. You need to chalk out which all characters can be modified to make it a commercial fare. At the end of the day, you are making a feature film, not a documentary. There are certain liberties that we have taken, but not too many. The magnitude of emotions and the sequencing of events have been modified for a better cinematic experience.
Was the Phogat family interested in the prospect of a movie on their lives?
When you are talking to a person about their story, there's usually a tendency to hold back certain things. But then you understand the overall circumstances and build it creatively. That is what even we did while writing the script. Once I went back to them with the final draft, they were like, "Oh you figured this out, it has come out well.'
Somebody interested in your life is an interesting prospect. How excited they were, it was difficult to judge initially because they might also be wondering what the outcome would be. The changes or modifications are not such that will affect the family at all. It's bare minimum. However, after reading the screenplay, Mahavir Singh Phogat told me, "Aap toh mujhe bachpan se jaante hain, aisa lagta hai."