Two members of the Save Farmland Committee became ministers, and many members who showed their allegiance to the Mamata government got plum posts in the local civic bodies.

"I have committed so many mistakes in my life. But the biggest mistake was to join the movement against land acquisition. We fell prey to someone's political agenda" - Pratap Ghosh, who lost five acres

"Let us bring Ratan Tata back to Singur. I will only request him to pay us good money against the land he has taken from us" - Akul Das, who lost less than an acre
Pratap Ghosh, a farmer from Singur, suffered a heart attack in 2003. He was taken to a local hospital where the doctor recorded an abnormal heart rhythm. Ghosh, 52, consulted a cardiologist in Kolkata, who diagnosed him with cardiac valvular dysfunction—when any of the four valves in the heart stops functioning. In Ghosh's case, it was two—and informed him that he would need a replacement, which would cost him more than Rs.8 lakh.
One of the better off farmers in Singur, Ghosh decided, after consulting his family, to raise the money by selling two of the seven acres he had. He underwent surgery at a hospital in Bengaluru.
Thirteen years later, however, life has come full circle for Ghosh. His son, Aveek (name changed), 22, suffers from the same disorder. Ghosh consulted several cardiologists in Kolkata, who suggested the same remedy: valve replacement. The surgery would cost Rs.4 to Rs.5 lakh today. Ghosh doesn't have the money, nor does he have enough land left to sell. All he has is a piece of barren land, which would not fetch him more than Rs.1 lakh. So, what happened to the five acres he had? "All of it was lost in 2006 when the government acquired it for Tata's Nano car project," says Ghosh.
This fertile land used to give him three crops a year, and as it was close to the national highway, it was more lucrative in the eyes of potential investors. But when Tata Motors decided to set up a plant in Singur to build the Nano car, Ghosh and 1,200 other land owners lost 400 acres, in forcible acquisition by the Left Front government. They refused to accept the compensation offered by the government. However, 1,900 other farmers buckled under political pressure and took the offer, giving up 600 acres. Among those who didn't take the compensation, Ghosh was the biggest individual land loser.
In his heyday, Ghosh had an Alsatian dog, a gift from a relative. He saw it as a status symbol and took good care of the dog, feeding him meat on a regular basis. Today, the dog shares the 16kg rice his master gets as ration from the Mamata Banerjee government. Ghosh says he may return the gift to his relative.
"I lost all my land and overnight, from being the richest farmer in the area, I became a poor man. How do I take good care of the dog now?" asks Ghosh, sitting inside the courtyard of his house at Gopal Nagar, a village in Singur.
He, of course , is more worried about his son. Aveek has written to Mamata, and Governor Kesri Nath Tripathi and Prime Minister Narendra Modi seeking financial aid for the surgery. "Let us see who gives me money and who refuses," says Aveek with a smile. Ghosh doesn't share his son's optimism "Everyone bluffs. No one is going to help him," he says. "He is a young chap. He does not understand politics."
When Mamata came to power four years ago in 2011, she had initiated legislation in the West Bengal assembly to return the land which had been forcibly taken away from unwilling farmers of Singur. But Tata Motors moved the High Court against the legislation and a division bench termed it as "illegal". Next, the state government approached the Supreme Court, where the case has been pending for more than three years now.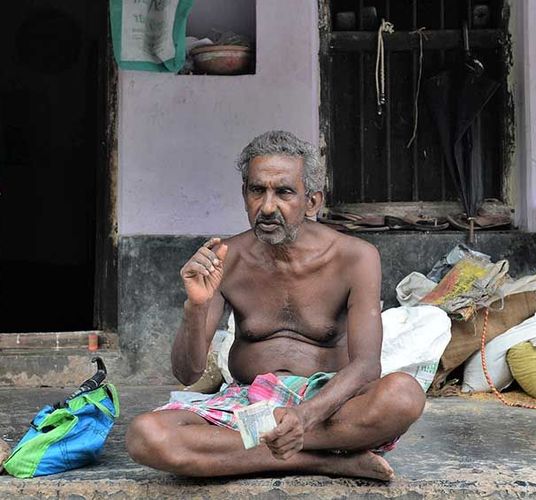 In the meantime, the state government decided to give a pension of Rs.2,000 and 16kg rice a month to the land losers. Had Ghosh got his land back, he would have cultivated 16 quintal of rice. However, he is now dependent on the pittance provided by the government.
Back in 2006, Ghosh was in the forefront of the agitation despite his frail health. He faced the police lathicharge and led a mob that raised slogans against the government and the Tata officials, who visited Singur to survey the land. Ghosh, however, regrets his actions today. "I have committed so many mistakes in my life. But the biggest mistake was to join the movement against land acquisition," he says. "We fell prey to someone's political agenda."
The anger is clearly directed at Mamata, who has failed to mitigate the situation. She was once worshipped like a goddess, but her clout in Singur has diminished over the years. Many people who lost their land had pinned their hopes on her government, but now they regret that they had turned down the compensation.
In fact, Ghosh is no longer averse to the idea of Tata Motors setting up a factory in Singur. All he wants in return is a good price for his land. "Really, if there is any chance, Tata should come back to our land. Nano is lost but still they could set up something new after paying us a good compensation," he says.
A lot of other land owners, too, are considering sending an invite to Tata Motors to return to Singur. "I will be the first to garland [Ratan] Tata if he decides to return," says Akul Das, a senior member of the Save Farmland Committee in Singur, unaware that Tata is no longer chairman of Tata Group. "Yes, there is no other alternative today. Let us bring Tata back to Singur. I will only request him to pay us good money against the land he has taken from us. This time we will not be unwilling to part with our land."
A retired primary school teacher, Das used to stay up all night during the agitation to guard the village against surprise arrests made by the police to nab the agitators. Today, he suffers from high blood pressure and cardiac issues and has been advised to undergo a costly surgery. And he doesn't have the money for it.
He had used his retirement money to buy less than an acre of land, but the government acquired it. So, neither does he have any savings nor the land. He takes care of his family, including his divorced daughter and her children, with his pension.
"I blame my destiny," he says. "I wanted to invest the retirement money in a profitable sector. So I bought land. But I never realised that I would lose it shortly. Today, I want nothing but my money back. For that, a factory must come up on our land and if Tata gets involved, then we would get good compensation."
In his sunset years, all Das wishes for is peace of mind. "There is no peace in my family," he says. "Trust me, money plays an important role in bringing peace."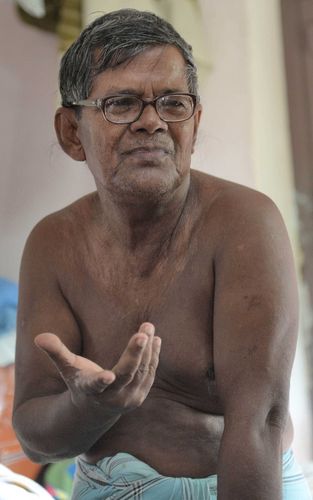 He is angry with the politicians, especially those belonging to the Trinamool Congress, who used the agitation for political gains, but did little to alleviate the sufferings of the farmers. "Just look at me. In this hour of crisis nobody is around me," he says. "All the people who were a part of the movement politically have forgotten me. Even if I die today, I am sure they would come to know about it a week later."
Two prominent members of the Save Farmland Committee became ministers, and many members who showed their allegiance to the government got plum posts in the local civic bodies.
In September, a farmers' meet was organised in Singur. But neither Ghosh nor Das was invited. In fact, no farmer whose land was forcibly taken away attended the meeting. "Could you imagine a farmers' meet where people who actually led the agitation were not invited? For the Trinamool Congress, we are like the untouchables," says Das.
But, being away from the limelight is not such a bad thing. Ask Mahadeb Das, a Trinamool Congress leader, who at one point had 61 criminal cases against him. Why? He was instrumental in bringing the agitating farmers onto the streets. In total, 125 cases were filed against 700 farmers.
Mahadeb lost only a small piece of land to the forced acquisition, but he spent his youth fighting for the cause. He sold his ceramic factory to fund the movement. When the Trinamool Congress government came to power, 36 cases against Mahadeb were withdrawn. "But I still have 25 cases pending against me," says Mahadeb. "I have to make several trips to the court every week."
Mahadeb, 41, got married only recently. The agitation and the cases had been keeping him too busy to think about his personal life. Yet, he was not invited to the farmers' meet. "Perhaps, they did not think I was worthy enough to attend the convention," says Mahadeb.
"Not inviting Mahadeb is an insult to the farmers of Singur," says Anal Das, his neighbour, who also lost his land. "That the ruling party has forgotten Mahadeb's contribution shows that they have forgotten the contributions made by the Singur farmers."
While many of his fellow partymen have secured prominent positions, what did Mahadeb get out of the agitation? "A deep sorrow," he says. According to Mahadeb, using the land to set up an industry would be "one step forward towards finding a solution".