The 150km-long journey from Madurai to Sinnamalampatti can be quite a challenge. The four-lane highway soon turns into a narrow, potholed road, flanked by towering granite blocks, occasional hillocks, thorny shrubs and dilapidated houses. An eerie silence greets visitors to Sinnamalampatti as the local people seem shocked by reports of human sacrifice in the granite quarries that dot the village.
With a shabby dhoti tied around his thin waist, Pandi Ayya looks bewildered as he watches the scene unfolding at the village's abandoned graveyard. "This is not our graveyard. We bury our dead bodies near the Manimutharu river bank. How can so many bodies be dug out from an unused graveyard," says Pandi. Villagers say at least 12 people were victims of human sacrifice, performed allegedly by the granite barons. A team led by IAS officer U. Sagayam, which has been investigating the illegal granite mining in the region, has started exhuming skeletons from the discarded graveyard. Sagayam and his team comprising doctors, forensic experts, police and revenue officers have found skeletal remains of six bodies in five days after digging ten feet in the unused graveyard.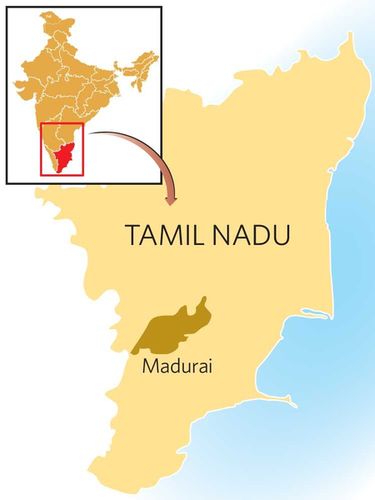 Although the two-decade-long dominance of the mining barons in Madurai came to an end in 2012, the lives of the people in the 50 villages in the mining belt have not returned to normalcy. The once green Keezhavalavu and E Malampatti villages have lost their water bodies and agricultural land. Sivalingam village, too, has a similar tale to share. At Gundangal, people who were displaced by the quarries have not been allowed to return. Buildings have developed huge cracks at the adjacent Jangitnagar. Huge pieces of granite litter these villages, making normal life impossible.
The influence of the Madurai barons extends to Sivaganga in the south and Dindigul in the west and even to villages in the Andhra Pradesh-Tamil Nadu border, but it is the villages in the Madurai region which are the worst affected. The Rs.16,000-crore granite mining scam was the result of the unholy nexus between the mining barons and the corrupt politicians and bureaucrats. It was Sagayam who blew the lid off the scam in 2012 when he was the district collector of Madurai. In a 13-page letter to the government, he estimated the loss to the exchequer from illegal mining in the 175 quarries in the region to be Rs 16,938 crore. The needle of suspicion is on the 16 mining barons in the region, who are now under investigation. Prominent among them is P.R. Palanichamy, popularly known as PRP, who runs a massive granite manufacturing unit in Madurai, which is spread over 150 acres.
Palanichamy, a school dropout, came to Melur in Madurai district with just his sister's gold chain weighing three sovereigns. He raised initial capital for his business by pledging it at a local pawn shop. His business began to prosper from 1998 after he managed to get a quarry contract on lease from Tamil Nadu Mines and Minerals, the government body in charge of mining. By 2003, Palanichamy's granite empire was among the biggest in the country. His rapid rise was aided by government officials whom he reportedly rewarded handsomely. A retired tehsildar in Madurai said Palanichamy gave many officers monthly gifts. "District collectors would get Rs.5 lakh and senior police officers would get a sum close to that. Every officer from top to bottom in every department was given rewards according to their ranks," he said.
Palanichamy allegedly manipulated the system to his benefit. "We had only one permit for a particular variety of granite to be unloaded at the Tuticorin port for export. But the same permit would be used for at least five trips," said Palaniraja (name changed), who once worked as a driver of Palanichamy's lorries. He was forced to quit after he questioned the practice.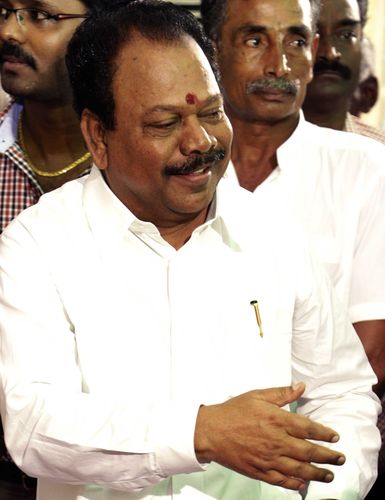 Palanichamy further expanded his business by expropriating agricultural land from villagers, said sources. "Palanichamy's henchmen forced me to sell off my land, offering me a few lakhs. When I refused, they came to my house with registration department officials and some goons. We were forced to sell our land for a meagre one lakh rupees," said 61-year-old Kanagaraj Annamalai of E Malampatti village.
Kanagaraj is even more worried about reports of human sacrifice and the disappearance of his mentally challenged cousin Koothayi Velu. "She used to wander about in the streets and never stayed in the house. One day, she did not return," he said. "I now doubt if she was killed in the name of human sacrifice." There are widespread allegations that some of the quarry owners have resorted to human sacrifice to propitiate the gods.
Palanichamy's jeep driver Sevarkodiyon, who worked with him from 1998 to 2003, said in a complaint that he had brought twelve mentally challenged people from the Keezhavalavu-Pudukottai region on the instructions of Palanichamy's managers Jothi Basu and Murugesan. "They tortured me as I knew all about their illegal activities. They threatened to kill me, but I escaped," said Sevarkodiyon. There are four criminal cases against Sevarkodiyon at the Keezhavalavu police station and he is an eyewitness in 40 criminal cases, according to police sources.
A 71-year-old man, who refused to identify himself, too, has filed a complaint with the Sagayam committee about the human sacrifice. He said he saw a young man being killed at a quarry in Keezhavalavu in 2002 in the presence of Jothi Basu, Murugesan and a tantrik (priest) from Kerala. His travails began after he lodged a complaint with the revenue department after a temple in Keezhavalavu was damaged from quarrying. "I lost my land to them. My family left me. I was beaten up and I had to run away to Sivaganga for safety," he said. He was later asked to return and shift his family deity from a quarry to a nearby village called Eariyur. "I saw a 25-year-old bearded young man being forced to lie on the floor in the quarry. The tantrik uttered a mantra and the young man's throat was slit. As blood gushed out, the tantrik touched it with the trishul (trident) and gave it to me to leave it at Eariyur," he said.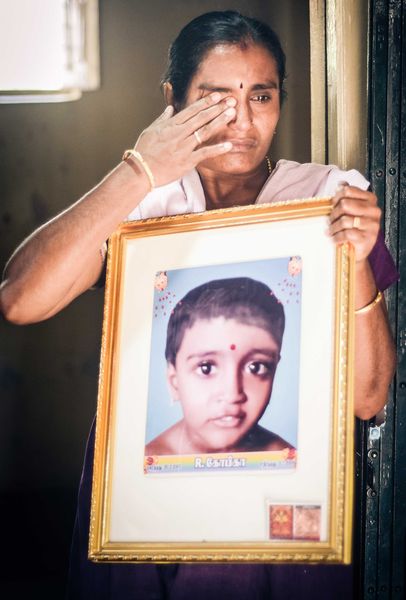 Three-year-old Gopika is said to be another victim. She went missing three years ago. Her parents, Ravi and Usha, said she was murdered by the granite barons. She was playing in the street and was missing after a while. Next morning, the little girl was found dead near a stream with her throat slit, her left ear cut off and her anklet missing. "My brother-in-law said after 30 days, broken coconuts and a piece of silk cloth were found on the spot where my daughter's body was found. We suspect our neighbour, who is a driver for one of the quarry owners," said Usha. The police had quickly closed the case calling it an accident. Usha and Ravi have filed a petition in the Madras High Court seeking a detailed investigation. "I will not stop till I get justice," said Usha.
Animal sacrifice is quite common in the southern districts of Tamil Nadu. Meat dishes form an important part of temple rituals and marriage functions. "It is believed that animal sacrifice will bring good fortune to the family and drive away evil," said Murugan Ayyathurai, a small-time astrologer in Madurai. But the PRP people performed human sacrifice for business expansion, according to the old man, who chose to stay anonymous. "The stone slabs have to be cut perfectly to avoid cracks as even a minor crack would mean the slabs cannot be exported." The human sacrifices, he said, were made to avoid such errors. If sources are to be believed, Palanichamy, his wife, Selvi, his sons Senthil Kumar and Suresh Kumar, daughter Sivaranjani, daughter-in-law Chandralekha, son-in-law Deivendran and nephew Murugesan are staunch believers in astrology and tantriks from Kerala would often visit them.
Palanichamy's advocate V. Manoharan denied all allegations against his client. "PRP is a gentleman. He has always helped his employees. Sevarkodiyon is a blackmailer and he wants to extort money and take back the land his father sold to PRP years ago," he said. He also said Sagayam and his team had exceeded their limits. "The High Court appointed him only to look into granite mining. It is not his job to investigate human sacrifice, which had not happened at all."
Sagayam, according to sources, did not initially take up the complaint about human sacrifice filed by Sevarkodiyon as it would affect the probe on illegal mining. When THE WEEK asked him for his comments, he declined to elaborate on the issue and also about allegations that his team did not get sufficient cooperation from the government. "I would submit my report soon in the court," he said. Sources confirmed that Sagayam would submit his report in the second week of October.
Sagayam's probe covers Palanichamy and 15 other granite barons in Madurai, the extent of their business and the illegal quarrying. He is only mandated to file a report on the gravity of illegal quarrying and recommendations to end it. It may, however, not be enough to punish the guilty, get to the bottom of the human sacrifice mystery and bring peace back to the lives of the people in the 50 affected villages.
PRECIOUS STONE
* The estimated amount of granite resources in India is 46,230 million cubic metres
* According to CAPEXIL, an agency set up by the Union ministry of commerce to promote the export of chemicals and allied products, granite worth Rs.45,393 crore was exported by India in 2000-2012, of which Tamil Nadu accounted for sales worth Rs.13,168 crore.
* The total value of granite sales from Tamil Nadu between 2000 and 2012 (including exports and domestic sales) was Rs.25,000 crore. The Madurai mining belt, comprising around 50 villages, accounted for a vast majority of it
* There are 175 granite quarries in the Madurai region and the most prominent miner here is P.R. Palanichamy, popularly known as PRP. From a school dropout to a multimillionaire, Palanichamy's growth has been astonishing. There are allegations of illegal mining and human sacrifice against Palanichamy and a team led by IAS officer U. Sagayam is probing these charges.