Indian college and professional education is very good. What I feel is a problem is the primary and secondary education.
Amitabh Kant is usually seen answering questions on digitisation and disruption, but at the St Stephen's College Alumni Association relaunch, the NITI Aayog CEO wore the interviewer's hat for a change. The interviewee was Ajay Banga, global CEO of Mastercard and a member of President Donald Trump's economic advisory council. As they reminisced about their college days, they also talked about the weighty issues of globalisation and education. Banga was at his candid best with zippy answers, and Kant showed that he has a future as a talk show host. Excerpts:
Kant: You have worked in global organisations. With Donald Trump coming in, are days of globalisation over?
Banga: There is a macro and a micro issue here. The micro issue is, when I as a global CEO travel to countries and meet eminent leaders like you or the prime minister, the first 20 minutes of the conversation are taken up by this question. That's a challenge for global companies. Because, America's soft power was its ability to influence the access for its global companies. I think that soft power in this era of inward looking nationalism will not be what it used to be.
On a macro level, I am deeply concerned at this moving away from international order. It is not just globalisation. Big institutions that we would take for granted—the UN, WTO; these are institutions you could argue or disagree with, but at least there was a place you could go to. These global institutions or forums were created after World War II for countries to come together and find out solutions for issues that were concerning them. If those institutions are unable to deliver, I fear for where we are headed as a world community. I am a firm believer that countries like India can take their rightful place in determining the future of the international order because the leadership is strong.
Kant: Globalisation has lifted countries out of poverty. Countries like Japan, Taiwan and Korea have become prosperous on the back of exports. So we should push exports in a big way. We must penetrate global markets. Post-demonetisation there has been a push for digitisation. We are seeing 900-odd fin-tech startups in the country. We have UPI (Unified Payments Interface) at the back. Google has come up with an app for payments for India and I was surprised when its India head told me that they had 9 million downloads. How is that going to impact Mastercard?
Banga: Mastercard is an infrastructure player. We provide technology and data for payments to work. It's too big a field for somebody to believe that protecting one's own turf is the right way to go. India's work on Aadhaar and UPI has built a backbone on which all of us can build up. You need all of us and more. What India needs to do is to welcome every form of technology and capability so that India gets the best, as compared with the natural tendency of trying to look inward only for that solution.
There are some things in which India is best. There's no country that can manufacture high quality prosthetic limbs at a cost that India does. No country can make cardiac care machine that GE makes in India. No country can deliver health care at an affordable cost that Narayana Hrudayalaya does. India's confidence must come from its own capacity and capability. And, people like you are driving this change. You are the reason India will win.
Kant: A lot of frugal engineering is indeed happening in India. Renault is exporting Kwid to more than 40 countries. Philips has come up with a low-cost sound recorder. We are the only country with a billion biometrics. Jio has revolutionised the mobile telephony. Imagine 150 million customers acquired at a price of $1 per customer. Four years down the line you will have a billion smartphones and a billion accounts. So when I use my credit card, I pay 3.5 per cent as transaction charge, when I use my debit card, I pay 1.5 per cent. But when I use my mobile, I pay nothing. So my feeling is that we are at the cusp of a major disruption because of mobile telephony and UPI.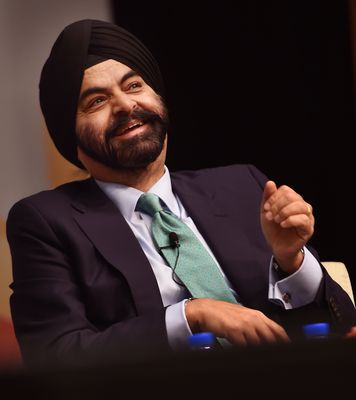 Banga: You should not be paying 3.5 per cent for your credit card. That's cheating if somebody is doing this. Consumers pay nothing for their credit and debit card transactions. This is a misunderstanding that should not be allowed to persist. Whether you use Apple Pay or a credit card, these are just ways to take money from one place to another. The idea is that, the cost of moving money should have economic advantage for both parties. There is no free ride. If you think, Google is free, it's not. You will get ads that are right in your face and will look at everything that you surf. There's no free lunch. Even the lunch in the college cafe was not free. The point is not about free. We should be thinking about right value.
Kant: QR codes have made transactions easy. Can you dwell a little upon that?
Banga: That's one of the most fascinating innovations that have happened in India. QR code is a set of hieroglyphic like characters that is unique to that merchant. When you take photo of that QR code money gets transferred from X account to Y account. It takes away the need for a terminal, takes away the cost for a landline and does not need to be maintained. The government's vision of getting on to it early will transform electronic payments.
Kant: You and your brother [M.S. Banga, who was global president of Unilever's food, home and personal care divisions] are both products of the Indian education system. Do you think it can take on best in the world?
Banga: I agree. Just the point that I earlier talked about allowing competition. It's such a tough education system to get into. The fact that you self-qualify into these institutions does produce terrific results. Indian education is second to none. Indian college and professional education is very good. What I feel is a problem is the primary and secondary education. That pipeline needs to improve.
Kant: How do we use technology to leapfrog in areas such as health and education?
Banga: Talking about technology, 14 per cent of my employees are in India. They are writing mobile and cyber security technology for the world. Artificial intelligence and machine learning capabilities that we are rolling out for the world are coming out of our centres in Pune, Vadodara and Gurgaon. These skill sets can be applied not just to financial technology tech, but also to areas like health care and education.
Kant: What are the two or three things that India should do?
Banga: I am not someone who believes in giving advice. Because it's easy to sit somewhere out of India and prescribe something. Having said that, I believe getting more workers into formal economy which is where your policies are targeted at [would help]. Be it Make in India, Skill India or digitisation or demonetisation, all are aimed at getting people into formal economy. If you do not do that, the challenge is that productivity will not grow. Democratising productivity is the main thing. People who expect demonetisation and GST to deliver results in 3-6 months, let me tell you, it's not possible. You are changing something that's very fundamental. The direction your government is pursuing, I could not be more supportive of that. I have a couple of suggestions. Come up with true labour reforms and true land reforms. That would be very transformative in next 5-7 years.