Prime Minister Narendra Modi was barely two weeks into his office and just back from his first foreign trip, to Bhutan, when he received a delegation of higher education experts on June 17, 2014. The delegation had come with concerns on India's poor score in global education rankings and a few suggestions on what could be the way forward. Modi listened intently, and agreed to one of their proposals—to have a national ranking framework. Smriti Irani, who was then the human resources development minister, was asked to look into it.
Such was the enthusiasm of the prime minister that the ministry came up with the National Institutional Ranking Framework (NIRF) the very next year. Education was a subject so close to his heart and he sowed the seeds of change in it long before launching any of his flagship programmes.
As a result, the higher education sector has not only woken up from the slumber but also been taking active steps to be counted among the best in the world. "All these universities had never talked about participating in a global ranking survey but with the nudge given by the president and the prime minister, a lot of them are considering these rankings. The government has also brought about a significant qualitative change in higher education," said Karthick Sridhar, vice chairman of Indian Centre for Academic Rankings and Excellence, which helps institutes participate in global ranking surveys.
The good news is that the government this time is acting as a facilitator, rather than playing its usual role of a regulator. HRD Minister Prakash Javadekar said that he was willing to give complete autonomy and more funds to better-performing institutes. For the first time, there is talk about having world class universities in India. And, universities, too, believe that a major transformation is under way in higher education.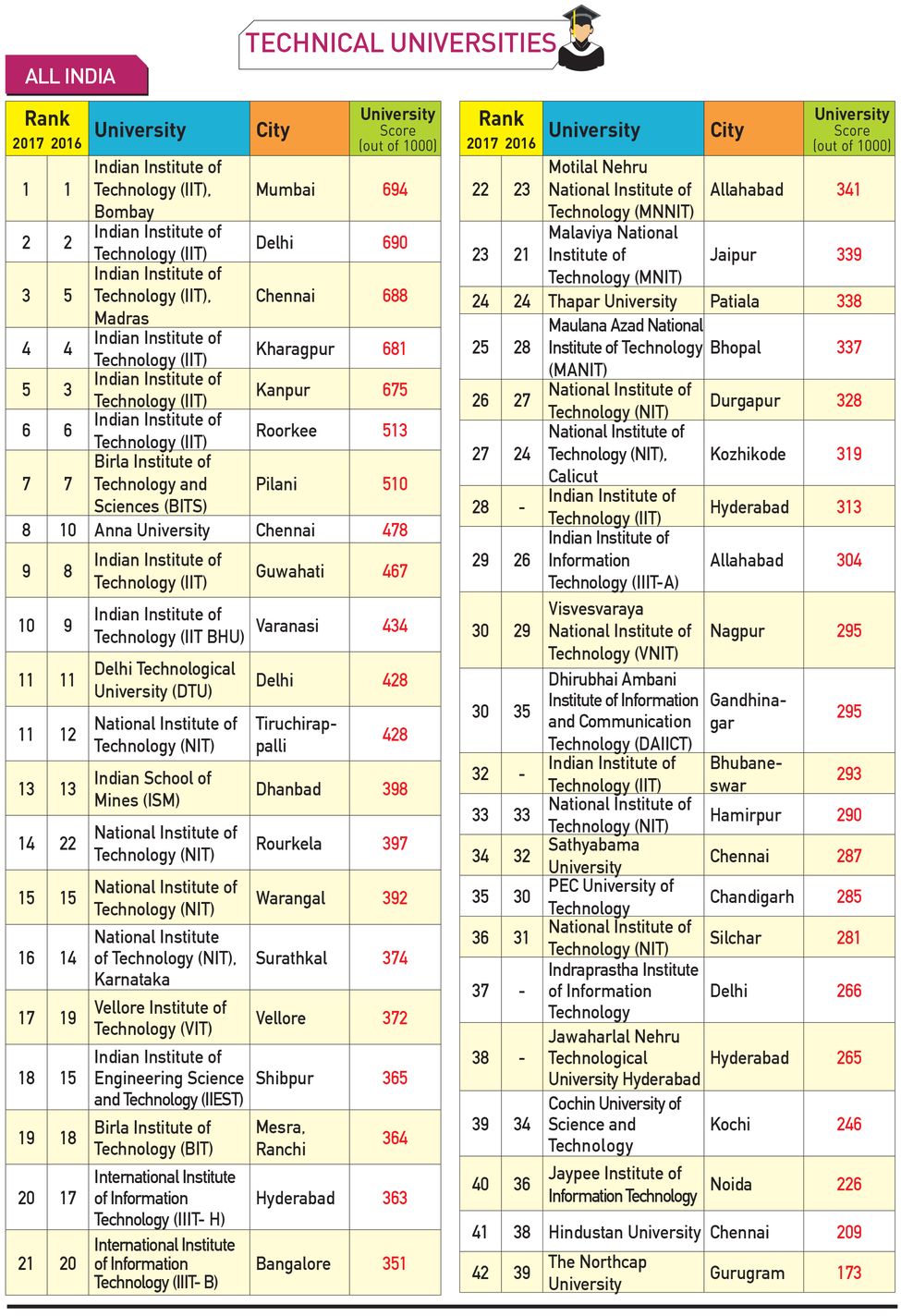 "We feel that there is much more encouragement and spirit to bring about a transformation. Be it promoting research, funding higher education or e-learning, the government is working on all levels," said Professor Chelmala Srinivasulu, nodal officer in charge of rankings at Osmania University, Hyderabad.
The HRD ministry has launched a programme called IMPRINT (Impacting Research Innovation and Technology) to develop a roadmap for research to solve major engineering and technology challenges in ten technology domains that are relevant to India. There is also a lot of impetus on e-learning through Swayam, the government's portal that has a repository of Massive Open Online Courses (MOOCs) on various subjects.
Rankings make things a lot easier for students while selecting a college or university. Nishith Juneja of Patna studied commerce in his senior secondary but now wants to do a humanities course. "I now know which college to apply to. These rankings will help students like me in decision-making. I don't stand a chance in Delhi University, but there are other universities in the top ten list I am looking forward to," said Juneja.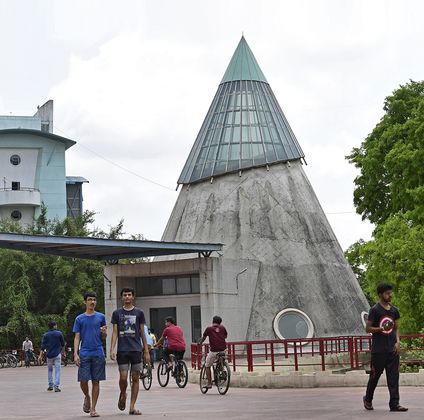 Rankings bring about a significant change in two ways—one, they help change perception among students and parents. A college may be held in high esteem by a student and his parents but the reality may be something else. Scientifically done surveys and rankings help bust such myths and bring clarity in decision-making.
Two, they make universities more competitive, leading to improvement in quality.
Benazir Chishti, a research scholar at Jamia Millia Islamia, Delhi, had always dreamt of learning from a globally recognised professor. Now the government's GIAN initiative has made her dream come true. GIAN, Global Initiative of Academic Networks, brings professors from all over the world to Indian campuses to deliver a one-week course on specialised subjects. Chishti attended a class on DNA nano architecture by Dr Sung-Ha Park of the Advanced Institute of Nanotechnology, South Korea.
"It was a completely new learning experience for me. Although I am studying nano-biotechnology, we have not been taught at the DNA level. This was very interesting as he talked about future applications as well," said Chishti. Jamia has conducted 24 GIAN programmes so far. Professor Shafiq Ansari, coordinator of the Internal Quality Assessment Council of the university, said there had been huge interest among students for GIAN courses.
The new thread that runs through all top universities is an increasing focus on research. Earlier, research was not on top of their priority list. Today, universities see it as critical for their survival. At Jamia, for instance, 40 per cent of faculty members have set up their own research labs, and 30 per cent of their papers are published in top journals. "Our project grant for various research projects has gone up by 40 per cent. The university believes in giving freedom to their faculty members to pursue projects that they want," said Ansari.
The University of Hyderabad is promoting interdisciplinary research in a big way. It has a centre for neural and cognitive sciences where scholars from various disciplines, such as computer science, physics, maths, linguistics and literature, are involved in a research on brain functions. "We have been very strong in research in basic sciences—chemistry, physics and life sciences. Investment in research is almost fully met by external agencies," said Professor Vipin Shrivastava, pro vice chancellor of the university.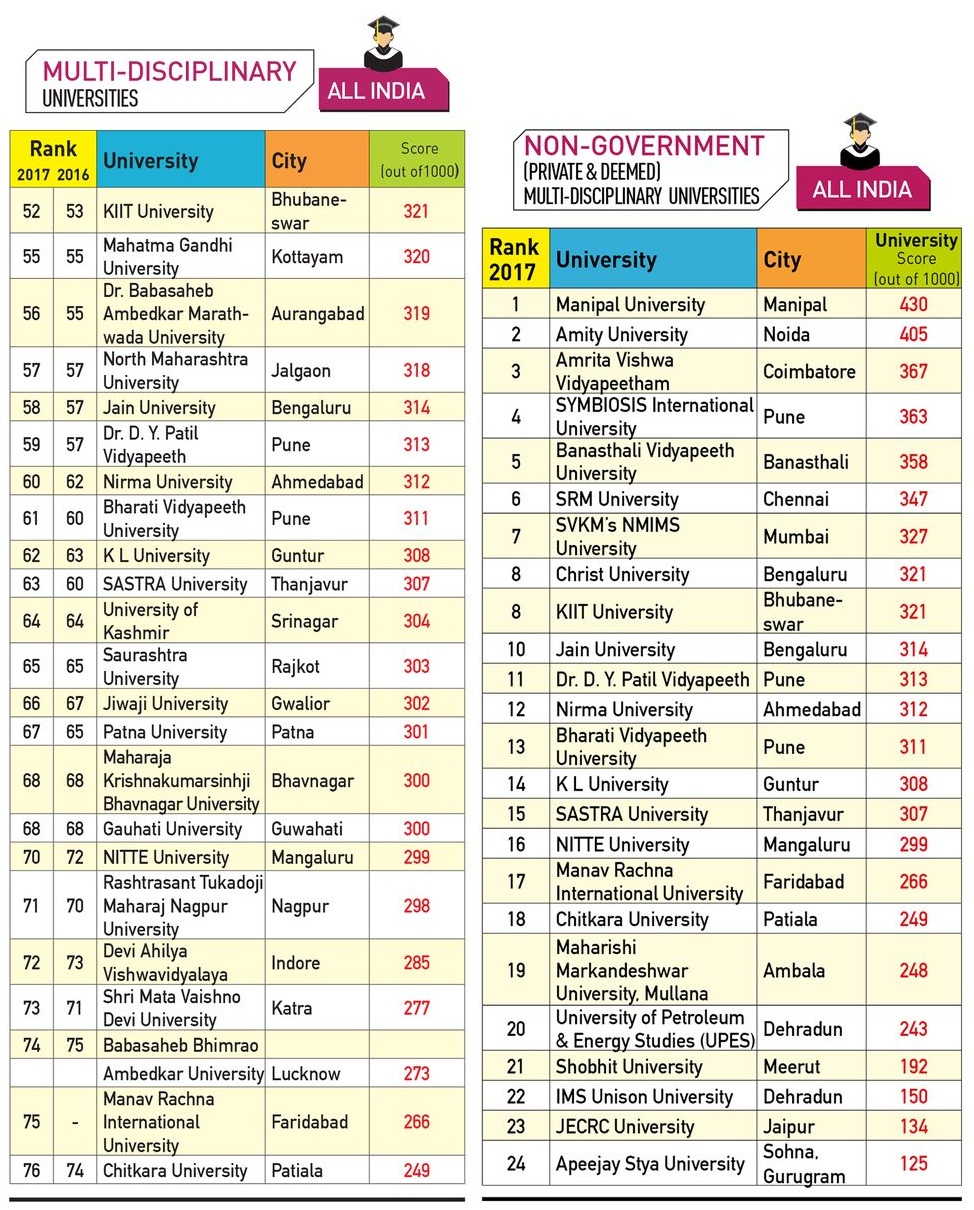 Not just the government universities, many of the top private universities, too, have started giving high importance to research. "For us funding is not a constraint and we understand that research will be one of the major pillars of our growth, going ahead," said Dr Atul Chauhan, vice chancellor of Amity University, Noida. Amity spends more than Rs 50 crore on research projects every year, and currently has 150 research projects.
At Manipal University in Karnataka, a quarter of its faculty members are serious researchers and have published some 1,700 papers—900 of them in excellent journals last year. The university spends around Rs 200 crore a year on research. Half of this amount is given by the university and the rest is from external funding agencies. "One of the criteria for faculty promotion in our university is research. Our faculty travels internationally for presenting papers, getting training and collaborations," said Dr H. Vinod Bhat, vice chancellor of Manipal University.
Even as universities are trying to make research their primary focus, funds are often a concern. Agencies such as Department of Biotechnology, Department of Science and Technology and Council for Scientific and Industrial Research have kept the research flame burning bright at government universities. Some international agencies have also come forward to offer grants to these universities. "The money that we get from the state government is barely enough to cover salaries and pensions," said Srinivasulu of Osmania. "We can't think of investing in research. But these agencies have really helped us. Because of our good research work, we have got the DST PURSE grant (Promotion of University Research and Scientific Excellence). The strength of our research also reflects on Scopus database (a database of peer-reviewed literature)."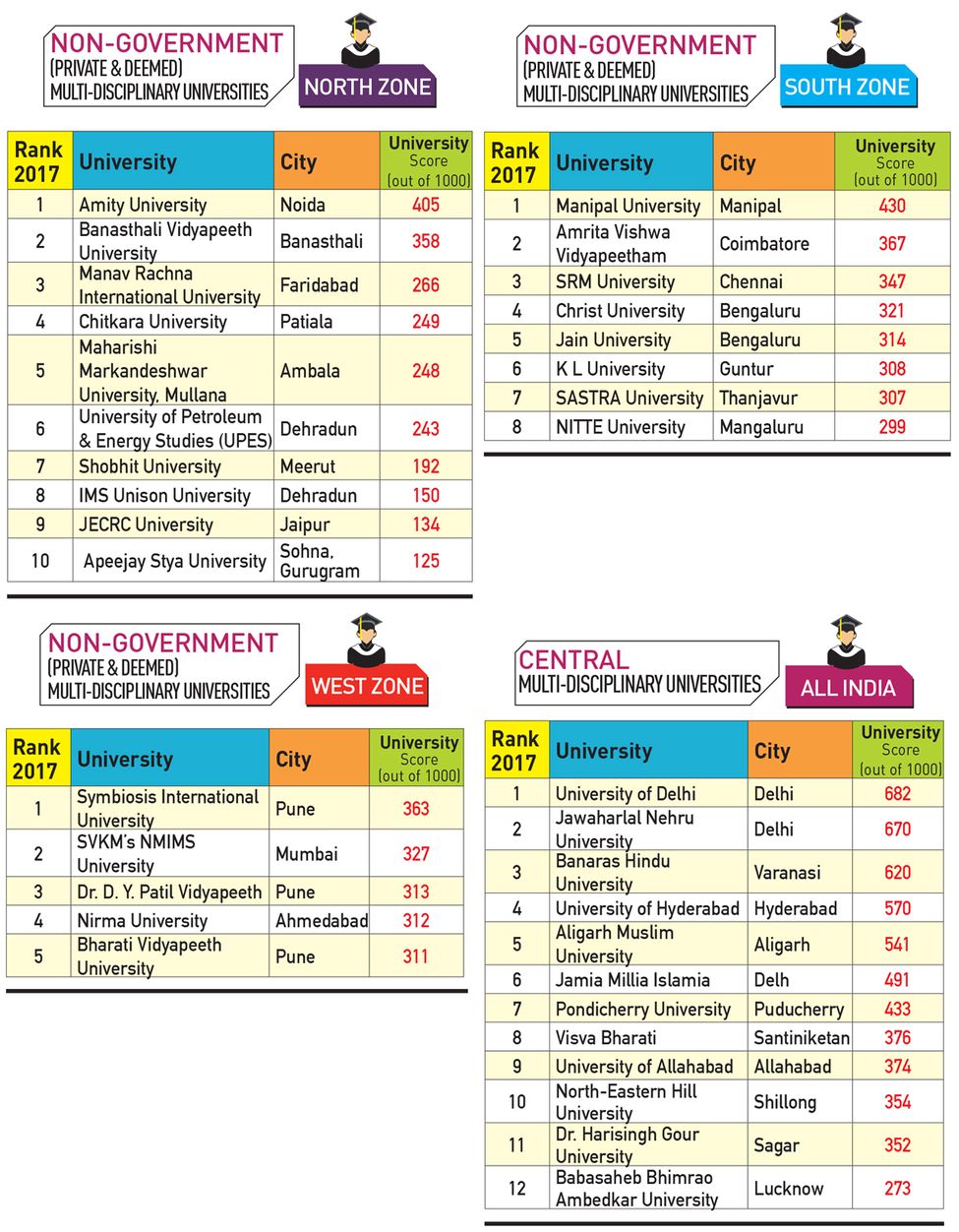 Experts say research in Indian universities will shine if funding is liberal. Private universities often find their own way. Manipal, for instance, work with corporates to help them in research. Companies set up infrastructure and equipment and Manipal does contract research for some of them. Philips has set up a medical imaging facility and Stein Life Engineering is helping the department of pharmacy in research on pharmaceutical process extrusion. Schroedinger is helping in research on drug discovery and Bosch on medical devices and health care technology.
Jain University in Bengaluru has established a fire lab under its Fire and Combustion Research Centre in collaboration with Underwriters Laboratories, a safety science company based in the US. "We have seamlessly synchronised education and entrepreneurship to create a balanced system, inculcating global competencies in our students. We are engaged in research and education in cutting-edge technologies," said Dr Chenraj Roychand, president of Jain University.
The fund crunch impacts another critical aspect—infrastructure. The century-old Osmania University has serious shortage of hostels. More than half of its hostels are constructed in the 1950s. "On our 100th year, the state government extended a grant of Rs 200 crore, out of which we have earmarked Rs 70 crore for improving hostel facilities," said Srinivasulu. BHU, which celebrated the centenary a year ago and has a sprawling campus in Varanasi, is also struggling to accommodate new students.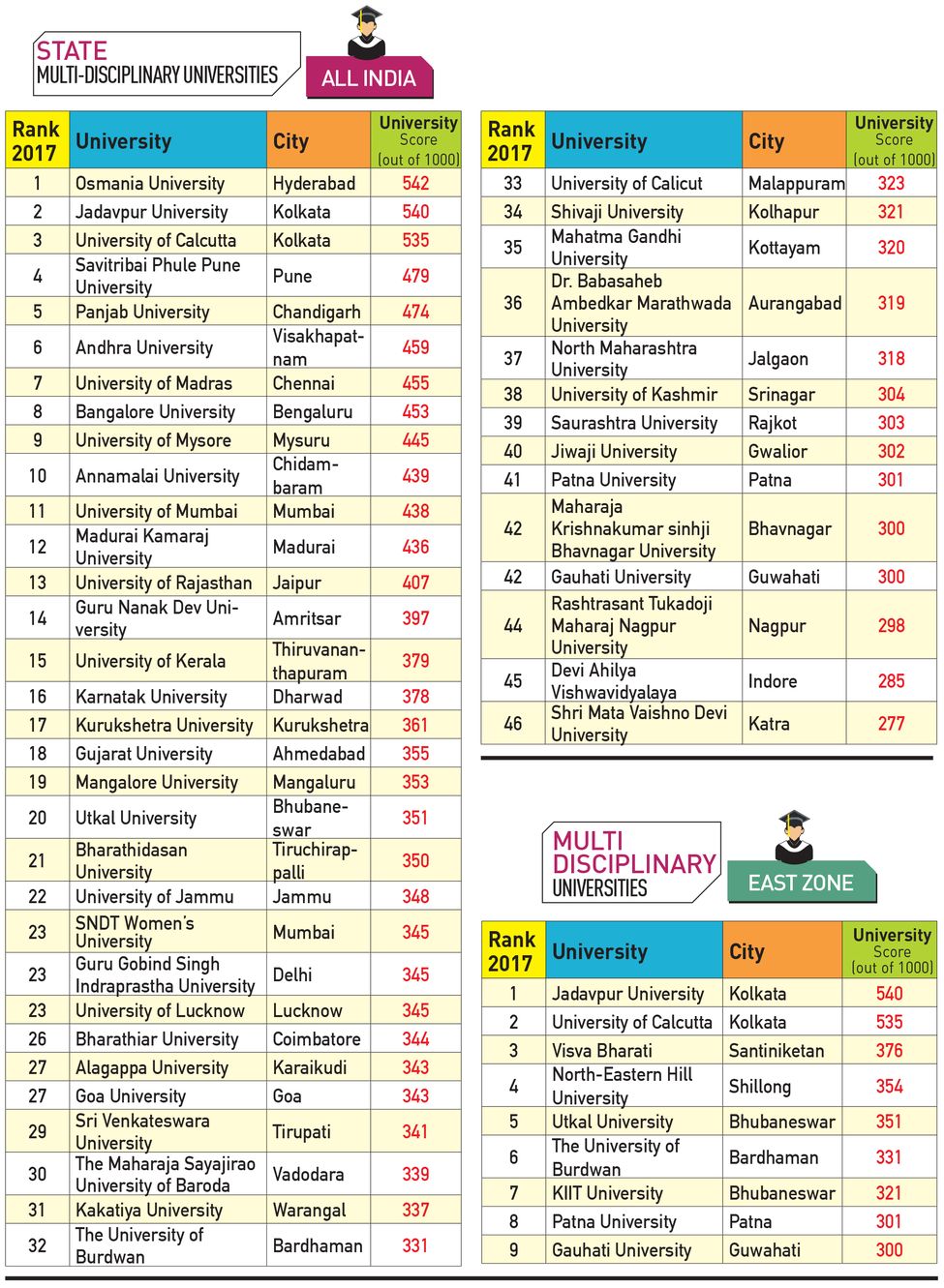 Despite the fund crunch, some of the government universities are trying to spread their wings and adapt to the changing needs of higher education. Osmania is trying to approach its huge alumni base for case-based funding. At BHU, many of its old students come back to teach.
These campuses are doing their bit to go digital as well. E-learning is slowly finding takers in universities. The University of Hyderabad has a huge repository of recorded lectures that students can refer to. Professors here record all their lectures. Jamia has a library of recorded online lectures which can be accessed anytime. "We have put 200 courses in mass communication on our online repository," said Ansari. Osmania does not create its own content but encourages students to use the Swayam portal. Amity University follows the flipped classroom concept for some of its courses, where a part of the course is learnt online and the rest in classrooms.
For a difference, many government universities are talking about entrepreneurship. "It is very clear that we can't have jobs for everybody. Also, this is an exciting time to be an entrepreneur. The entire country is going through that wave. We have seen good interest among students for starting up. We are helping them with our expertise," said Shrivastava of the University of Hyderabad. The university has three incubation centres. It has also helped the Telangana government set up T-hub, a startup incubation centre.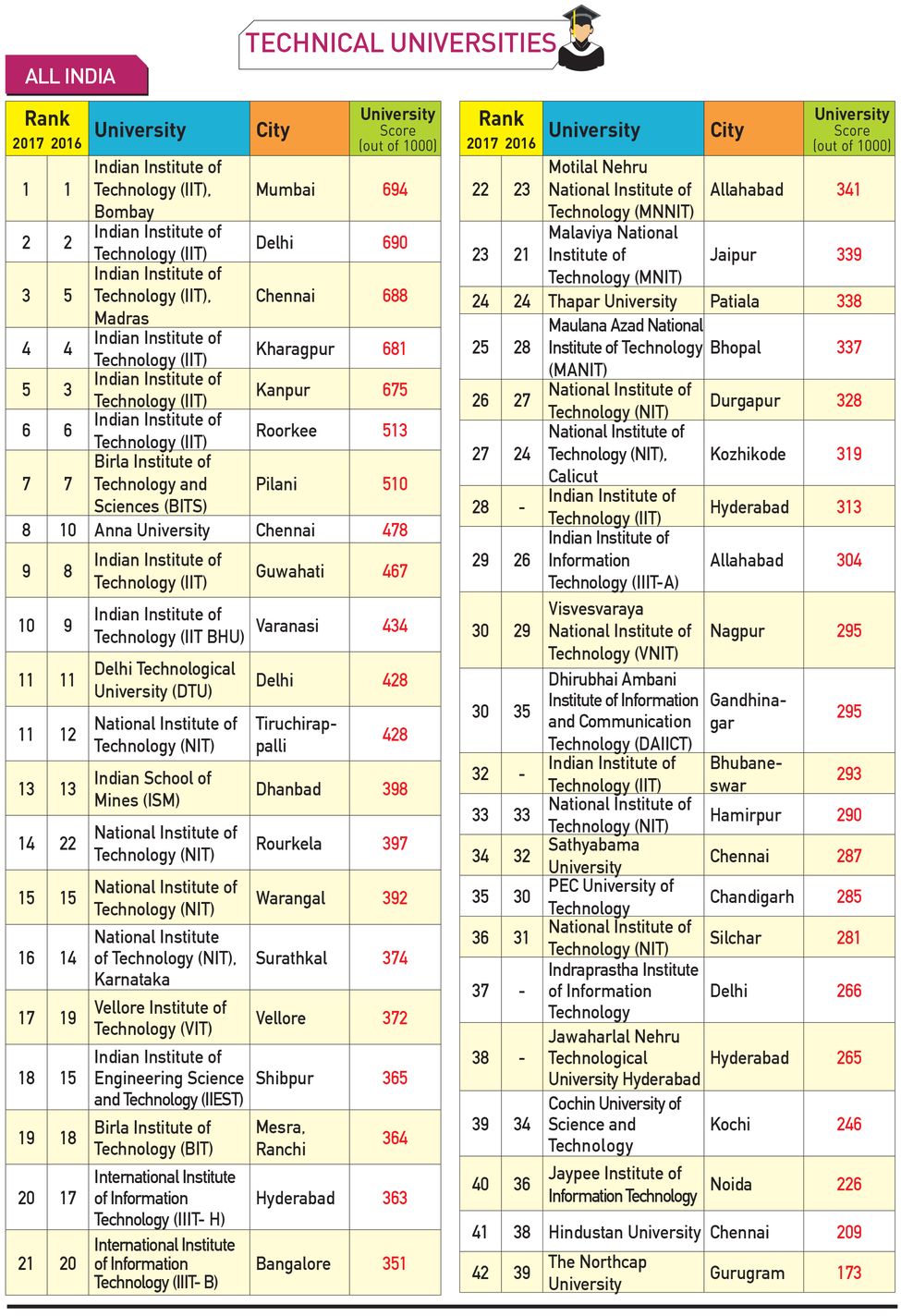 Jamia has a centre for innovation and entrepreneurship which helps students come out with their projects. There is also a stipend for students working on entrepreneurial projects.
When it comes to curricula and pedagogy, some private universities have been innovative. Apeejay Stya University in Gurgaon, Haryana, offers personalised schedules and class selection freedom to students. "We focus on those changes that directly help in outcome, both in learning as well as in placement," said Aditya Vijay Kumar Berlia, pro-chancellor of the university.
Universities are also experimenting with courses to meet the demand of learning on topical issues. BHU, for instance, has started the Malaviya Research Centre for Ganga River Development and Water Resource Management. It has a centre for study of ancient Indian knowledge, culture, literature and music. The University of Hyderabad has a course on Indology where students from other countries come and learn about Indian culture, traditions and history.
Dr G. Viswanathan, founder and chancellor of VIT University, Vellore, says India should become a leader in higher education at the global level. "Our slogan should be 'Study in India', like our prime minister's vision of 'Make in India'," he says. "With necessary changes in education policy and more allocation for education in the budget, this can be achieved."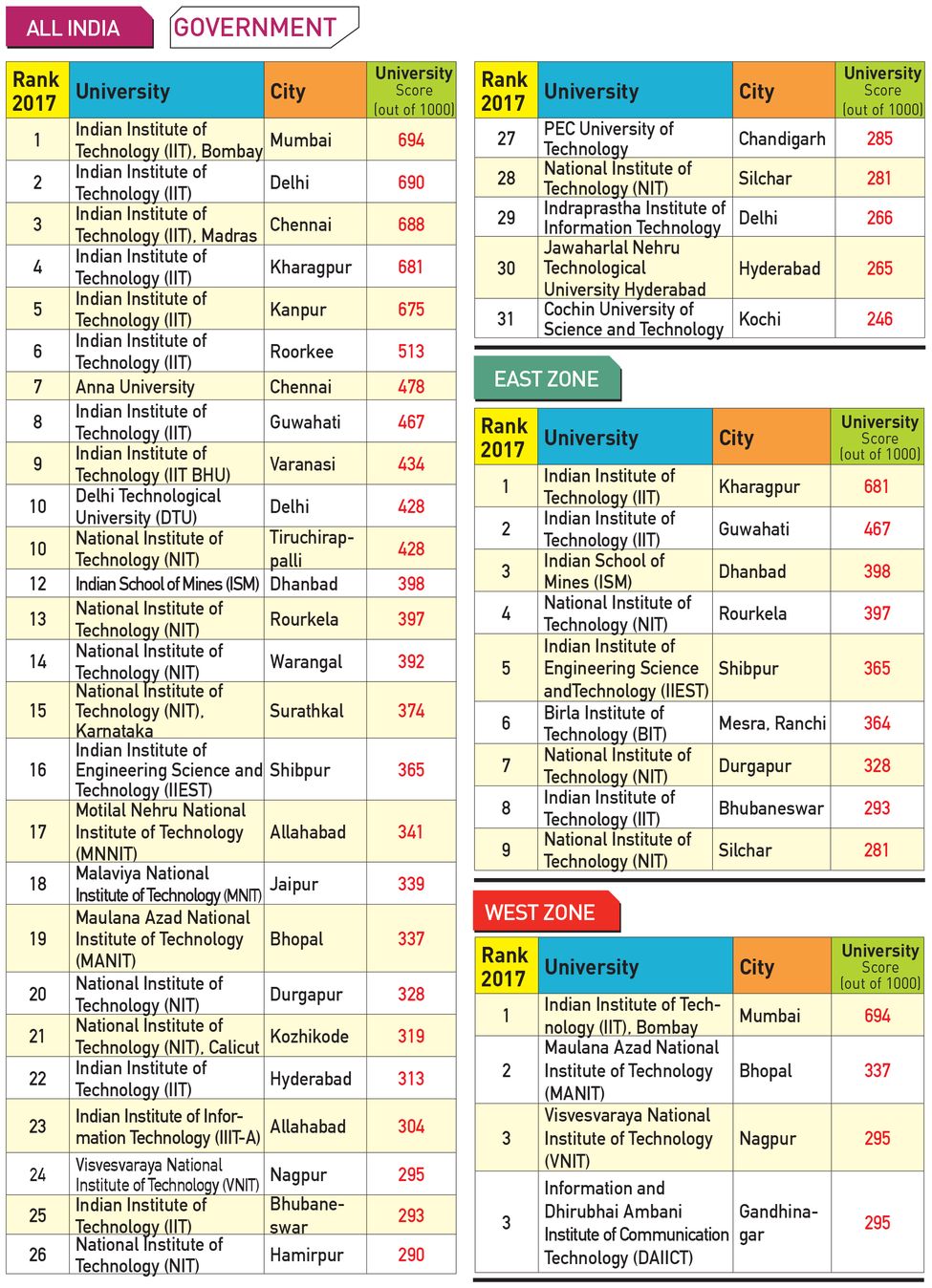 Most of the universities THE WEEK spoke to were willing to participate in a government project to identify universities that could come in the global top league. The first step was to make them compete against each other. The government seems to have succeeded in that. Now that they have woken up, they should soon start running.
Methodology
THE WEEK Hansa Research Best University Survey 2017 ranks multi-disciplinary and technical universities (government, private and deemed) recognised by the UGC that offer full-time postgraduate courses in at least two disciplines and graduated at least three batches of students for postgraduate programme.
Perceptual data collection
A primary survey was conducted with 233 academic experts in Ahmedabad, Bengaluru, Bhopal, Bhubaneswar, Chennai, Dehradun, Delhi, Gandhinagar, Gurgaon, Guwahati, Noida, Hyderabad, Indore, Jaipur, Kolkata, Lucknow, Mumbai, Patna, Pune and Vadodara. The sample was selected ensuring proper representation of all 20 cities.
A closed-end questionnaire was given to all the stakeholders, asking them to nominate and rank top 20 universities in India. Of the total 233 interviews, 11 qualitative interviews were done by the research team.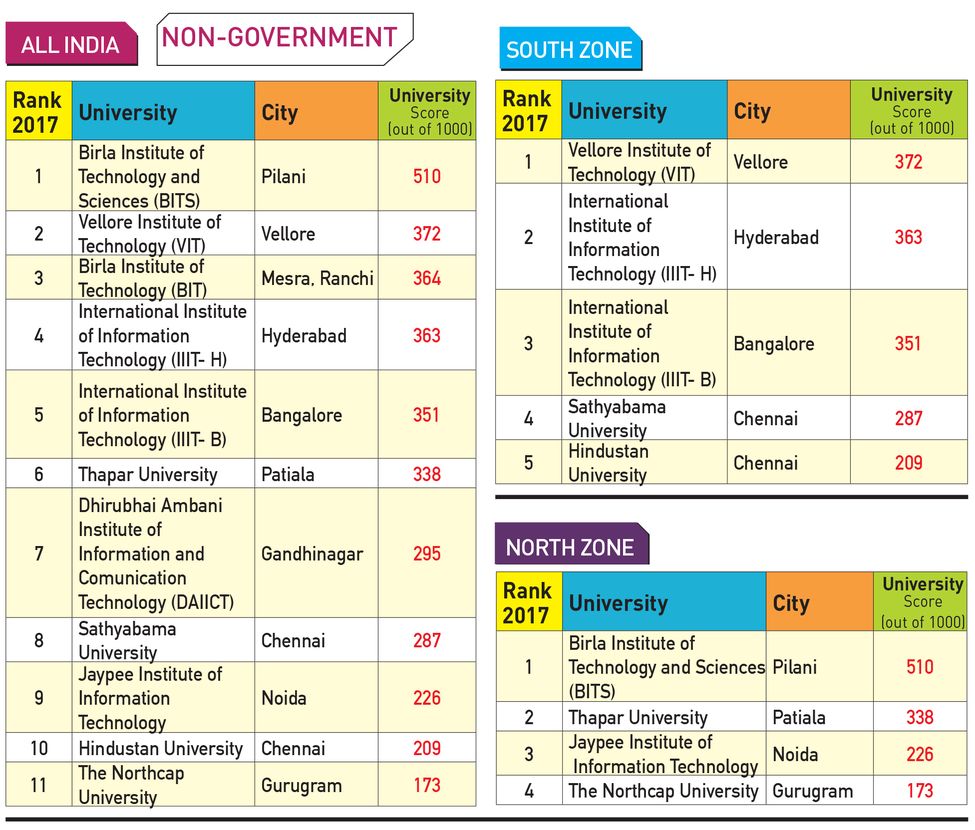 Factual information collection
A dedicated website was created as an interface and the web link was sent to more than 500 universities. Advertisements were also published in multiple issues of THE WEEK, inviting universities to participate in the survey. Forty-six universities responded with their information. Some universities were not ranked as they did not wish to get ranked. Data for the remaining universities were used for rankings and validations.
Ranking of universities was based on a composite score derived by combining the perceptual score for the university (based on the nominations made by experts) and factual score (based on the data submitted by the universities). Some top universities could not respond to the survey with factual information. For them, composite score was derived by combining the perceptual score for the university with an interpolated appropriate factual score based on their position in the list.
Final score for a university was calculated adding perceptual score in all India and factual score for the university (600). Perceptual score for a university in all India was calculated based on the number of nominations received and the actual ranks given to the university in all India. Factual score was calculated using the information collected from universities and other secondary sources.
OSMANIA UNIVERSITY
Probe and progress
No. 5 in all-India
Osmania University takes pride in its focus on research. The university has 23 specialised research centres and a 54,000 sqft facility for R&D with an advanced instrumentation lab and a computation lab that help researchers with software needed for research. "Research has been a strong point for Osmania for the past many years," said professor Chelmala Srinivasulu, a faculty member. "Our students and faculty have produced more than 450 research papers. Witnessing our potential in R&D, the Department of Science and Technology awarded us with a PURSE grant of Rs 15 crore."
Along with research, there is a lot of impetus on hands-on learning. In science subjects, students take up industry visits as part of the course. The university has tie-ups with industry and Central institutes, which allow students to work on live projects. Of late, the university has been forging international collaborations to help students and faculty get global exposure. There is a faculty exchange programme with the University of Utah and collaborations with the University of Wyoming and the University of Washington.
Osmania is also known for the variety of language courses it offers. "We are among the very few universities in India that offer Masters and MPhil in Persian. Our bouquet of science programmes is also very strong," said Srinivasulu. Apart from these, there is a plethora of short-term programmes, such as archival science and manuscriptology, taxation, culinary arts and cyber laws.
MANIPAL UNIVERSITY
Best private university
Practical wisdom
Manipal University has made it a habit of getting in to top ranks in most best university surveys in India. "We have taken a serious stand on the way universities should be projected. For the past 15 years, rankings have been very important to us. Rankings give an indication of where I stand vis-a-vis my peers," said Dr H. Vinod Bhat, vice chancellor of the university.
He said the only differentiator was quality. And, he ensures quality by fulfilling a basic but the most important input—faculty. At Manipal, faculty gets trained and retrained in new methods of pedagogy. The university puts in a lot of effort in selecting faculty, making sure that they are individuals who have put in long years of service. Some of the faculty members have taught at globally-known colleges. The university has started hiring foreign nationals for teaching as well.
An outstanding team of teachers makes a significant contribution to the university's focus on research. The students and faculty consistently involve in publishing papers and filing patents. One of the students from the department of technology recently received a patent for his invention of multi lens system.
Learning is not limited to education at Manipal. There is a strong focus on social initiatives. It runs a rural health programme, called Aarogya Suraksha. In another programme called Namma Angadi, students from the university's School of Communication help organise a three-day exhibition and sale of traditional products made by young artisans in Karnataka.