"Red lights indicate to me that the politicians concerned have been to some red-light district. When Gandhiji started the Servants of India Society, he meant that politicians should be servants of society, not the masters." - Alyque Padamsee, theatre veteran
The red beacon—perhaps the greatest phallic symbol of all times, denoting unbridled power—suddenly seems to have become powerless. What seems like hastily sewn up canvas pouches now shroud most red beacons, much like oversized condoms (which several Indian men, who don't know any better, are prone to use) and they sit limply while the ill-fitting seam at the tip changes directions like a weathercock in the wind, as these vehicles zoom past. Sign of the times ahead? Only the political climate can tell.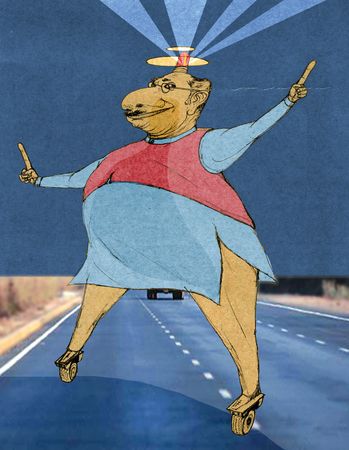 "Red lights indicate to me that the politicians concerned have been to some red-light district," says theatre veteran Alyque Padamsee. "When Gandhiji started the Servants of India Society, he meant that politicians should be servants of society, not the masters. All privileges should be abolished. The British Raj has gone and we do not want to have a House of Lords in our beloved India. Mr Prime Minister, please note."
TV anchor-comic Cyrus Broacha agrees. "The lal batti culture is rampant everywhere, and I suffer the most because I am a 45-year-old male who lives with his parents at the apex of this volcano which erupts every morning and evening when 2,000 cars arrive and leave. It is a nightmare," he exclaims. "Being a government servant you should do samaj ka seva. Why do you need a lal batti car? Why don't you take the public transport?" Those who use lal battis are small fry, he says, but the best part is "nobody knows these small-time MLAs anyway who move around with those safari-suit wearing guys". "I wonder if these people go to a toy store and buy these red beacons which can be pulled out and used whenever required or else it is sitting pretty on the dashboard, when not in use," he says. "It is shameful and we must reverse this whole culture. It is a complete waste of money and time."
The red beacon ban came into effect on May 1 this year, following the amendment of the Central Motor Vehicle Rules, 1989. Emergency services and police vehicles, however, will be allowed to use the blue beacons. According to Mumbai's additional commissioner of police (traffic) S.B. Sahasrabudhe, "From now on only the legally permitted light strip containing three colours would be permitted, as specified in the relevant government notification. No other light would be permitted which has been specifically barred."
Adman and theatre personality Bharat Dabholkar is happy with the government's move, but says the VIP culture isn't limited to politicians. "It percolates in every sphere of our society," he says. "The problem lies with us. We put them up on a pedestal. It is in our psyche, and it is very wrong. Why not treat them like a common man?" Dabholkar recalls a conversation with an American crew member when he was shooting for Kamal Haasan's bilingual film in the United States last year. "I learnt that even some of the biggest Hollywood stars such as Sylvester Stallone and Anthony Hopkins carried their own bag from their cars to the studios and did their own makeup, which is practically unheard of in India because we have an umbrella person, a makeup artist, a hair person, a boy and what not for our stars," he says.
Former Mumbai police commissioner Dr P.S. Pasricha says earlier only the police vehicles had the red beacon but later they switched to the amber one after everybody who was anybody wanted a red beacon. Even goondas had started using it and that's how its value declined, he says. "It reached a point where nobody gave any respect to the red beacon because you could see the officers' madams, kids and even PAs travelling in them, attending weddings and what not," he says. Pasricha lauds the prime minister's 'wise decision', but says there should not be a total ban and that a committee of two or three experts must scientifically review the decision. "It should not be linked with status and must be need-based," he says. The PM and the president already have piloted cars, so they don't need red beacons. A few ranks and designations, however, must have it, like the district magistrate and the superintendent of police who are enforcing law and order. But its blatant misuse must stop, says Pasricha. "IAS officers, IPS officers, income tax officers, municipal councillors, Zilla Parishad chief, civil surgeon, deputy mayor, chief engineer—why should these people have red light cars? Even police officers in training don't need them," he says.
The ban, nonetheless, has made a visual impact. "The other day, I was coming out of the High Court and walking towards Churchgate, and I saw lots of judges' vehicles without the red lights," recounts advocate Abha Singh. "It was like a sea of white cars minus the red lights. It brought a big smile to my face and I thought to myself, 'Ab inko traffic jam ka pata chalega [Now they will know what it's like to be stuck in a traffic jam].'"
Entrepreneur-politician Farhan Azmi says at least now the misuse of lal battis will stop. "However, people do use batons and torches and sticks that flash for security purposes," he says. "The Ambanis pay Rs 15 lakh per month to the CISF [Central Industrial Security Force] for protecting them and their home. That whole place, Altamont Road, is like a fortress and Akash Ambani has eight BMW X5s protecting him," he says. It is all corporate security now, says Azmi.
Also, there will be a race among politicians and corporates for light vehicles to escort them, says Abha Singh. "After all, VIP security with gun-toting men is such a status symbol," she says.
Former IPS officer and criminal lawyer Y.P. Singh, however, says the red beacons may find their way back. "It was banned after the Parliament attack [2001]," he says. "It was only allowed on emergency service vehicles and it was strictly enforced, but then it was back everywhere."