In Shakespeare's time, theatres had no curtain and used little or no scenery.
The world press went into a frenzy after it was announced a year ago that actor Benedict Cumberbatch, of Sherlock fame, was going to act in Hamlet. Produced by Sonia Friedman Productions and directed by Lyndsey Turner, the play had a twelve-week run from August 5 to October 31 at the Barbican theatre in London.
I was in London during one of the performances. I am not a Cumberbatch fan, but his stellar performance in Sherlock and the fact that he was acting in my favourite Shakespeare play made me catch a show.
So, here I was, at the Barbican, which has 1,100 seats. Most of the tickets for the shows were sold out a year ago. When I stood in the line for a day-time ticket, there weren't too many people there.
Though the Barbican is not in a touristy section of London, it had its fair share of foreign theatre lovers. How did I know? Well, I had three Germans and an American sitting on my either side. "Tourists are travelling from all over the world to see Benedict," said Toni Racklin, head of theatre, the Barbican, whom I met earlier in the day. "If tourists are real theatre-goers, they will come here. Fans may never have seen theatre before, they may never have seen Shakespeare or Hamlet before, but they are watching a fantastic production. We are bringing Shakespeare to a whole new audience and that just is thrilling."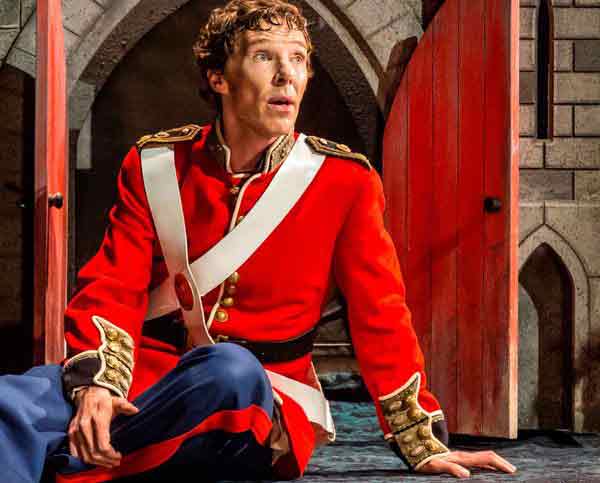 Once the play began, the first thing that caught my eye was the set design, by Es Devlin, which was breathtaking. Everything was on an epic scale; whether it was the staircase or the chandeliers or the grand dining table. Even the rubble looked remarkable. The costume design by Katrina Lindsay, too, was spectacular, considering all the characters wore modern costumes. Anastasia Hille (who played Gertrude) wore full-length dresses and Cumberbatch a red tunic, fencing jacket and patent leather shoes. The music by Jon Hopkins and the lighting by Jane Cox were brilliant.
As for Cumberbatch, he was fabulous throughout the play as the troubled and distraught Prince of Denmark. Most memorable scenes for me, were the one where Hamlet meets his father's ghost, the fencing match during the climax and the last scene where Fortinbras arrives to see the entire royal family wiped out.
Only an actor of consummate skill could manage to be so agile on the stage and mouth those Shakespearean soliloquies at the same time. Cumberbatch tried hard and partly succeeded. Melancholy, bereavement and brooding—which are at the heart of the play—were lacking. If only Cumberbatch didn't look a 'happy Hamlet'.
Though Cumberbatch has impressed half the world as Sherlock and maybe many more as Hamlet—his mother, Wanda Ventham, said he was "a bloody good Hamlet"—he failed to convince me fully. However, his heartfelt appeal for the Syrian refugees post the performance gives a glimpse into his larger-than-life personality.