Although Joseph Chakola or Ouso, hailing from a business family in Kochi, enrolled at Monash University in Melbourne to study finance, it was the art department of the university that fascinated him. That's how he turned into a promising artist rather than a budding businessman. His first tryst with art took place last year when he decided to reinterpret Hortus Malabaricus, an exhaustive book on Kerala's flora, by digitally manipulating the images to tell a fictional story.
His current exhibition, titled The Unimportant Histories of Architecture, will continue at the Clark House Initiative in Mumbai till July 4. It aims to capture the history that surrounds the magnificent edifices of India through digitally manipulated photographs. The show is about "histories that are unspoken in the many layers", says Ouso. The images have been created using four different printing processes that are not digital prints. "What you can see are the brush strokes in all these techniques," he says.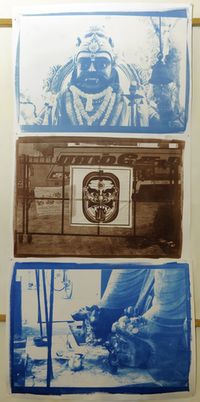 According to Sumesh Sharma, the curator of the show, the images attempt to turn the lens on the voyeur. "The installation re-creates the drama of a normal south Indian Dravidian temple," he says.
Ouso, who wears goggles, double gloves and an apron while working, mixes different chemicals on watercolour paper which turns brown on being exposed to UV rays. The image becomes fixed when the chemicals are washed off. "It gives a very organic feel especially when today, everybody uses digital cameras," he says.
Other than architectural edifices, some of his images depict gods and leaders like Rama, Sita, M.G. Ramachandran and M. Karunanidhi. Large architectural frescoes adorn the ceiling. What is fascinating is the way Ouso uses light to create art. It is in the printing of these images that one can see elements of cinema and architecture which, he says, "is not possible through archival inkjet print on paper".
Ouso has been invited to Tiruvannamalai on a research residency at the Ekalokam Trust for Photography which was established by renowned photographer Abul Kalam Azad to "preserve and popularise photography and other art forms" among the rural populace.
Ouso's interests, however, are not restricted to art. After starting an art gallery in Kochi, Ouso got into deejaying and making electronic music which, he felt, was an extremely creative pursuit. He has also played minor roles in several Malayalam films and is keen to make a film. It seems, for him, creativity has no limits.