Come 2016, and Stratford-upon-Avon, the birthplace of William Shakespeare, will be abuzz with activity. "The birthday celebrations next year will be big, stunning and heightened. They are always exciting and enjoyable, but we are making a special effort next year," said the Rev Dr Paul Edmondson, head of research and knowledge, Shakespeare Birthplace Trust. "We have planned a Jazz funeral by New Orleans Shakespeare Festival, and we are marking 400 years since Shakespeare's death with a Jazz funeral procession through the town as part of the usual birthday procession."
The trust, in association with the Shakespeare Institute, University of Birmingham, has roped in poet laureate Carol Ann Duffy to write a new ode in Shakespeare's honour. British composer Sally Beamish will set it to music and the piece will be performed at the Holy Trinity Church—the Bard's resting place—on April 22.
Major initiatives have also been planned for the digital platform. On November 1, fans would be able to log into the website Shakespearecircle.com, where Edmondson and a co-editor have written "imagined, first-person accounts, as it were the subjects, of people in Shakespeare's lives, speaking about themselves and their lives and Shakespeare. There are 29 of them, two minutes each," says Edmondson.
Next year, four books on Shakespeare by Edmondson, would hit the stands. The first one, called The Shakespeare Circle: An Alternative to Biography, is co-edited by Stanley Wells, a Shakespearean scholar. It would be published by Cambridge University Press. The second book, called 1616: Shakespeare and Tang Xianzu's China, features another playwright, Tang Xianzu, who died the same year as Shakespeare. "We did a project with the School of Oriental and African Studies, London, and got 11 Chinese literature experts and 11 Shakespeareans together and we looked at the theatrical platforms across China and England in 1616," says Edmondson.
The third book would be an archaeological biography of Shakespeare's home at Stratford-upon-Avon, and the fourth, called Shakespeare's Creative Legacies, would talk about the influence his works have had on other art forms.
The trust is also transforming New Place, where Shakespeare spent his final years, into a heritage landmark. It would be open to the public from April 23. In addition, the World Shakespeare Congress would be organised in Stratford-upon-Avon, which would later move to London.
The London Symphony Orchestra and the London Philharmonic Orchestra have plans to create music inspired by Shakespeare, and the Royal Ballet would be doing a special piece. The British Library would organise an exhibition on Shakespeare in performance. And, The National Archives would put Shakespeare's will on display. The Royal Shakespeare Company would be doing productions at the Barbican in London under the title Shakespeare400. An action-packed year for Shakespeare lovers.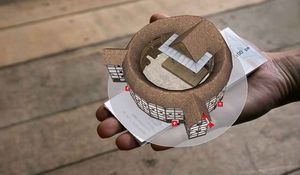 Popular 'app'eal
Shakespeare's Globe, a replica of Shakespeare's playhouse located on the bank of the river Thames, which has 6,00,000 visitors annually, has come up with a novel idea to bring the Globe to you right inside the comfort of your home. Thanks to an app called Shakespeare's Globe360, a smartphone user could enjoy a 360-degree virtual tour of the Globe.
Using augmented reality, the app has created an interactive Globe Theatre, "a faithful replica of the original Globe built in 1599 for which Shakespeare wrote most of his plays". So, the viewer could take a virtual tour of the courtyard and the stage, admire the Globe's famous thatched roof and get a feel of what it must have been like back in the day. It is a free app created by Globe Education.
The Royal Shakespeare Company has launched an app called RE:Shakespeare to take the playwright's work to today's hip-hop generation. Hosted by David Tennant, the app features rapper Akala and beatboxer Shlomo.
Targeted mostly at students aged 11 to 19, the app allows the users to lip-sync their favourite lines "and mix beatbox rhythms with Shakespeare's lines". It also gives them access to quotable quotes and links of 19 Shakespeare plays. Besides, students can perform on a virtual stage, with the help of a 360-degree immersive video, shot on the Royal Shakespeare Theatre stage at Stratford-upon-Avon. Here's to stardom!