"We are back to the No 1 spot in 2015. We have seen 40 per cent growth this year and given the fact that new initiatives are ahead of us, we are quite confident that we will stay there" - Eberhard Kern, managing director and CEO, Mercedes-Benz India

I remember in the first month it was not pure fun, but today having a kind of standard level, playing golf is a great experience.
After the cacophony on the scorching Mumbai-Pune Expressway, pin drop silence greets us inside the centrally air-conditioned office of Mercedes-Benz India at Chakan, Pune—home to the largest luxury car factory in India. The clacking of my heels against the floor is the only sound that shatters the silence as I am led to Eberhard Kern's cabin via open office spaces, where employees appear so immersed in their work that they almost seem invisible. Kern's cabin, almost the size of a football field, has been stylishly decorated with a blend of wood and glass, giving it a traditional as well as a contemporary feel. Who better than the iconic car manufacturer to know about the union of the two materials!
As I am ushered inside, the salt and pepper-haired Kern, who took charge as managing director and CEO of Mercedes-Benz India in December 2012, gets up from his desk and in a few brisk strides crosses the room to greet me with a business-like handshake. While I catch a quick glimpse of his shiny Breitling that glistens from underneath his shirt sleeve, it is difficult to miss his fine taste in luxury as a Montblanc sits elegantly in his shirt pocket. The genial German orders lemonades for us as we make ourselves comfortable in plush, black, leather chairs around a mini conference table.
It has been quite a long journey for Mercedes-Benz India, having entered India almost two decades ago. From starting out as the only luxury car brand in India, that too as a single product (the E-Class) manufacturer to enjoying monopoly for almost a decade until the competitors arrived, it sure has come a long way today, with its rather large and exciting portfolio. "Our portfolio was lacking a bit at the lower end," says Kern. "We didn't have the entry models available, especially the entry-level SUVs, and obviously customers were kind of curious regarding the new competitors. So, we lost some ground; we found ourselves only at the third spot in 2011-12. We are back to the No 1 spot in 2015. We have seen 40 per cent growth this year and given the fact that new initiatives are ahead of us, we are quite confident that we will stay there."
When Mercedes-Benz India turned its attention to the compact luxury segment, not many in India thought that compact cars and luxury gelled well, but it wasn't such a bad decision after all. "The compact luxury cars now make for almost a third of our business and it has been very much appreciated by our customers. We have more than 5,000 compact cars already on Indian streets," says a visibly delighted Kern.
Before India, Kern has worked in Russia and Taiwan, and the experience sure is different. He calls India a continent, thanks to its many languages and strong federal structure. "In Taiwan and Russia, you have one tax and duty system; in India, you have multiple systems in the states and different cities," he says. "In Taiwan and Russia, a product of Mercedes-Benz has one price; in India, you have a different price in every city." Also, the regulations in India were quite complicated to understand in the beginning, he says.
In Russia and Taiwan, there was no local production, just CBU (completely built unit) import. But, most of the products the company sells here are locally manufactured. They have to come up with different marketing strategies, too. "When it comes to marketing, in Russia, if you cover Petersburg, you have 80 per cent of your business. In Taiwan if you cover Taipei, you have two-thirds of your business," he says. "In India, we have customers everywhere in the country. That is the reason why we have such a dealer network, the biggest in the whole luxury business in India, now with 72 outlets in 39 cities. If you put the National Capital Region region and the Mumbai region, it is less than half of our business in India. It is a difficult but fascinating task to be involved in a business in such an incredible country like India."
When quizzed about his 32-year-long journey with the luxury carmaker, Kern dismisses it as "nothing very special in the Mercedes world" because several of his colleagues have made similar journeys. "Once you enter a great brand, there is less reason to move to anything else," he says.
What has fascinated Kern in India is meeting numerous collectors of Mercedes-Benz cars and seeing so many of its heritage models. Last year, Kern took part in a car rally in Mumbai in a 1929 Mercedes-Benz convertible. "So many beautifully and technically well-maintained heritage Mercedes were present; it fascinated me," he says.
So, what is a day in the life of Eberhard Kern like? Each day seems different because his travels don't offer routine days. When in Pune, his day begins at 6.30am when his personal trainer arrives at his residence for an hour-long session at the gym, involving cardio, stretches and balanced muscle workouts. He cools off with a dip in the pool, after which he showers, breakfasts with his wife—a daily must—and is off to work.
A normal working day is filled with meetings, presentations, phone calls and overseeing what everybody does. Lunch is usually light—two apples and two bananas—because "very often the day ends with dinner with either customers or dealer partners or visitors or the media, almost three to four times in a week". Depending on the evening programme, his day ends at 10pm or 11pm, and on days when there is no dinner meeting, it is earlier than that.
What Kern and his wife passionately enjoy is playing golf, which he started only three years ago in Taiwan. "We have three kids and with them gone, we are empty nesters.... They are all at universities in different parts of the world, China, Germany and Spain. And, my wife and me, we are here in India. So, we try to find common activities together," he says.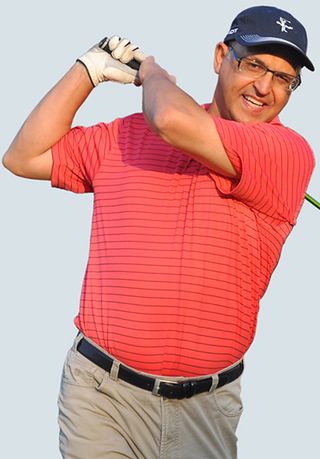 Though he has some experience with ball games—he played football earlier and the family played tennis, too—golf was a new ball game altogether. "In every other ball game, the ball comes to you. But, in golf, it is the other way around," says Kern. "I remember in the first month it was not pure fun, but today having a kind of standard level, it is a great experience."
Kern is just back from Austria, where he enjoyed a week's skiing. "Downhill skiing is what we do," he says. Besides skiing, he also enjoys sailing. "When the kids were smaller, we didn't have our own sailing ship but we would often charter one. It was a great experience—the whole family was together on a boat; it was like camping on water," he says.
Kern also enjoys Indian food, though not too spicy, "because that is difficult for my European stomach". Paneer, shrimp and dal are his favourites. "The part of Germany where I come from—Swabian province—there we call it [dal] linsen. We have a lot of dal kind of meals there, and so the different ways you cook the dal in India were very fascinating from day one for me," he says. "We cook it only in one way, but here it depends on where you are." Kern knows his way around the kitchen, too. "I am able to do a bit more than basics," he says. "This is another hobby of my wife and me; we love to cook together. We rarely find the time, but she is the boss there and I am usually responsible as the support staff. But when we have the time, we have some background music, a glass of wine and we cook together. And it is really nice; it is a kind of quality time together."
With the new design, the perception of Mercedes-Benz has changed a lot. "In former times, we were a brand for people who had arrived already in life. Now, we have more and more customers who are on their way to success. This is exactly what we wanted to achieve—to be an admirable luxury brand for customers from a very young stage to the very loyal customers," says Kern. "It is THE luxury car brand in many people's eyes, and we try to live up to that expectation."