"Iron Maiden are living legends of rock and roll! It was a dream come true to travel and tour with them in the UK in 2007" - Saurabh Chaudhary, lead guitarist, Parikrama
The year was 1991. As India liberalised its economy, a group of six boys in Delhi came together to form India's first rock and roll band, Parikrama. "Our first concert was on September 15 at Delhi's Father Agnel's school ground," recalls Subir Malik, the 45-year-old founder and keyboardist. "The show was called 'bandstand'. Four bands were making their debut, and one headlining it. The fee was 0500. We had never seen 500 bucks in our hands ever! The show went off well, and the organisers got so happy that they gave us 500 bucks each. We felt like millionaires! Dilip [Ramachandran], who was our drummer from 1992 till 2007, was in the audience, headbanging away to glory in the front row." This was followed by 2,999 more shows, including a self-organised one on AIDS awareness—India's first—in 1992 and non-stop tours across India's metros and college festivals. Parikrama's songs from the mid-1990s such as 'Xerox', 'Till I'm No One Again', with their reflective lyrics, hit the high note with their audience; 'But It Rained', about kidnappings in Kashmir, is said to be one of their most popular ones.
Now it is a trend for celebrities to get involved with social causes, but Parikrama's heart has been beating big since its inception. "Back in 1992, when event management was a term no one knew, we did the first-ever concert for AIDS awareness in India on the streets of Patel Chest in Delhi University," says Malik. "All the permissions and funds, organisation and planning, including making the brochures and pamphlets, were done by us. The show was called Banned Aids and held on September 28. We have looked at supporting causes as a serious affair, not a photo op."
On June 17, the band completed two and a half decades, and their vision has grown, too. In an era when popular bands are known to break up several times, if not permanently, it can be said that Parikrama is among the few around the world that have been around for so long. "For us, 25 and still being relevant is the point. It's not the end point but a number in the middle of our journey. We want to die with our boots on," Malik tells THE WEEK from Macau, where the band is currently touring. Adds lead singer and Malik's younger brother, Nitin, 43: "It feels like a natural, logical progression of things that if you have got a thing going, why would you mess it up?" What would he attribute their success to? "Hitting the right chord with the audience consistently, literally and figuratively. Just try and make good songs, work hard and the rest shall follow," he says.
Parikrama fuses Indian instruments such as tabla, mridangam, flute with guitar, drums and keyboard. Bands and individuals who have had an influence include Rock Machine, L. Subramanium, Pink Floyd, AC/DC, Deep Purple and Iron Maiden, with whom they performed in 2007. "We have been listening to Iron Maiden since we were kids," says lead guitarist Saurabh Chaudhary. "They are living legends of rock and roll! It was a dream come true to travel and tour with them in the UK in 2007. We have also performed along with Porcupine Tree and Megadeth."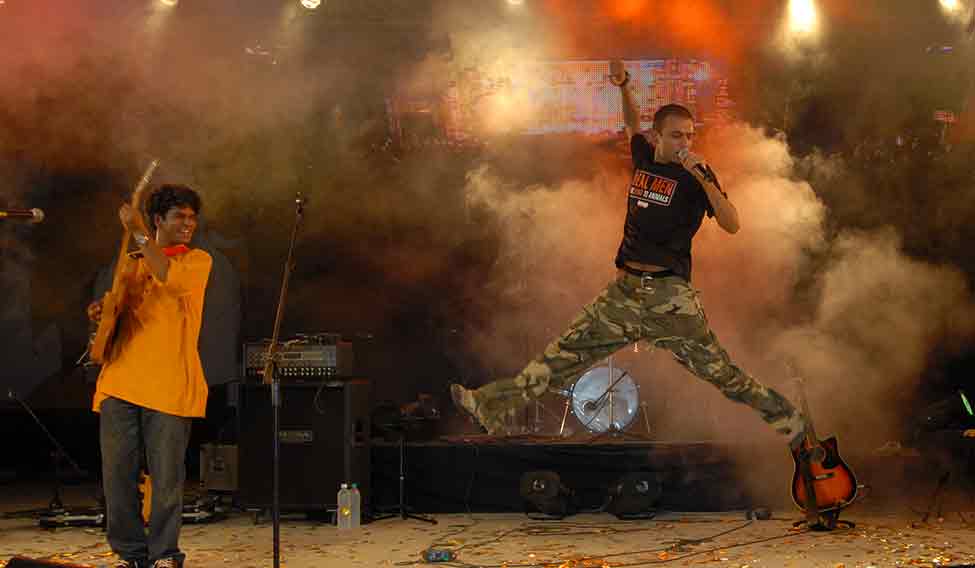 Malik says Iron Maiden saw them perform in Bengaluru in 2007. "We could not believe it when the entire band left their air-conditioned green rooms to come see us play," he says. "They stayed for the entire performance. Then their legendary manager, Mr [Roderick] Smallwood, came to our green room and said the band needs to be taken to the UK. We could not believe it and in June 2007, they took us on an eight-gig tour of the UK, including the Download festival and the Brixton academy. It was an unbelievable experience, playing and getting to know our legends. They are the most humble people we have known."
How did their own music evolve over these years? "Today we write more of our music than when we started," says Malik. "The industry started changing around the mid 1990s. Bands started writing original stuff, so did we. It is very important to change with the times. Now we play almost all our concerts as original concerts. The spirit remains the same. Rock has never been mainstream here, and we are satisfied with where it is. It is not about the current trend, it is about the longevity."
Chaudhary says they assess their music and performance and how the next song or performance can be better than the last one. "We use the best technology available when it comes to instruments and effects," he says. "Our songwriting is on the intense side lately. We have started incorporating alternate tunings, which gives it more bottom heavy sound." Agrees Nitin, "The only difference I feel now is that our newer work is leaning to the heavier side, so I'm going to call it 'classic heavy rock' from now on."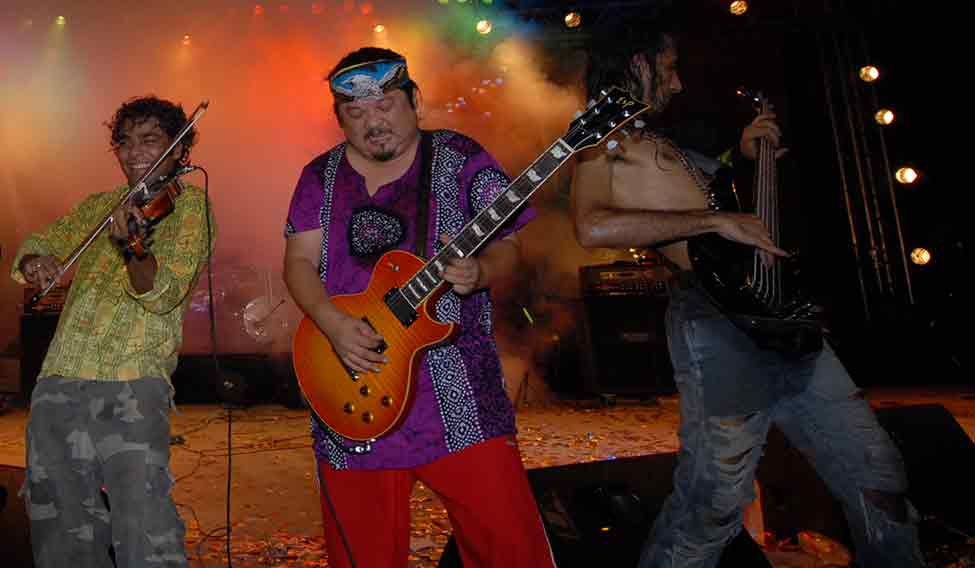 Parikrama is one of the few bands known to give their music away for free. "We were one of the first to realise the importance of the internet, and released our first song on the net back in 1995. We bought Parikrama.com in 1997, and gave our music for free off the net since then. Today almost all music is sold or given free off the net," explains Malik.
At a time when nationalism is hitting various pitches, their view of their identity is crystal clear. "Everyone starts their career being influenced by someone or looking up to a hero," says Nitin. "We were inspired by all classic rock acts, but along the way, when you write your music, your personality reflects in your songs and that's what happens to almost all bands, including us. We are Indians after all, just because we sing in English doesn't mean it will make us 'foreign'."
A quarter century is time enough to build a legacy. But that is not something they would like to ponder over. "We do not decide on our legacy, people do...," trails off Malik, as Nitin adds, "I hope people remember us as those guys who stuck together till the very end without letting their success change them as human beings."