"Picasso was a compulsive artist like Tagore was a compulsive writer. I developed a habit of never staying idle as my mind is always creating new art work" - Paresh Maity
The flowing waters in Tamluk, a small village in Bengal, sure have magic, and no one has captured it better than artist Paresh Maity.
In September, Maity gifted a huge oil-on-canvas painting to the new museum in the Rashtrapati Bhavan where he spent 12 days, along with his artist-wife, Jayasri Burman, as President Pranab Mukherjee's guest.
While the painting is not exactly of Tamluk, Maity's native village, the flowing river and boats depicted in it are his impressions of places from his childhood. The painting is of Banaras, and it captures sights of the spiritual town in a riot of colours.
"Water and watercolours have been an integral part of my life. It is a culmination of the many experiences," says the 51-year-old Maity, who received the Padma Shri in 2014. "The boat is a motif that connects the past and the present. When I paint, it is almost spontaneous as the visuals of the places I have visited unravel themselves."
As artists-in-residence with the first citizen, the Maitys immersed themselves in work, taking a break only to explore the regal estate. Maity is now in Bengaluru for his solo show, 'Beyond Horizons', at Sumukha Gallery (October 17 to November 12).
His first interaction with art was in clay modelling. As a child, he would observe artisans make clay idols. "I watched them structuring and moulding [the clay], and then the idol would emerge. I started making them for clubs and schools," he says.
"At 11, I developed an interest for watercolours and looked up images from photography books and started painting, sketching and scribbling as I sat in the back of my class. I dreaded mathematics. At home, nobody was an artist, but they understood my love for art. 'Khane peene nahi milega,' they would warn me."
At Hamilton High School, the elite crowd helped Maity strenghten his resolve to become an artist. He would borrow colour palettes from his wealthy friends. The turning point was when he took part in a painting competition, organised on Children's Day, at the age of 13.
"Out of the 200 participants, I felt my work was inferior," he says. "That day I decided to practise painting daily. Over the next five years, I attended 60 sit-and-draw competitions and always stood first or second. Securing a first class in matriculation worked against me as my father's friends advised him to make me an engineer."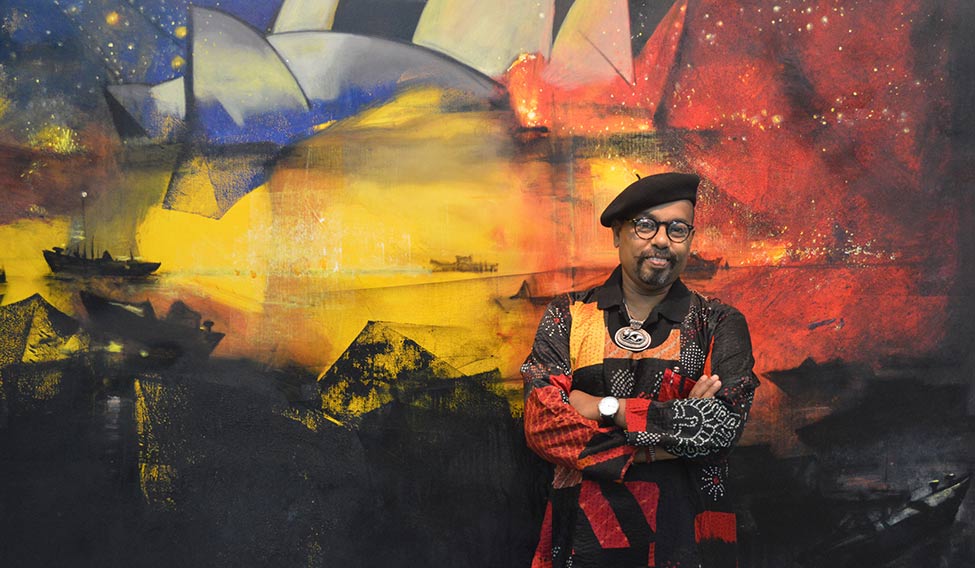 To escape the pressure, Maity ran away to Delhi, spent almost two months there and cleared the entrance exam of the Government Art College in Calcutta. "It was the Cambridge and Oxford of art. There was no looking back," he says.
For six years, Maity commuted almost 200km every day to attend college as he could not afford the hostel fee. His soaring popularity with each solo show paid off, as an illustrious Parsi family hosted him as paying guest. He then enrolled at the Univeristy of Hyderabad for postgraduation, while also teaching art there. But when an opportunity to conduct a solo exhibition in Delhi came along, he stayed back at the national capital to pursue his master's degree, which he completed in 1992. He then went to London on visitorship, bought a flat in Chittaranjan Park and let life and love happen.
Art critic Kishore Singh writes, "Aesthetes argue artists have gone too far in depicting abstraction and distortion where even an idea is unidentifiable. Paresh Maity's images strive to exude the positive; his use of darkness is to show light. He is by no means untouched by conflicts he sees around him. But he strives to channel every aspect to an element of joy."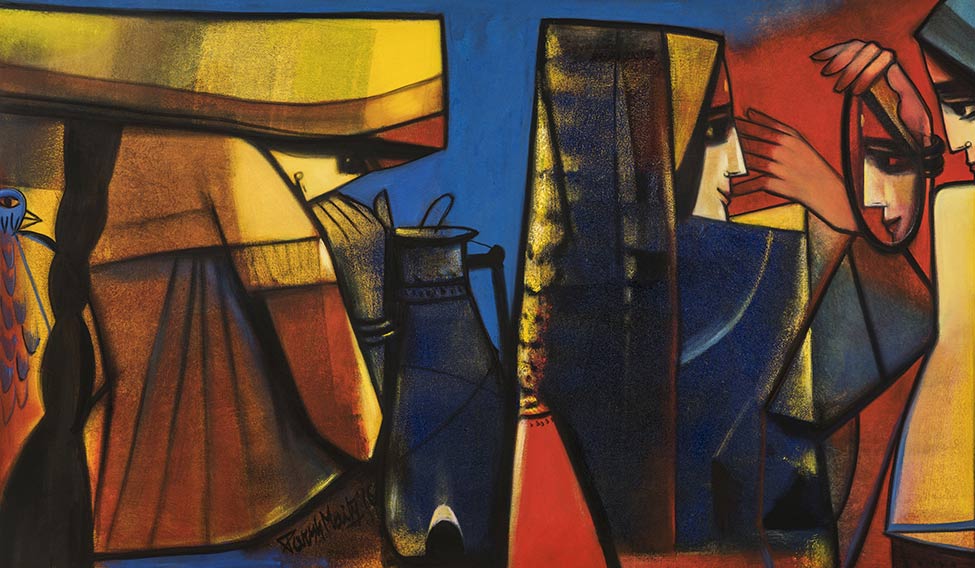 The solo in Bengaluru is an attempt to showcase his body of work, to unravel his journey as an artist over the last four decades. A solo exhibition at Art Stage Singapore in January has been planned and he is working on 'Golden Journey'—an installation with sound and light reflecting the mood of a boat on a river, something nostalgic to the artist.
If rural Bengal has influenced his mindscape, a constant inspiration has been the legendary Pablo Picasso. "Picasso was a compulsive artist like Tagore was a compulsive writer. I developed a habit of never staying idle, as my mind is always creating new art work," says Maity.
At the gallery, as he joyfully interacts with art connoisseurs, a childlike enthusiasm lingers in him. His prolific work, he admits, is a result of his "prospecting empty spaces and unsuspecting objects to transform them into a beautiful piece of art".