"The healthy eating movement might prove a shot in the arm to eastern dishes. The use of oil is minimal, the food is fresh, light and healthy" - Zorawar Kalra, restaurateur
Some weeks ago, restaurateur Zorawar Kalra opened Masala Library in Delhi. The upper crust eatery offers stylised recipes from across the subcontinent; so you have everything from lachcha paratha and gilawati kebab to spicy prawns and rabdi-jalebi, served in surprise platters with all the drama that accompanies molecular gastronomy.
Tucked amidst the flourish, two simple dishes made a quiet entry, but firmly established northeast cuisine in the city's fine-dine food-scape. Kalra chose his dishes well. He serves Naga pork cooked with the spicy Naga chilli. The succulent and delectably smoked meat, with all the heat of the chilli, makes an instant connect with the pan-Indian palate. It's different enough to be exotic, but not too alien, either. The other is Mizo stew: black rice and pulled chicken, flavoured with herbs plucked from rain-drenched Lushai hills. The aroma wafting from the steaming stone bowl has the diner piqued.
Gastronomically, the northeast is unconnected with the mainland beyond the "chicken's neck''on the map. Misconceptions abound, and only the open-minded traveller has an idea of the kitchens of the Seven Sisters. Even the food revolution that raged through India over the past two decades pointedly left out the eastern extremity. Things, however, are changing. Slowly, but steadily. And it's not just with momos (actually a Tibetan dumpling, but popular in the northeast, too) going mainstream.
Mary Lalboi, 40, has just moved Rosang Soul Food to a fancy address at Safdarjung Enclave in South Delhi from Green Park. The Manipuri lady is fretting that Google has not yet changed the address on the map and she would lose out patrons unless she spends a fortune on advertising. Mary, however, is agitating needlessly. Even on a wet Saturday at 4pm, an unlikely hour for dining, people are walking in. Some pop in curiously, some are loyal patrons who have simply asked their way around. We see a Bengali and a Malayali tucking into an Arunachali dish of minced fish wrapped in banana leaves. At another table is Abdul Chowdhary, aide to a Telangana member of Parliament, with two friends from Mumbai. These two have never eaten anything eastern, but soon they are lost in flavours of bamboo paste, succulent meats and red rice, sipping rice beer.
A kilometre away, David Lalrammawia, 30, is rather surprised at the reviews his modest restaurant, Mizo Diner, is getting. He hasn't spent a penny on publicity for this three-year old enterprise, which is hidden in a narrow bylane where it's difficult to get your car in. Yet, people find it, having heard about it from a friend or reading some diner's burpy praise on social media. Expats frequent the place, so do adventurous Indian eaters. The whites love the smoky meats, the Japanese his Mizo rice porridge served with fish-flavoured crispies—reminiscent of food eaten on the foothills of Fujiyama.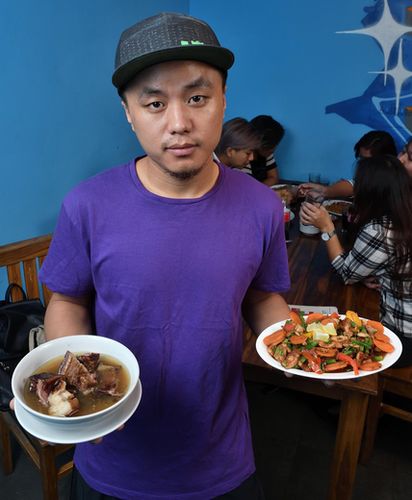 Delhi wasn't entirely insulated to northeastern food, the substantial student population from the Seven Sisters ensures that in pockets around the university's north and south campus, there are eateries catering to their tastes, run by people from the northeast. Restaurants like Nagaland Kitchen (opened in 2007) and Rosang (2003) are rather well known. Jakhoi at Assam Bhavan is popular for its duck and pigeon dishes.
The difference now is two-pronged. First, the clientele is getting diverse and the recipes are becoming less alien. "I am happy that at least three diners who wanted to try pork for the first time chose to do so at this diner,'' says David. On offer are his signature smoked pork and cabbage stew, and a red pork curry that ideally should be accompanied by a fire engine.
The other change is that this cuisine is moving away from humble tables to fancy ones, getting new interpretations and becoming familiar with the cocktail crowds. Kalra feels the region hasn't got its gustatory due, a shortcoming he wants to change.
The healthy eating movement might prove a shot in the arm to eastern dishes, if promoted well. The use of oil is minimal, the food is fresh, light and healthy, Kalra says. Mary grins, "Many think our good complexions, svelte frames and silky hair are because of our food. I get many patrons who are on a diet and want a zero-oil meal. We have plenty of those dishes and a good selection for vegetarians.'' Her menu card highlights the no-oil dishes prominently, to ensure this virtue doesn't get missed.
Mary remembers coming to Delhi with her husband, two children and one lakh rupees in 2003. The money got over within a week, as they set up the restaurant, with nothing left for publicity. So she made some pamphlets and distributed them herself to every northeastern-looking person on the street. She needn't have bothered. On opening day itself, a freelance reviewer visited, and wrote a review on the Wall Street Journal. She has never had a bleak moment in business since. Mary Kom, Vikas Khanna and a slew of celebrities have visited and their photos decorate her wall of fame. She hopes to expand to Mumbai, then Japan.
David says, "I wanted to start a café in Aizawl but when I went there, I realised locals wouldn't pay 0100 for a cup of coffee, so I returned and opened Mizo Diner instead." With no formal training in catering, the Delhi University graduate simply relied on his flavours to bring in people. It helped that he is a graffiti and hip-hop artist; acquaintances from these circles spread the word, largely online. What began as a tentative venture is now seeming a career with a future.
Whether in niche eateries or part of multicuisine setups, dishes and at least ingredients like fermented bamboo paste and Naga chilli are familiarising themselves with so-called mainland palates. Now, what better way can there be of inclusion and integration? Hadn't someone famously said the way to a man's heart was through his stomach?