When the Bahujan Samaj Party's national general secretary and leader of opposition Swami Prasad Maurya quit the party on June 22 accusing chief Mayawati of selling tickets and minting money, it created a major upheaval in the BSP.
Said Maurya, "Mayawati is taking money and selling tickets. Dalits have no place in the BSP. Mayawati is selling Ambedkar's dreams."
Mayawati was quick to slam Maurya. Said she, "Had Maurya not quit the party, I would have expelled him. He has done a great favour to the party by leaving."
The money-for-ticket controversy has enveloped Mayawati big time. She has been accused of setting a price for BSP ticket in important elections. Some party leaders covertly admit it. In the 2012 assembly elections, they said, around 130 deserving candidates were denied tickets at the eleventh hour and, hence, the BSP could win only 80 seats as against 206 seats in the 2007 assembly polls.
Maurya, who has been an MLA for four terms, represented the Padrauna constituency in western Uttar Pradesh. He had a long association with Mayawati. Maurya has been a three-time cabinet minister who had held important posts in the party. He became disgruntled, it is said, after Mayawati refused tickets for his son and daughter, as well as rejected his request to change his constituency from Unchahar to Padrauna.
In yet another blow to Mayawati, her once trusted lieutenant R.K. Chaudhary, too, quit the party. He has also accused Mayawati of ticket sale. A founding member of the party, Chaudhary was a well-known loyalist of party founder Kanshi Ram. When the BSP formed its first coalition government in UP in 1993, Kanshi Ram made him a minister under Mayawati. Said Chaudhary, "The BSP is no more a party for social change. Mayawati has turned it into a personal real estate company. She does not listen to the party workers at the grassroots level."
Two of her MLAs—Harvinder Sahani and Brijesh Verma—have also accused Mayawati of selling tickets. Said Sahani, "The price can range from 02 to 10 crore." The party has expelled Sahani and Verma.
Paramdev Yadav, who was the party in-charge in West Bengal, quit the BSP, accusing it of being highly autocratic. Among other prominent leaders who have left the party, recently, are Sitaram Verma, Ramdev Arya, Amarnath Prajapati, Lalji Rai and Upendra Singh.
Mayawati is passing through the most difficult phase in her political career, with her old associates raising a banner of revolt against her, one after the other. It is no secret that these leaders have damaged the party's strategy of social engineering.
Maurya and Chaudhary have announced that they would unite the anti-BSP forces in the state.
Dalits and the backward classes have been the BSP's vote bank, though the party fielded a number of Brahmin and other upper caste candidates in the last elections.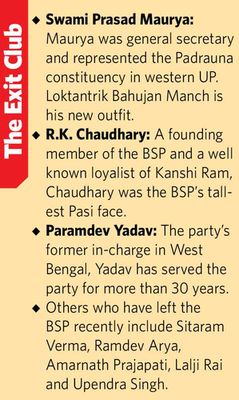 With Chaudhary leaving the BSP, the party does not have a strong Pasi community leader. Pasi, a sub-caste of dalits, has 16 per cent of the vote share.
Maurya's exit can turn non-Yadav OBCs (9 per cent) against Mayawati. She is also facing the anger of the Kshatriya community over her party's reaction to abusive comments made against her by Dayashankar Singh, who was the BJP's vice-president. He had said that Mayawati was selling party tickets to the highest bidders and that even a prostitute was better than her. Though the BJP expelled him, abusive rantings by some BSP leaders inflamed Singh's community of Kshatriyas.
Maurya and Chaudhary are not the only old guards who have left the BSP. In the past two decades, many veterans have quit the party. Raj Bahadur, a founding member of the BSP, is now with the Congress. Another founding member, Dinanath Singh, is now with the BJP. Daddu Prasad, yet another founding member, left the party some years ago. Jugal Kishore, BJP leader, was once a close associate of Mayawati.
Said Raj Bahadur, "Mayawati's motive is not to establish an egalitarian society but to do a business of dalit consciousness by politically patronising the rich."
Said Daddu Prasad, "It is useless to hope that Mayawati will work for the betterment of dalits. She has been selling the votes of have-nots to haves."
The state president of the BSP Ram Achal Rajbhar said such people had stopped taking interest in party work when they were denied tickets of their choice. "Their exit will not affect the BSP's growth," he said.
To deal with the trouble, Mayawati has made many changes in her strategy. She has created a new post of district-in-charge to mould public opinion and appointed four new secretaries from backward castes. Mayawati has also formed a group of 350 committed party workers and assigned the charge of a certain number of assembly seats to each of them. To expand its vote bank, the party is once again using its 'brotherhood committees' formula, which helped her win the polls in 2007. Under the formula, the party cultivates Brahmin and upper caste voters. Brahmin leaders Satish Chandra Mishra, Ramveer Upadhyay and O.P. Tripathi have been directed to accomplish the task.
The BSP is eyeing Muslim votes as well. The party's Muslim face, Naseemuddin Siddiqui, has been asked to work on Muslim-dominated areas.
Mayawati is determined to repair the damage done by the exodus of leaders and face the election next year with renewed confidence.