What began with demands of trimming kissing scenes has audaciously come down to 'off with her nose' threats. Creative liberty today is nothing but an oxymoron.

Director Kushan Nandy, who met Pahlaj Nihalani a few days after the cuts were imposed on his movie Babumoshai Bandookbaaz, was not even offered a seat during a 30-minute meeting.
The stage was set for a showdown. It was an upcoming film's press conference. The spotlight was not on the filmmaker or its lead actors, but on its presenter—Pahlaj Nihalani. Soon after he was shown the door at the Central Board of Film Certification (CBFC), he had gladly announced his association with "a film for an adult family"—Julie 2. The irony was lost on no one. For, Nihalani, as CBFC chairman (February 2015 to August 2017), had turned the censor board into a sanskar board, demanding unnecessary cuts and issuing unreasonable diktats before certifying a film.
At the Julie 2 presser, karma kicked in. The media pounced on him, and Nihalani was like a deer caught in the headlights. He was grilled on the absurd demands he made as CBFC chief—objecting to the word 'intercourse' in Jab Harry Met Sejal, demanding that filmmakers produce no-objection certificates from ministers, and cutting kissing scenes (remember Sanskari James Bond?). He had nowhere to go, unlike the time he was chased on camera by a female reporter. The video of him trying to evade the reporter had gone viral. A few days before the video was shot, Nihalani had asked the reporter to get a lakh votes for clearing the word 'intercourse' in Jab Harry Met Sejal. Owing to the popularity of its lead cast, Shah Rukh Khan and Anushka Sharma, the votes dropped in soon. And the reporter went back to check if the movie would be certified without censoring the word. All she got in response were funny expressions.
But when I met Nihalani at his Khar office on the first Monday after the release of Julie 2, he said he was always happy to respond, be it to the media or the industry mates. The reporter, who failed to elicit a response from him, "was too young to have been using the word [intercourse] over and over again." "Shobha nahi deta hai; yeh hamari sanskriti nahi hai [it ill behoves her; it is not our culture]," he said.
So, what is Indian culture? According to him, it is all about respecting elders, not speaking out of turn and wearing clothes that fit well within our culture. By that definition, one would think Nihalani's moral compass went for a toss with Julie 2. The response to the film has been tepid—some critics have bashed it for 'forgetting sanskar' while a few others called it 'cringeworthy'. But Nihalani is happy that a few reports stated the erotic thriller didn't need an A-certificate even though that is what the makers applied for. "There is not a single shot of frontal nudity," he explained. It is another matter that the film's posters left little to the imagination. He said he "never objected [to] bold content, but always insisted on fair certification". But, as India's Mr Scissorhands, he refused to grant even an A-certificate to several films.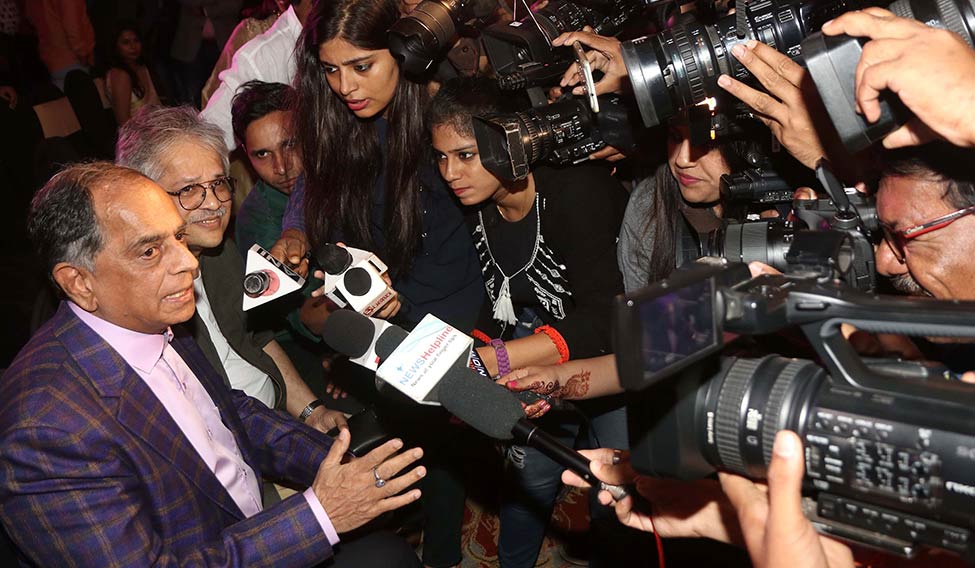 His sanskari scissors made the first cut with the ban on 28 cuss words. The list of "bad words" included double meaning of any word. Twitterati had a field day—"So, going by the list of words banned by the Censor Board, none of Pahlaj Nihalani's films would have passed without censoring the songs," tweeted a user. But, Nihalani doesn't care. Though the innuendo in the song 'Khada hai' from Andaz, which he produced, still haunts him, it is a thing of the past. "I can't change it," he said. That's the only song that has sexual connotations; the others like 'Sarkai liyo' (Raja Babu) were not from his films, he clarified. "Reporters should have got the facts right," he said.
So, let's get the facts straight. Nihalini has produced around 20 films. But long before he produced his first film—Haathkadi (1982)—he got into film distribution with Phool Aur Pathar (1966). He said he was only 14 then. Before that, he assisted his family in its yarn business. Nihalani grew up in a Sindhi joint family in Sion. When he was eight, he saw his first film—Madhumati (1958)—starring Dilip Kumar and Vyjayanthimala. And, he was hooked. He started skipping school to watch more films. When his father got a whiff of it, he started picking him up from school. But, life as he knew it changed when his father died in 1960. Soon, Nihalani joined the family business. "I couldn't fulfil the attendance requirement. In order to compensate that, I started serving the school in other ways—by supplying stationery and raising funds. That is what sowed the seeds of social work in me," he said. He has continued doing that ever since, organising police shows and other such programmes with fellow members of the industry. That is why, most people from the industry who were active when he was at his peak still respect him a lot, he said.
But more than his contribution to films or society, what perhaps got him the top job at the CBFC was his six-minute video, titled Har Ghar Modi, in April 2014. A self-proclaimed Modi-bhakt, he released the video the day the month-long Lok Sabha elections began. And, though its impact on the electoral results is unknown, it sure had a butterfly effect on Bollywood. What began with demands of trimming kissing scenes has audaciously come down to 'off with her nose' threats. Creative liberty today is nothing but an oxymoron. Not that there were no run-ins with the Censor Board in the past, but never at this scale.
Nihalani, however, doesn't accept that the controversies during his tenure were his making. He blamed the guidelines of the CBFC, which, he said, is a confusing body. Also, he is not ready to agree that he has been hated. He has rather been loved and respected by everyone in the industry, he claimed. To show the camaraderie he shared with people in the industry, he took out a box full of photos from his workstation—of film shoots, public functions, parties, premiere nights and charity events, including one where he donated Rs 1 crore to the A.B. Vajpayee government and got actors Sridevi and Aishwarya Rai Bachchan to do the honour. He had many candid pictures, too—of actor Sonakshi Sinha when she was three or four years old, of him enjoying a drink with Dilip Kumar and chilling with actor Govinda.
He also showed me the texts he received from actors, directors and producers while he was CBFC chief—Aamir Khan insisting that he watch Dangal (he hasn't watched yet, he said); Raveena Tandon requesting him to look into the certification of Maatr; Aditya Chopra apologising for the problems created by the media because of his film Befikre; and a senior producer from Viacom 18 thanking him for making the certification smooth for xXx: The Return of the Xander Cage. "I always helped everybody. It was just because of some people that my name got dragged into the controversy. I was only following the guidelines," he said.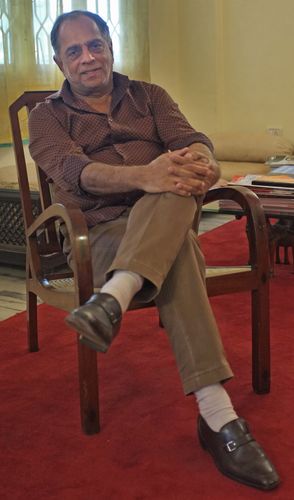 There was also a text from Mukesh Bhatt, who had earlier spoken against Nihalani, thanking him for something. "Even some of the people who were speaking against me in the public domain maintained the relationship otherwise," he claimed, adding that he wouldn't have shown me the messages if he was still the chairperson. He also talked about a letter Sony Pictures wrote to him after the Bond film Spectre got a U/A certificate. "They said it was for the first time that a Bond movie had been given a U/A; otherwise it was always an A."
More problems were created by other board members, he said. "People like Ashoke Pandit and Chandraprakash Dwivedi wanted to become chairpersons themselves, but see where they are today," he said about the members who, too, were ousted in August when a new board was formed. Pandit refused to talk about Nihalani, saying there was no point discussing him.
One would want to believe Nihalani, wondering if he was just misunderstood, but filmmakers who have dealt with his demands and diktats would tell you otherwise. When I recently met Khushboo Ranka, who, along with Vinay Shukla, directed the political documentary An Insignificant Man, I asked her if Nihalani was really as regressive as he was made out to be. "Absolutely. Perhaps, in some ways he is worse," she said. "Because to the outer world, at least he was talking to them. He didn't want to talk to the filmmakers. When we asked him, 'why are you making these cuts? Is it possible to have a dialogue with you?', his straight answer used to be 'no, I am not going to speak with you. Go to the media.'" Shukla, too, agrees: "If somebody is just functioning as per their whims and fancy and they have complete power, then what do you do?"
Power, it seemed, was driving Nihalani. Kushan Nandy, director of Babumoshai Bandookbaaz, which had been advised 48 cuts by the CBFC examining committee, had narrated a harrowing tale. Nandy, who met Nihalani a few days after the cuts were imposed on his movie, was not even offered a seat during a 30-minute meeting. That said a lot about the person that Nihalani is. When I questioned Nihalani about the episode, he claimed the filmmaker was lying. "The people who made so much noise were wanting an easy way out for the promotion of their films through CBFC," he said.
Nihalani was quick to label me asanskari, too, because I cross-questioned him. He was annoyed when I asked him if he gave in to requests from friends for easy film certification. "Maatr still got cuts and an A," he shot back. "I was showing you the messages because you brought up these topics. But you wouldn't stop having doubts. That's the problem with younger people."
Even the courts thought he was "behaving like a grandmother" during the certification of Lipstick Under My Burkha. The examining committee working under him thought that the film was too "lady-oriented", but it went on to procure a certificate after a long fight. The makers of Udta Punjab, too, had to put up a tiring fight when the CBFC requested 89 cuts, which they thought would adversely affect the mentality of the Indian audience. Anurag Kashyap, the producer, was constantly at loggerheads with Nihalani. The film was later passed with just one cut by the Supreme Court. When Nihalani was ousted, Kashyap rejoiced openly, sharing every meme that featured him and Nihalani.
But, there are people who defend him. Chunky Pandey, who made his debut in one of Nihalani's films, thought his image was totally misinterpreted. "What I have known of him, he is the most lovely human being. He has only wanted to help people. He is not the tyrant that people made him out to be," he said. The Nihalani he knows is an adventurous person, willing to take a lot of risks.
Only, he didn't take as many risks while certifying films. Could it be because of political pressure? Nihalani asserted that he couldn't be controlled by any power and that he made his own decisions, which is why he had to face repercussions. But his open support to Padmavati, which has been opposed by fringe groups and several state governments, does raise eyebrows. "The story of #Padmavati has been told earlier as well. Why's [sic] the big hoohalla today? Entertainment should be above casteism, religion and most importantly politics," he recently tweeted. Easier said than done, eh?