Top Maoist leaders like Muppala Lakshmana Rao alias Ganapathy, Mallojula Koteswara Rao alias Kishenji and Sande Rajamouli alias Prasad were born in Karimnagar.

"When he [Kishenji] was a boy, he wanted to join the Army. He would always say, 'I want to do something for my country,' even when he was in class six" - Madhuramma Mallojula, Kishenji's mother
When Telangana was carved out of Andhra Pradesh in 2014, Karimnagar could have been its capital. But it lost out to Hyderabad. Nonetheless, the town in north Telangana is flourishing, with many hotels coming up thanks to the granite industry. It is a town in transition, trying to shake off its old identity tag—that of Naxalism.
Unequal land distribution and feudalism by Velamas—upper caste landowners—led to the rise of Naxalism in Karimnagar. In fact, peasants, led by the Communist Party of India, had revolted against the Reddys and Velamas in Nalgonda district in 1946, long before the Naxal movement began. The revolt then spread to the neighbouring districts, before being suppressed in 1951.
So, it was natural that Karimnagar—bordering Warangal and Nizamabad in Telangana and Bastar in Chhattisgarh—became a Naxal nerve centre in the 1970s. Several top Maoist leaders like Muppala Lakshmana Rao alias Ganapathy, Mallojula Koteswara Rao alias Kishenji and Sande Rajamouli alias Prasad were born in Karimnagar. Of the trio, only Ganapathy, the elusive general secretary of the CPI (Maoist) is alive. Kishenji and Prasad, both politburo members, died in 'encounters'.
Ganapathy lived in Beerpur village in Karimnagar, before he moved Bastar. Beerpur lies between two pillars—one a 15-foot red column, built by Maoists, in memory of their martyrs and the other a white pillar, built by the police, for civilians killed by Naxals. The villagers were truly caught between the warring forces.
Ganapathy's house here is in ruins. He belonged to a Velama family, taught in a government school for a while and met revolutionary poet Varavara Rao during a training programme in Warangal in the early 1970s. Another influence was Kondapalli Seetharamaiah, who later founded the People's War Group.
In September 1976, Ganapathy was part of Seetharamaiah's squad that murdered Pitambar Rao, a local Velama dora (head), at Tapalpur in Adilabad. A month later, they killed two of his sons and five others. Ganapathy was arrested in Nizamabad but released on bail. After such attacks, most Velama doras left their lands and fled to Hyderabad.
It was in Beerpur village that the Naxals first used their most powerful weapon, the landmine. They blew up a jeep, mistaking it to be a police vehicle, killing 14 people,all of them distant relatives of Ganapathy.
In 1992, the People's War Group split owing to differences between Seetharamaiah and Ganapathy, who wanted to make it more militant. Soon, Seetharamaiah surrendered to the police, and People's War became known for brutalities and extortion and was banned. The police went after it. "The real war started then," says Vijayawada Police Commissioner Gautam Sawang, who had worked with the Special Intelligence Branch and the elite strike force called the Greyhounds. Equipped to navigate any terrain, Greyhound commandos hunted the Naxalites and eventually drove them out of undivided Andhra Pradesh.
Because of its excessive focus on militarisation, Sawang said, the PWG could not win over non-tribals and non-farmers. He said the Naxals sued for peace in 2002 when he was DIG of Warangal. "They tried to talk to the government. We called their bluff. We found documents that exposed that they were doing this only for a breather," he said. In 2004, the People's War merged with the Maoist Communist Centre of India to form the CPI (Maoist).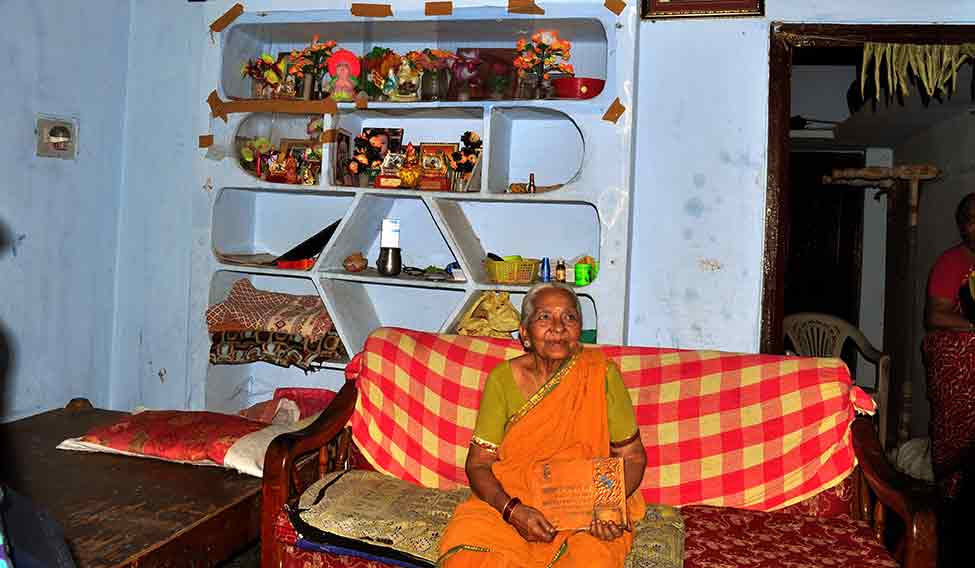 Ganapathy is today the most wanted political extremist in India and carries a reward of Rs 2.52 crore on his head. The people of Beerpur still hold him in high regard. "There is no negative feeling against the Naxals," said Vijay Kumar, a schoolteacher in Rechapalli. The villagers, no doubt, were caught between the Naxals and the police. "Looking for Ganapathy, the police arrested people at will and tortured them," said Kumar. He said the Naxals wouldn't be able to make a comeback, thanks to education, better communication and transparency in administration in the village.
Comeback is a crushing thought for an aged mother, Madhuramma Mallojula, who lives in Peddapalli, 60km south of Beerpur. She hopes that her youngest son, Venugopal, spokesperson for the CPI (Maoist) central committee, doesn't come back home the way his elder brother Kishenji did—dead. She was apprehensive when I called on her, along with the photographer and a neighbour. "On seeing so many persons, I thought you had come to give me some more bad news," she said later. Venugopal became a Naxal in 1980, following in the footsteps of his brother. "He is looking after a kingdom. I don't expect him back," said Madhuramma.
The Mallojulas are Brahmins, and her husband, Venkataiah, performed priestly duties in nearby temples. Their eldest son, Anjaneyulu, is a retired bank employee. Kishenji, fondly called Koti at home, graduated from a college in Warangal and studied law in Hyderabad. He was active in the Radical Students Union, and received intellectual sustenance from poets like Varavara Rao, Sri Sri and Kaloji Narayana Rao. "When he was a boy," said his mother, "he wanted to join the Army. He would say, 'I want to do something for my country,' even when he was in class six."
In 1977, Kishenji led a farmers' uprising and joined the PWG a few years later. On one of his secret visits he told his mother not to worry anymore about whether he was dead or alive. On November 24, 2011, CoBRA commandos shot him dead in West Bengal. "I received the body after three days," said Madhuramma.
While her sons were on the run, the police demolished their house in 1982. "We built a temporary structure with a thatched roof and managed till my father finally got permission to build a solid structure," said her grandson Dilip Sharma, who is a lecturer in a private college.
Madhuramma has only one wish: "I want to see my son at least once." A fearful wish.