Delhi-based businessman Ganesh Gupta's textile export business used to be worth Rs.260 crore annually. It has now come down to Rs.100 crore. His company, Vijay Silk House, exports fabrics and clothes to the Middle East, especially the Gulf countries. But because of a sharp fall in oil prices, buying capacity of these countries has gone down considerably. Faced with major losses, Gupta has diversified into construction and real estate. "The export sector does not seem to be very important for this government. We are yet to see a major step to arrest the slide in exports," he says.
Last December was the 13th consecutive month when exports declined year-on-year because of tepid global demand and a volatile currency market. Commerce Minister Nirmala Sitharaman recently expressed concern that the depreciation of the Chinese currency might adversely affect India's exports.
With less than a month to go for the Union budget, exporters want some measures to heal the ailing sector. Ajay Sahai, director-general of the Federation of Indian Export Organisations, says the government cannot do much about the demand slowdown, as it is a global phenomenon. "However, it can enhance the competitiveness of Indian exporters. Today, the transaction time and cost are very high as there are a number of agencies involved and a lot of paperwork needs to be done. The government should expedite the move to a single portal," says Sahai.
He says there should also be an export development fund to support the credit requirement of the small and medium enterprises (SMEs).
Another sector affected by the Chinese slowdown is steel manufacturing. China's steel consumption has fallen significantly and it is dumping steel at prices way below domestic prices. Since 2014, steel import has risen by an unprecedented 70 per cent, most of it from China. Experts expect some sops for the steel sector, but there might not be a big bang announcement.
The fall in crude oil prices can ease some pressure on the government. While the government had budgeted its imports at $70 per barrel, the average price has fallen to $40 levels. According to an India Ratings report, the government would have benefited by approximately Rs.25,000 crore. Low crude prices will also bring down the fertiliser subsidy bill. "This would compensate for the shortfall in divestment proceeds and direct tax collections," says Sunil Sinha, principal economist, India Ratings & Research.
The government has planned to raise Rs.69,500 crore by divesting its stake in public sector companies, but has managed only Rs.12,700 crore. Direct tax collections have also been slow at Rs.5.20 lakh crore in the first ten months as against the target of Rs.7.97 lakh crore. Experts say the government will comfortably meet the fiscal deficit target of 3.9 per cent this financial year (2015-16). "What looks difficult is next year's 3.5 per cent. I think it will be very difficult for the government to remain within that level, given that there will be huge outgoings on account of the seventh pay commission," says Sinha.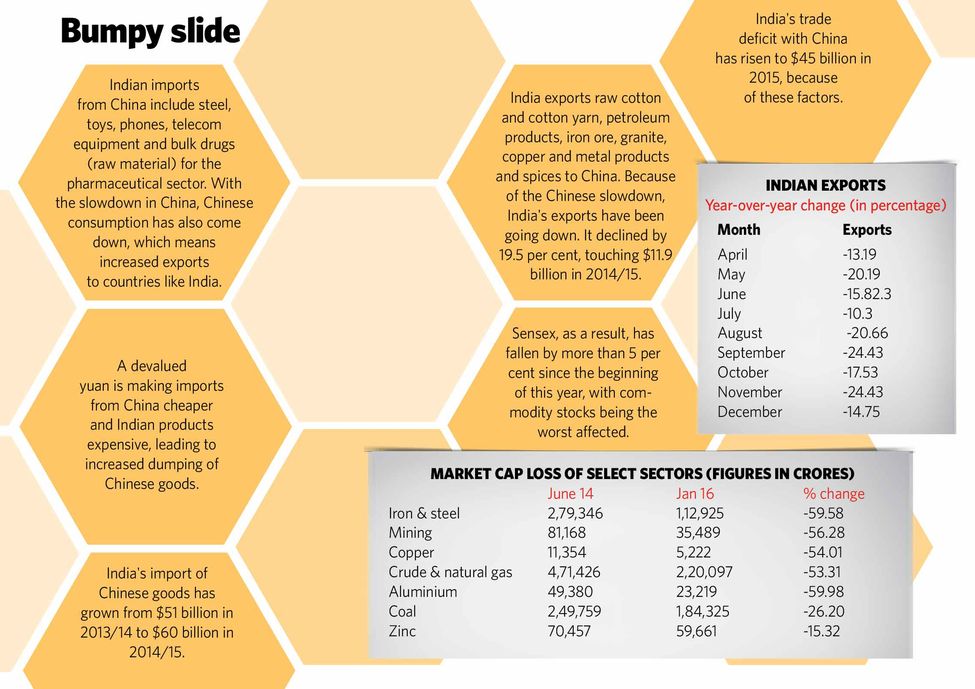 The pay commission recommendations and the one rank one pension will cost Rs.1.02 lakh crore. It will increase the fiscal deficit by 0.65 per cent of the GDP. There is no clarity on how the government is looking to fund the payouts.
"Some bit of fiscal slippage seems inevitable. Or, alternatively, they will have to postpone hikes," says Sonal Varma, chief economist at Nomura India, a financial services firm. He says one of the things the budget might focus on is increased infrastructure spending through off-balance sheet items like the National Investment and Infrastructure Fund. Since it has also been a year of bad monsoons, the government might look at pumping more investment into agricultural infrastructure and boosting rural livelihoods.
The budget most likely will look at bad debts of nationalised banks, which amount to Rs.10 lakh crore. Nearly 15 to 20 per cent of the total advances of banks are stressed assets.
Banks have a 10-12 per cent exposure to the metals and mining sector, which has been badly affected by the Chinese slowdown. "With the situation in China not improving anytime soon, there is going to be an adverse impact on banks' books. The government can revitalise the banking sector by spelling out clearly how the bad debt problem is going to be solved," says Anindya Bannerjee, associate vice president, currency derivatives, Kotak Securities. He says it will be the most pressing problem for the economy going ahead. As a result of too much of stressed assets, credit disbursal is getting affected and rate transmission is not happening. "The cost of capital is not coming down," says Bannerjee. "SMEs are not able to get timely credit. The longer we delay these reforms, the deeper will be the impact on economy."