Till a few years ago, top executives in boardrooms would swear by China, rattling off data on imperative cost advantage over anything that India does. Ironically, with the yuan having devalued thrice in a week, it is the same advantage that has now turned around for these CEOs. They now seek insurance against fears of further devaluation of the Chinese currency.
On August 11, People's Bank of China surprised everyone by devaluing yuan by cutting its daily reference rate by 1.9 per cent. It cut the rates two more times in the following two days. Experts, however, say it was inevitable. "This is in keeping with the decline in Chinese stock markets over the last two months," said Subir Gokarn, former deputy governor, Reserve Bank of India. "In the short term, labour-intensive sectors like textiles, manufacturing and small producers will get affected as exports slow down." Long-term macro economic impacts, however, were still not visible, he said.
Textile exporters, who earn about 30 per cent of their revenue from China, have announced that many mills will shut down. "Exports are down 40 per cent from last year," said D.K. Nair, secretary general, Confederation of Indian Textile Industry. "We must reduce capacity that we had built in the last few years. We were not ready for such a decline."
Three other associations of textile manufacturers—Northern India Textile Mills Association, South Indian Mills Association and Texprocil—recently met in Delhi to decide on the future course of action. "This is the first time in 40 years that we are forced to reduce capacity. It is the absolute last straw situation," said Sharad Jaipuria, president of NITMA.
China's decision to delink yuan from the dollar and change the reference rate has had a ripple effect on the prices of commodities. "The cheaper yuan would make exports more competitive with China. In the domestic market, the demand for imported ore is higher as companies find it more competitive to import from China rather than extract the mineral from Jahrkhand or Odisha," said R.K.Sharma, secretary general of Federation of Indian Mining Industry.
Global steel prices have come down owing to Chinese producers' overcapacity and the slow demand in China. Recently, India hiked import duties on steel to about 30 per cent after Indian steel producers voiced concern about availability of cheaper Chinese steel products in the markets. Companies like Tata Steel and JSW Steel have seen a dip in revenues.
Interestingly, for export of iron ore, too, the government has pegged a higher export duty. Rail freight charges are four times the domestic consignment rate to move iron ore. "The government thinks we are exporting wheat and importing bread. In such scenario the development in China is hurting mining sector activities even more," said Sharma.
Some experts suggest that Chinese banks had been selling dollars to artificially prop up the yuan. "China's retail sales and exports are both down far below expectations. More than $250 billion investments have exited Chinese markets in the last one year. Still, the yuan held back and gained against most currencies and a strengthening dollar by more than 7 per cent," said Ritesh Kumar Singh, corporate economist at Raymond Ltd.
China had been propping up the yuan in an effort to make the International Monetary Fund accept that the currency qualified for forex reserves. However, with the IMF delaying the decision, China had to change its policy to incentivise exports. Many people think that by devaluing the yuan, Chinese authorities are turning to a controversial growth-boosting tactic whose effects reverberate far and wide. "They have moved to a more market-linked system of currency valuation, which is a good thing and something that western economy had been seeking for a long time," said Jehangir Aziz, chief economist at J.P. Morgan. "It is expected that foreign investors will now find it more attractive to return to Chinese markets."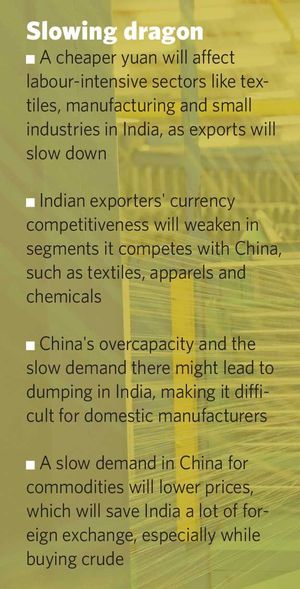 The export-focused sectors see revenues declining not only from China but also in other markets where India is competing with China. "Gems and jewellery, phrama, apparels, plastics and organic chemicals are some areas where we compete with China in the US, Europe and Africa. The yuan devaluation will not only hurt our exports to China but will make it more competitive to all these places," said S.C. Ralhan, president, Federation of Indian Export Organisations. He has cautioned members to guard themselves against excessive volatility and hedge their currency risk.
Banks have also voiced their concern on the condition of exporters owing to the falling yuan. "Major global currencies are depreciating, but our currency is stable. So, our exports are under a lot of stress. We have asked the regulator to allow foreign currency loans for exporters, instead of rupee loans, because the value gets eroded if the loan is in the domestic currency," said Arundhati Bhattacharya, chairman, State Bank of India.
Indian markets seem to be cautious about the prospects of China. "Investors are avoiding all stocks that have a large exposure to the Chinese export markets," said Jayant Manglik, president, Religare Securities. "Steel, textile and pharma companies are trading lower by more than 10 per cent after last week's developments."
The government has taken note of the fears of the domestic manufacturers. "I can assure Indian manufacturers that we shall take every step to protect Indian manufacturing sector, every step to stop dumping of goods into India; we shall safeguard our manufacturing interest," said Commerce Minister Nirmala Sitharaman. She said the government was "closely monitoring the situation".
India's trade deficit with China was about $60 billion in 2014-15, which is about 35 per cent of India's total trade deficit. China accounts for about half of the global consumption of copper, aluminium and steel, and more than 10 per cent of crude oil.
China holds about $1.5 trillion of its reserves in US securities, which, many believe, had been used as a weapon to sell the greenback and keep the yuan artificially high. "I think the yuan devaluation will be more controlled from this point and China will step in to meet the threat to financial stability," said D.K. Joshi, chief economist at CRISIL Research. "It doesn't appear that there will be much of an impact on inflation from the pressure on currency given where the international commodity prices are."
For India, the yuan crisis provides an opportunity for survival in a competitive and globalised world. "Our current account deficit and balance of payments are still not alarming and well below tolerable levels," said Gokarn. "This is the time when the government should address issues with our manufacturing sector, labour laws, taxes and port management. It is an opportunity to make India more competitive, but we do not seem to be moving fast enough to do it."