He is one of India's best known economists. Bibek Debroy is also a member of the NITI Aayog, the think tank of the government of India. He chairs the Economic Advisory Committee of the prime minister. 
When not redrawing policy, Debroy spends time reading and writing on a range of topics. He has translated what some people believe is the best rendition of the Mahabharata, in ten volumes. His translations of the Ramayana, Bhagavad Gita and the Harivamsha, are also widely acclaimed.
He comes across as a serious, no-nonsense scholar, which he is. But should that rob him of his wit? Or his right to record a witty take on contemporary things?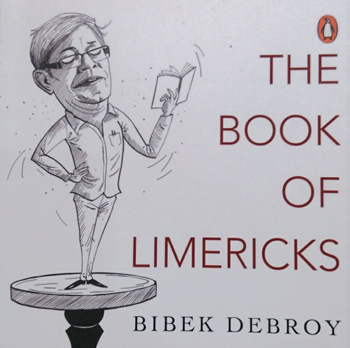 Debroy reserves the right to his wit in his tiny new book, The Book of Limericks, that has just rolled out of the press. The cover illustration of Debroy himself goes well with the theme.
In that little book, he records his views on many issues that interest the nation, limerically if not in a tongue-in-cheek manner.
Take for instance, the idea of Universal Basic Income. Very much in the public realm, at the recent presentation on the Economic Survey, Chief Economic Adviser Arvind Subramanian was asked what had become of the idea of the UBI, which he had mentioned in a previous Economic Survey. The CEA replied saying within the next two years, a few states would be announcing the same. 
Debroy's limerick on it is:

Universal basic income
Won't be an easy outcome.
The subsidy mindset
Is hard to offset,
Tweedledee may replace Tweedledum
He has given his view on the name changing game too!
One brother lost his name, 
The other has his claim to fame,
One Mughal a poison toad,
The other perceived as antipode,
What next in the road rechristening game? 
Of course, this limerick has included an illustration of the much loved late president Abdul Kalam, after whom the Aurangazeb road was renamed by the present regime.The illustrations are by Sayan Mukherjee.
The book is a witty read. Don't give it a miss. 

Name: The Book of Limericks
Author:Bibek Debroy
Publisher: Penguin
Pages are not numbered!
Price Rs 250