Once upon a time there was a beautiful princess named Odette who was the under spell of evil enchanter Von Rothbart to be a swan during the day and only returned to her true form as a maiden at night. She could be saved only by a prince who swore eternal fidelity to her. While hunting, a handsome prince named Siegfried came across Odette. But just before he was able to shoot her, Odette turned into a beautiful woman. Prince Siegfried fell in love with her and pledged to help her break the spell by marrying her. He invited her to the palace ball to marry her and reverse the spell. Tragically, Von Rothbart disguised his daughter Odile as Odette and the prince ended up proposing to the wrong woman!
True love, pain of separation, deceit, magic and courage; legendary music Russian composer Pyotr Ilyich Tchaikovsky's classic ballet 'Swan Lake' has it all. Come September, Indian audience will get to feast their eyes on this timeless tale as Delhi-based production house Navrasa Duende has entered into a collaboration with Moscow-based Royal Russian Ballet to showcase it in the national capital.
"The idea behind the collaboration was to recreate the magic and introduce Indian audience to the best of classical music, dance and theatre," Dinesh Singh, founder of Navrasa Duende told THE WEEK in an exclusive interview.
Navrasa Duende conceives, creates, designs, manages and promotes unique productions across the world in a wholesome way, covering music, dance, theatre, cinematic arts, visual arts, literature, tourism and events; at times blending multiple genres.
"And Swan Lake was our first choice because of all time great Tchaikovsky's romantic, haunting and ageless music," Singh explains.
"Its dance choreography involves magnificent costumes and a good blend of dance forms all over western Europe, and of course Russia giving it global outlook and experience. All international cast and visual experiences will be very refreshing to the Indian audience," adds Singh.
He says the country's entertainment industry is still very unorganised and fragmented. "We still lack the infrastructure required to pull off large scale events unlike our counterparts in the west." However, with the growing enthusiasm for international events among Indian audiences, he sees that the industry is gradually warming up to the idea of working with skilled professionals to put things in order.
And what has fueled this growing liking for live global performances? "The cross cultural collaborations is the major driving factor which is popularising the art form in India. Many artists from India take a tour to other countries. When they experience this art form, I am sure they come back to India and inculcate the art form in their capacity to create a fusion," says Anatoliy Kazatskiy, director of the ballet.
Besides, technology has also contributed to the growing popularity of international art forms and events. "People around the world have access to videos from across the world which makes it easier for them to understand the art form, gauge interest and practice it," adds Kazatskiy.
As far as ballet is concerned, what took India so long to warm up to this art form? "India is a country with diverse culture and art forms dating hundreds of years. While India didn't get much exposure to this particular dance form, Indian artists have been largely involved in dance forms and its fusion format," says the director.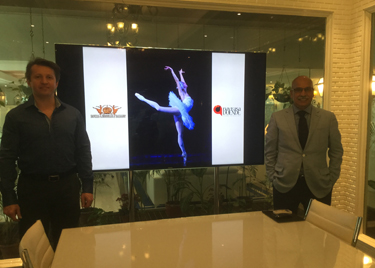 For example, he says Indian classical dances and ballet have lot of similar elements. The dance moves, postures and lyrical choreography—everything is an art of storytelling. The only difference is that while bharatnatyam is the dance form of expressions, ballet is more formal.
"I have heard about Indian artists doing fusion by mixing one art form with ballet. So, this art form is already there in some manner. It can foresee the Indian artists and aspirants mastering this art form as well," says Kazatskiy.
Needless to say, Kazatskiy is quiet excited about his first India visit. "We are really looking forward to perform in front of the Indian audience. India is one of the few countries that has a rich cultural heritage and it puts enormous performance pressure."
"It will be really thrilling for us to see the response of Indian audience as we set to perform in India for the first time," he says.
While travelling to foreign locales and entertaining international audiences seems quiet exciting, it comes with its own set of challenges.
"On overseas tours we keep a micro approach towards stage settings in terms of stage size, curtain arrangements, lighting and sound provisions, green room facilities, costume co-ordination etc. While travelling we have to maintain a strict lifestyle to be physically fit, hundred per cent."
"But we have heard a lot about the hospitality and warmth of Indians, look forward to have a great time in India."