At 6pm, the traffic is unruly on Bhatinda's Namdev Road. Even in this maddening chaos, Harpreet Dev loves to drive his white Toyota Cressida in reverse gear.
Known as 'Back Gear Champion' in the locality, Dev, 38, has driven more than 17,000km in reverse gear. Quite a feat, especially in a country where road manners and road rage are at times synonymous. "I wanted to do something different, something quirky," he told THE WEEK.
One night in 2004, when Dev was returning from Ferozepur to Bhatinda, his faithful Fiat Padmini got stuck in the reverse gear. "I didn't have enough money to get it repaired, so I drove back in reverse," says Dev, who runs a driving school. He fell in love with the idea, went ahead and acquired a special government licence that allows him to drive backwards in north India.
Dev is part of a unique tribe in the country that showcases a facet of India which is relatively little known but, once revealed, leaves you pleasantly surprised—Quaint India. There is a seven-year-old who has not eaten cooked food for the past three years; a 70-year-old Varanasi farmer who has not taken a bath for the past 40 years; a Hyderabadi who has created more than 100 quirky functional cars and a pilot who quit his flying to become a ghost-hunter. And, several others like them.
"Gradually, our society is becoming increasingly competitive," says Nidhi Prakash, assistant professor of psychology at Delhi University. "Some people do unusual things or make quirky identities to stand out in the crowd. In most cases, it is driven by the desire to be famous. Who doesn't enjoy recognition and respect?"
The WEEK takes you through stories of such Indians who seem to have popped out of fables and fairy tales.
Bathless in Banaras
IT IS WINTER, and one may hesitate to take a bath some odd day. But what about not taking a dip for decades? Meet 70-year-old Kailash Singh, who hasn't taken a bath or cut his hair for 40 years.
It is five in the evening on the outskirts of Varanasi, and the golden-orange sun is turning pale behind a line of trees at the end of a long stretch of agricultural field. The air is thick with the fragrance of wet soil, and I can hear the squawking of birds returning home. While I admire the picturesque place, Kailash slowly emerges from the narrow dirt path inside the fields and some street children start teasing him.
With a six-foot-long jatta (matted hair) wrapped in a white turban and a four-foot-long beard wrapped around his waist in a white piece of cloth, Kailash looks like a sanyasi—the kind one sees in TV serials and reads about in mythologies. "I think it is Lord Shiva's will. He wants me to do something unusual with my life," says the farmer.
Modernity has not yet found its way to Chattawn village. The only semblance of it is visible in the few smartphones that the villagers flash while pedalling their bicycles. The village, despite its proximity to Varanasi, did not have much to boast about. But not anymore. Fondly called 'baba' by his neighbours, Kailash with his peculiar character is a talking point, and his unusual "achievement" has brought hordes of people to his village.
"Children mock me that I don't take bath," says Kailash, "but they are ignorant and don't understand that it is tapasya." Even his family does not like his "achievements". But he remains unperturbed. "As a child, I loved bathing and playing in the pond. But after I grew up, one day I simply decided to stop taking bath," says Kailash, dressed in a worn-out brown sweater that he wears throughout the year, grey trousers, dusty white turban and black plastic sandals.
"I doubt if anybody in India has achieved what baba has," says his neighbour Sushil Singh, 26, who is senior manager at Reliance Housing Finance in Varanasi. "Today our village is known because of him. We all are very proud of him."
Rumour has it that a priest told Kailash a few years after his marriage if he stopped taking bath, he would have a son. The advice clearly didn't work—Kailash and his wife, Kalawati, have seven daughters. "You can't stop people from making up stories. It doesn't bother me now. It is my decision and I will stick to it till I die," says Kailash, who always carries an umbrella to avoid getting wet.
Kailash's day begins at 3am with a cup of lemon tea that he makes himself. After puja at 6am and breakfast at 8, he goes to work the field. Evenings are spent tending cows, followed by the only 'cleansing' he allows himself—a fire bath. The process begins with smoking pot, massaging the body with self-prepared herbal oil to beat the body odour, dancing around a bonfire, giving heat compression to each body part and praying to Lord Shiva.
Though Kalawati and his daughters tried to persuade him, and even fought with him to take a bath, Kailash never once relented. "Finally, I gave in," says Kalawati. "I am his wife. What else can I do but put up with him and his whims." She secretly does his laundry as Kailash doesn't like his clothes being washed either. A few years ago on Holi, their extended family members tried to give Kailash a bath by force. "He fought and ran away," says Kalawati. "He said he would rather die than take a bath, and said if we tried that again, he would take samadhi."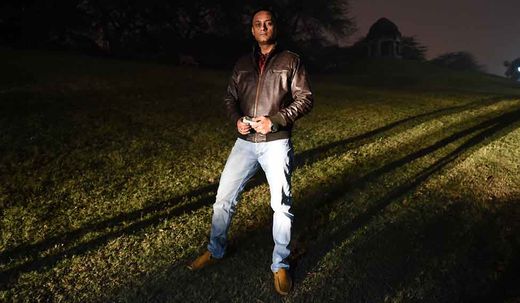 Spook hook
GAURAV TIWARI'S office at Dwarka in Delhi is dark and almost vacant with just the basic furniture—a few steel chairs and a black sofa. The central wall of the living room is covered with black and grey abstract print wallpaper. There is a big aquarium that glows every time you open the door and light falls on it.
"This place has something," says Tiwari as he walks in from the adjacent room. He takes out all his apparatus that "can detect" changes in electromagnetic field and temperature, which are "indicators of paranormal activity".
The instruments look like remote controls with tiny LED bulbs fixed on them. One of them starts flickering and moves from yellow to green and bright red. "Did you notice, there is something here, a spirit maybe," he says.
A commercial pilot by training, Tiwari did his PhD in metaphysics from the US and swears by scientific reason. "The shift from commercial pilot training to ghost hunting is not about blind belief or black magic. It is guided by forensic science to explain the unexplained," he says.
Tiwari has visited 6,000 haunted locations across the globe and has conducted hundreds of paranormal investigations, including one at the Karkardooma court in Delhi, the video of which had gone viral online.
"As a child I was scared of darkness and what I might encounter in its depth spooked me," says Tiwari. But a "paranormal experience" at his shared apartment in Florida proved to be the tipping point. He decided to study metaphysics "to find answers to the unexplained and allay fears".
So, how practical is it to leave a lucrative career for a quirky one? "I am earning as good as any lucrative career would offer. Also, there is name, fame and international exposure. And, the adrenaline rush is perhaps at its best in my profession," says Tiwari. Today, ghost hunting is a "multi-billion dollar industry that has a bright future in India," he says.
Tiwari runs the Ghost Research & Investigators of Paranormal (GRIP) academy from where 3,700 students, including "celebrities like singer Shibani Kashyap and VJ-turned-actor Rannvijay Singh", have graduated, claims Tiwari. Depending on the level of specialisation, a three-month-long course would cost between Rs.45,000 and Rs.75,000. Tiwari has also lent his services as a paranormal expert in TV reality shows like Zee TV's Fear Files, and MTV Girls Night Out and the international series Haunted: Australia.
Recounting the investigation at Karkardooma court, Tiwari says, the court staff had complained about unexplained events occurring at night. "I was approached by the officials to investigate and solve the matter, although law prohibits any such activity inside the court premises," says Tiwari.
He carried out a 'balloon experiment' with his team. "We put balloons on every computer and gave orders to switch on the computers, move the balloons from one place to the other, and to open the web browser. All these commands were carried out. Our electronic voice phenomena recorder also captured a voice that asked us to 'get out'."
On days when he has a case, Tiwari starts his investigation at 8pm and usually returns home by 4am. No wonder, his parents had a tough time finding him a life partner. They finally succeeded, and Tiwari recently got hitched to an IT engineer.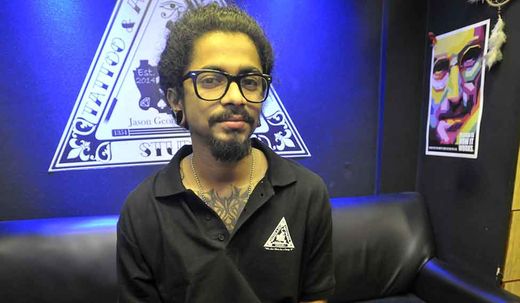 Mark of gratitude
WE OFTEN COME ACROSS people who wear their heart on their sleeve. Mumbai's Jason George Mathew, however, has gone a step further. The 24-year-old tattoo artist from Vashi in Navi Mumbai has inscribed on his body the logos of every brand that has made a difference to his life. "From the very first cycle that I had to the very first mobile phone I used, the shows that I used to watch as a child, hobbies from my college days to the games that I play, all these brands' tattoos are there," he says. So, the Cartoon Network logo sits next to Facebook and retail chain HyperCity shares space with YouTube.
While the whole thing may have the air of a modern-day marketing gimmick, Mathew insists that his hobby has nothing to do with marketing. Rather, it comes from something far more meaningful to him. "Every brand has a story," he says. "It is thanksgiving to all the brands that help us live our lives."
Mathew says he has not approached the companies that own these brands nor have they approached him. He maintains a low profile. As a matter of fact, he is quite surprised that THE WEEK came to know about him. Was it because of the Limca thing? he asks. What Limca thing?
Mathew has made it to the Limca Book of World Records for having the maximum number of brand logos tattooed on his body. He started with seven logos, then it went up to 25 and then to 127. In July 2014, he broke the record for getting the maximum number of logos tattooed in a single month, taking the count to 177. It now stands at 321. He has made about four or five of them himself. The entire ensemble has cost him around Rs.3 lakh.
Initially, his parents had a problem with his tattoo fetish. "But after I made the record, it was all fine," he says. Some people still feel embarrassed to hang out with him, but Mathew has taken it in his stride. He says older people sometimes judge him, but once he tells them the thought behind his tattoos, they are able to appreciate it. His passion for tattoos also seems to help him professionally. People get a sense of his work from the samples on him.
Roving garden
WE HAVE ALL KINDS of eco warriors today. Some plant a tree or two and then forget about it. Then there are others who attend debates and lead rallies in support of the cause. However, a taxi driver in Kolkata has found a unique way to show that he cares.
Dhananjoy Chakraborty was in class VIII when his father fell ill. He quit school to take care of his family. However, he didn't forget a lesson he learnt in school—the importance of planting trees. In fact, when he was in school, he had inspired the other children to do their bit in conserving the environment. "In school, I took the lead to educate the other students about the importance of planting trees," says Chakraborty. "My teachers commended me for it. The day I left school, the headmaster told me that the school was losing a boy who could be an example for others."
Once he was old enough, Chakraborty started driving a taxi. But he didn't stop his green initiatives. In the past 25 years, he has planted more than 10 lakh saplings across Kolkata. He has also been organising a rally every year to promote the cause. But that is not the reason why Chakraborty stands out. He has transformed his taxi into a mini garden. He has been growing grass on the taxi's roof and on the underside of the roof. He also has six potted plants in the trunk and another one on the dashboard.
The plants keep his non-AC taxi cool, giving the passengers a respite from the oppressive heat. He also puts up thought-provoking messages for the passengers to read and think about during the ride. 'Jadi thake cancer er bhoy, dhumpan ar noy [If you are afraid of getting cancer, don't smoke],' reads one message.
"Take my word, if we fail to arrest global warming, our country would be filled with cancer patients in the next 25 years," says Chakraborty, who spent Rs.35,000 to turn his taxi green.
While Chakraborty does not charge anything extra, some passengers do offer him more money. Once a businessman got out of his Mercedes to take a ride in Chakraborty's taxi. "When I asked him why he preferred to ride in my cab, the businessman said he felt quite relaxed and refreshed in my cab," says Chakraborty. "It was an irreplaceable feeling."
Amazing big fry
IT IS 4 O'CLOCK, and the crowded Karol Bagh market in Delhi is preparing for the evening rush of customers. In the central part of the market, Prem Kumar has just opened and stepped inside his restaurant. His specialty—fried fish.
Wearing grey track pants, a white shirt and sandals, Kumar, 56, stands next to a heap of marinated fish in a vessel, beside a burning furnace. More than 15 litres of oil is boiling in a pitch dark kadhai and before you blink, Kumar dips his right hand inside it.
"Huh," blurts Sunaina Singh, a middle-aged customer, as her mother-in-law takes a few steps back in awe. Kumar smiles and slides a few pieces of fish inside. "It is perfect," he says. "I always check whether the oil has reached the desired temperature [approximately 250°C] for cooking or not."
As his new customers settle down, the restaurateur stirs the fish pieces with a ladle. Once they are cooked, he uses his bare hand to pick them out of the vat and slaps them on another plate. The process goes on as the footfall increases.
"It is really quirky and scary. I have never seen anything like this," says Sunaina, and Kumar laughs at his success in charming customers once again. "It always works," says Kumar, adding that apart from keeping waiting customers entertained, the 'gig' helps lure new ones. Kumar, an alumnus of Delhi University, has developed a unique ability to 'handle' boiling oil without getting burnt.
"I saw my father, Hari Chand, doing that all the time and got inspired," says Kumar. "After completing graduation, I joined our family business. I practised for about five years and developed this unique [ability] by regularly dipping my right hand in boiling oil. People call me quirky, so much so that some foreign tourists who were recently shopping in the market came looking for my shop."
To all those who argue that it is a God's gift or the result of a rare genetic disorder of the nervous system called Congenital Insensitivity to Pain with Anhidrosis that prevents a person from feeling any kind of sensation like pain, heat or cold, Kumar says: "It is neither a God's gift nor any disease. This uniqueness is purely based on practice. My right hand is trained to do the peculiar job, but my left one gets a boil even if a drop of hot oil falls on it."
And what is the benefit? "Almost everyone in my locality knows me," says Kumar, who has four sons and two daughters. "Even though I don't spend money on advertising, word of mouth keeps bringing me scores of new customers. So the quirk has boosted my business."
They say peculiarity is singular. In Kumar's case, too, it is true. None of his children are ready to repeat his action. "I am proud of my father," says his 31-year-old son, Deepak, "but I don't think I will ever attempt it myself."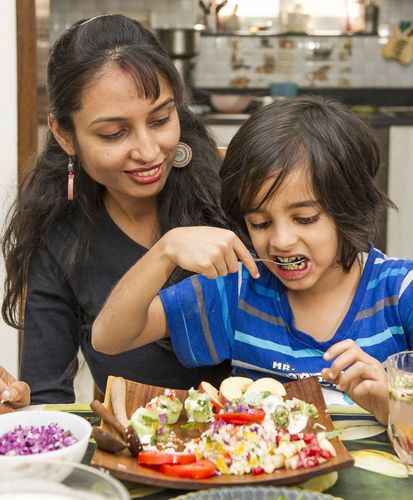 Vegan and raw
ASK YOUR CHILDREN what they would like to eat, and they would probably say chocolates, cookies, wafers or banana chips. But seven-year-old Manikya Sanghi has not touched any of that. Nor has he eaten roti, rice or any cooked food for the last three years or so. No, he is not suffering from an ailment or following a weight-loss regime.
"That is a conscious decision for inner cleansing," says his mother, Anjali. He leads a pure vegan raw lifestyle. "Even if nobody is around, he never touches such food by mistake. It is amazing to see how he is building a new identity from an early life," says his grandfather Niyesh, who is joint managing director at an architecture consultancy.
It is lunch time, and Manikya is ready to eat his special hot dog—mashed raw peas and finely chopped red cabbage, rolled in oval shapes with yoghurt and dates chutney. He gobbles one quickly and mumbles: "Yum! It is my favourite." He then get his hands on some cucumber katoris, filled with finely sliced cabbage, spring onions, curd and dates sauce, followed by a spoonful of special rice—coconut pulp mixed in apple-pomegranate salad.
"He only eats salt- and sugar-free, fully raw, organic, vegan food for his better physical and spiritual growth. Didn't saints do the same during their spiritual pursuits?" asks Anjali, as Manikya advises his grandfather to shun his Punjabi delicacies. Says Manikya, who is being home-schooled: "To befool children of my age, McDonald's offers toys and entices them to get hooked to their unhealthy junk food."
But is it expensive to lead such a life? Not exactly, says Anjali, who takes her son for health checkups every six months. With less medical expenses, no eating out and no expenditure on cooking gas, the cost of vegan diet is affordable, she explains, giving a peep into how new-age India thinks.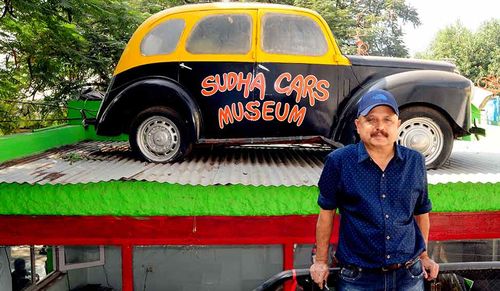 Odd wheels
FIRST THERE WAS THE CHARMINAR, then the biryani and now there is Sudha Cars Museum, which adds to the appeal of Hyderabad. What is so special about this museum, you may ask. The brainchild of Kanyaboina Sudhakar, who holds the Guinness World Record for building the largest tricycle, the museum has 190 custom-built exhibits mostly made out of scrap.
A commerce graduate, Sudhakar was passionate about building vehicles from a very young age. So, he started reading and collecting books on automobiles. "Apart from books, I learnt a lot from Babu Khan, a roadside mechanic, with whom I spent a lot of time tinkering and toying around with the cars in his workshop," he says.
At age 14, Sudhakar designed his first bicycle. And, by the time he was in class 12, he built a four-wheeler. So far, he claims to have built more than 700 cars, of which, "42 are wacky", he says. The best thing about his creations is that they are all in working condition.
While designing quirky cars is Sudhakar's passion, he also does it on request from car lovers and parents who want to give their children a unique ride. He gets the scrap from the 50-odd junkyards around Hyderabad. "Now, I get calls from these shops if anything new comes up," says Sudhakar, who recently got a call saying a two-seater fighter plane with a broken wing was available. Sudhakar, however, had to give it a miss because he doesn't have the place to exhibit it.
"I have also been very lucky because I have found guys who are still good at building stuff with hands," says Sudhakar. He is especially proud of his collection of cars shaped like sports ball."Everything is as per norms. Only the size is different," he says. The vehicles are fitted with a motorcycle engine, and weigh 150kg to 200kg. They can be driven around at a comfortable speed of 45kmph.
"It is not expensive to make these cars," says Sudhakar. "In fact, since I make it out of scrap it is fairly cheap and I use a very ordinary motor to run it for a few days. What, however, takes time is creating the finer details. I like it to look like the exact replica and so every detail is lovingly taken care of. For example, take the cricket bat that I made. To give the bat an authentic look, we hired a local painter, who gave it a wood finish."
The museum gets 700 to 800 visitors a day, and during holidays the number goes up to 5,000. Whenever he is free, Sudhakar gives guided tours to visiting children. "I teach them how to use waste material from the junkyard," he says.
Currently, Sudhakar is working on two cars shaped like a chessboard and a bridal dress. His dream is to build a motorised animal park, for which he would need space and support from the government.
WITH LALITA IYER, RABI BANERJEE AND SHRITAMA BOSE