A headline in a newspaper caught my attention. In fact, it caught much more than merely my attention. It got me thinking. And I need to share those thoughts with you. We need to deliberate on this aspect of our persona, our character and the nation's psyche. The headline in the Hindustan Times of September 26, 2017, read, 'Nation to be free of corruption by 2022'. It may well be asked why should this headline catch anyone's attention. Well, for two very fundamental reasons. Firstly, this headline constituted the declaration of a political party in its national executive meeting. For an issue such as corruption, does it require a political party to make the declaration on us? Secondly, should this not be the commitment of the whole nation—an unwritten commitment in all our minds?
Corruption in the country is no recent phenomenon. It has dogged us for decades. If we think it is a recent occurrence, we need to read the speech delivered by independent India's first vice president Dr S. Radhakrishnan. Speaking on the midnight of August 14, 1947, in the Central Hall of Parliament, he said: "Unless we destroy corruption in high places, root out every trace of nepotism... profiteering and black marketing, which have spoiled the good name of this country in recent times, we will not be able to raise the standards of efficiency in administration as well as in the production and distribution of the necessary goods of life."
If corruption was really of concern as early as when India gained independence, how is it that the problem has only worsened and now we are making declarations to root it out in five years? No doubt, a very noble declaration. However, does it require a political party to make this nation of 125 crore people become corruption free? I would like to believe that this should be the aim and mission of every individual in the country.
Corruption is sponsored or supported by two parties. It is an unwritten contract. There is a 'giver' and a 'taker'. Their unethical transaction, which obviously is a quid pro quo for an act performed, is termed as corruption. Thus if we could tackle both these sponsors, the 'giver' and the 'taker', we would be getting to the root of the problem. Corruption is a phenomenon that we confront when we go to a municipal office, a police station or a registrar's office seeking to register a property transaction.
If we were not to be a party to be a 'giver', what could happen? Maybe some delay in our request being fulfilled. Maybe some more sacrifice on our part to pay a higher tax or transaction cost. Are these such life-and-death issues that become so important for us that we devalue our conscience and stoop to commit the misdeed? Can we not put up or persevere with this delay or extra tax rather than commit ourselves forever as abettors in an evil act? Can we ever forgive ourselves for being the sponsors of this undignified act? Once bitten, we easily persuade ourselves to continue perpetrating it.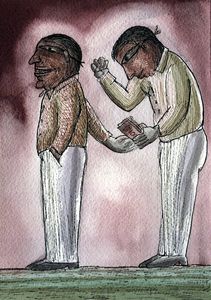 If we are on the side of a 'taker' in the act of corruption, we need to introspect how the 'act of taking' benefits us. Maybe some more wealth. Maybe one more apartment. Maybe one more holiday, all paid for by another person. Is it worth the while for us to be subjugating our conscience (possibly our most prized possession) for only such materialistic pursuits? These are issues that we need to introspect in each family and each institution.
Political parties should strive to rid elections of big money and ensure that election graffiti and posters do not sully public spaces. If we can achieve only this bit, our dream of a 'Swachh Bharat' would be a reality. It would make Bharat swachh in every sense of the word.
Former comptroller and auditor general, Rai is head of the Supreme Court-appointed BCCI's Committee of Administrators.