The following was said about Sri Lankan spinner Rangana Herath, the other day, in commentary: "He is a great bowler, he has got 400 Test wickets, so you can't argue with that." Well, I am going to argue with that. Great numbers do not always mean great cricketers.
There was nothing in the way Herath bowled in the India-Sri Lanka series that made me feel I was watching a great bowler in action. As a left-arm spinner, Rangana Herath has a decent bowling action and he is accurate, but beyond that there isn't much to rave about.
He barely uses two fingers on the seam, so does not impart much spin. If at all, he undercuts the ball and sends it like a frisbee into the air. Slim chance the ball will carry any surprises for the batsmen.
You would say, well, Anil Kumble did not spin the ball much, then how come he is a great bowler? Well, actually, Kumble did spin the ball. L. Sivaramakrishnan, the former Indian leg spinner, keeps reminding me about how spin is different from turn. Kumble spun the ball, and there was, in fact, vicious spin on his stock delivery—the top spin.
Until the age of 35, Herath had average numbers to suggest he was, at best, a good international bowler. But, he has got a staggering 200 Test wickets after crossing 35.
So, was this a case of him getting better with age or circumstances that enabled him to achieve these exceptional numbers? I think it's the latter.
After Muralitharan, SL thought they had found another spin spearhead in Ajanta Mendis, but it didn't quite pan out that way.
With no other exceptional spinner coming through, Herath was fortunate that he had an open field, at a time when age catches up and your skills dwindle. Our own Harbhajan Singh wasn't that lucky. Ashwin's arrival hastened Bhajji's exit from the Indian team.
When I played in the West Indies in the 1989 series, I remember thinking of Courtney Walsh as a relief bowler. Sorry, that sounds a bit harsh, but I thought every time I was done facing Ambrose, Marshall and a young Ian Bishop (who could not bowl slow even if he tried), Walsh gave me some respite.
Fast forward a few years and just Ambrose and Walsh remained in that WI attack, and there was a big gap between these two and the rest. But, it was still Ambrose who was the better bowler, by far. Walsh was the more industrious kind of support bowler to Ambrose, who was the undisputed king of the attack.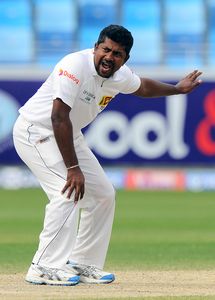 Then, after Ambrose ended his career, Walsh had no worthy competition coming through the WI system just like it has been with Herath. No disrespect to Walsh, he was a top-class bowler, but Ambrose was streets ahead. Yet, the numbers will intervene to suggest Walsh as a greater bowler— after all, he got over 500 Test wickets, while Ambrose had 405.
When you start throwing numbers to justify someone's greatness you are already on a somewhat unsure footing, aren't you? For example, you don't need numbers to back the obvious greatness of bowlers like Warne, Murali, Marshall, Hadlee, Lillee, etc.
Don't get me wrong, I love numbers. I hang around statisticians all the time, in my line of work, although much of the time is spent challenging their simplistic conclusions that are based on numbers.
The reverse has also also been true, on occasions, so I do respect their inputs.
I ran this piece by one of these 'stats nerds' and he thinks there is only an 11 per cent chance that people will like it.
Manjrekar, former cricketer, is a commentator.
editor@theweek.in