If there is anything I know along with cricket, it's hotels. From the age of 15, that is all I have done—played cricket and stayed in hotels. One star, three star, five star... I have seen them all.
After retiring as a player, my profession changed, but my lifestyle did not. Hotels continue to be my second home. Mercifully, it is mostly five-star hotels now.
But, you know what? I miss the five-star hotels of my playing days. Why? Because they were actually five star.
Now, you check into a five-star hotel, only to discover after a couple of days that it is actually a three-star hotel, dressed in a shiny five-star cloak.
Barring one Indian hotel chain, which is obviously my favourite, this is generally my experience with most five-star hotels today. 'Premium' and 'luxury' hotels have sprouted all over India. There is a new one coming up every week. Earlier, there would be just three or four in one city. By one account, Delhi alone has 64 five-star hotels.
And the inevitable has happened—quantity has come at the cost of quality.
And, I do not mean the quality of marble used for flooring and cladding. Oh, don't worry about that. These hotels are very swanky to look at. But, I have come to realise one thing—it's the staff that makes a hotel. Quality staff = Quality hotel.
And, in this regard, all five-star hotels have taken a real plummeting. You would think the bosses are standing at the back gate of their hotels and recruiting people from the street. 'Do you want to work in a five-star hotel?' 'Yes!' 'Great, here's your uniform!"
The other day I called the front desk, and someone answered: "Front decks". I know English is not our first language, and it is unfair to expect every staff in a five-star hotel to speak great English. But, considering that this guy was at the front desk of a five-star hotel, he should have known what his station is really called.
Actually, I feel sorry for them. They are really trying hard, but it is easy to see that they are just not cut out for this. It is like a club-standard batsman being forced to front up against Dale Steyn.
Also, I have never understood the logic of this: in most hotels, the most qualified and smartest people are all in the reception area. I know, they want to make a good, first impression. But, as a guest staying in the hotel for a week, I will be interacting with these guys only twice—while checking in, and when checking out.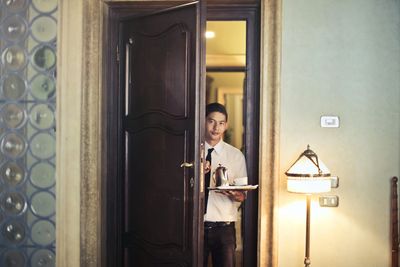 Rest of the time, I am at the mercy of those who take my daily requests, answering phones in room service and housekeeping. And, this has become a truly frustrating experience for me. I do a few rounds of pranayama these days before I pick up the phone to call them.
You interact with the room service and housekeeping staff at least 28 times, on an average, during a one-week stay. But, hotels will still insist on having their best people at the reception, and not here.
Don't they realise that the staff answering phones on these extensions are the most critical people? They interact with guests more than anyone else in the hotel. If it were up to me, I would have my best people here, for they will eventually decide how a guest's stay has been. They are the ones who create the image and reputation of the hotel.
They are the ones who will serve me my grilled salmon, exactly the way I like it—flesh tender; skin crispy.
Manjrekar, former cricketer, is a commentator.
editor@theweek.in