Nikhil Naz, sports editor of NDTV, put up a picture on Twitter of a wrestling match from the Asian championship held in India recently. The stadium was empty.
Naz tweeted that less than 100 spectators watched the bout in which India was striving for gold, but Dangal, a mainstream Hindi film about wrestling, made Rs 700 crore at the box office. Millions watched it.
Now, should this surprise us at all? That we love our movies? No.
But what about sports? Well, not as much as movies, as you can see, unless, it's used as a theme in a movie.
Sports does not quite measure up when it comes to mass appeal and entertainment. Movie appeal is universal while the following for sports is niche.
But what about cricket? Isn't it extremely popular? Isn't cricket, after all, our religion?
Well, a few years back, I was sitting with some of my friends who cover cricket on TV, and there was a foreigner among us asking the typical questions about India.
"Cricket is very popular in India, isn't it?" He asked.
We all nodded, but one among us said, "No, cricket is not popular".
The others pounced on the guy. I kept quiet, because I knew this person well. I knew he would have an ace up his sleeve.
He went on to explain; if cricket was popular, why do only five people watch Mumbai play Haryana in the Ranji trophy? It's after all cricket, a sport that we Indians worship, so why don't we go watch a Ranji game?
Basketball in the US or football in the UK has substantial following at all levels.
Our love and following for cricket actually comes with certain conditions: it must be international and must feature India. And, if it's domestic cricket, then it must be T20 and it must have international stars in it.
If it does not fulfil these conditions, cricket gets the same underwhelming response that the wrestling match got.
After my first visit to South Africa in 1993, I realised how South Africa was a true sports-loving nation, almost every soul there was into sports and follow sports the way it should be.
Barring a few in India who follow cricket in the true sense of the word, which means they would know a bit of the game's history, know all the players in the team, know where a 'silly point' is, besides knowing the names of players from foreign teams, others are mostly casual followers of the game, basically on a joyride with others.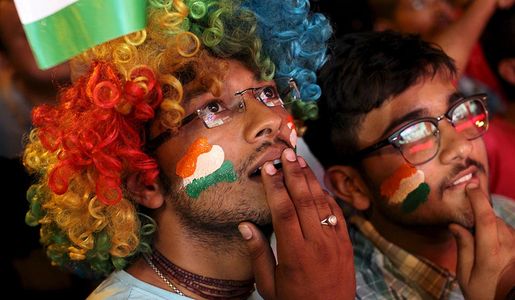 It used to amaze me as a player that how a section of the crowd close to the dressing room had their eyes glued on us all the time, while the match went on behind them. They were there to watch cricketers, not cricket.
Also, it is common in countries like Australia and England for non-sportsmen to be athletic, like bankers cycling their way to work, software engineers playing squash every evening. Why, we have an English producer among us, a geek really, who runs two hours on the treadmill.
Now, such people convert into sports fans easily. And these are the kind of fans sports really wants, genuine fans who appreciate and respect the physicality of sports and the skills that go with it and not just be consumed by its celebrities.
Such hardcore sports fans are still a fraction of our population. The trend of getting fit and athletic even if you are not a sportsman has started only now, and so has our journey towards becoming a true sporting nation.
Manjrekar, former cricketer, is a commentator.
editor@theweek.in