Ajinkya Rahane is not the same batsman he was a couple of years back.
When the Indian team went globetrotting in 2013/14, Rahane was the only Indian batsman who scored consistently. He got runs everywhere. In South Africa, New Zealand, England, and, finally, in Australia, before it was time to come back home.
Shikhar Dhawan failed in South Africa, England and Australia; he got runs only in New Zealand. Murali Vijay, like Rahane was successful on that overseas leg, but, had a quiet New Zealand tour. Cheteshwar Pujara started off promisingly in South Africa, but lost steam after that. Virat Kohli, a batsman in a different league in this batting group, was outstanding in this period of overseas cricket. But, he had that glaring setback in England, didn't he? To conclude, Rahane was the only Indian batsman who consistently scored runs in varying alien conditions. A remarkable achievement!
But, this was a couple of years back. My humble reading as to why this change has happened is because Rahane is playing international cricket at a time when there are three formats. All three formats with their own unique attraction for a player. Rahane wants to fit and thrive in all these formats, just like Kohli, but he is too much of a purist at heart for that to happen easily.
Matters are less complicated for someone like Pujara, who does not quite have the skills to fit into any format other than Test cricket. So, it is easier for him to look at Test cricket as his only salvation and focus all his energy there.
But Rahane, along with Tests, also has the game for both 50-overs cricket and T20s. He can hit good length balls for fours and sixes, and this is an absolute must for a batsman playing white ball cricket. That is why you can understand his desire to make a mark in all three formats because he has the potential to do that. But what comes in the way is the orthodoxy of his mind.
A certain amount of street smartness and a dash of carefree attitude is essential to excel in non-Test formats. Dhawan is a good example here. Because of his lighthearted nature and easy attitude, he is doing a better job than Rahane— seamlessly fitting into all three formats.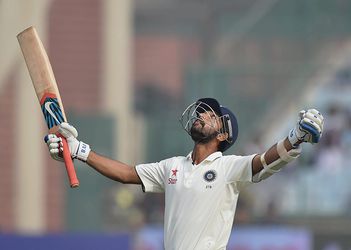 When it comes to Test cricket, we have already seen—especially in the foreign leg— that there is no comparison between Rahane and Dhawan. But, in trying to be versatile with a more studious mind than Dhawan's, Rahane's Test batsmanship is the casualty. And, it is starting to show some cracks.
Watching him bat in all three formats, I sense that he may not have a versatile mindset to pull off success in all three formats. V.V.S. Laxman was a bit like that. He had the batting skills, but his mind could not completely gel with the shorter format.
Even when Rahane is batting well in white ball cricket, it looks like he often carries a guilt that he is not scoring quickly enough. The moment he plays out a few dot balls, that feeling of guilt takes over and he ends up playing a rash shot to get out after being well set.
So, what's basically happened is this sophisticated vehicle has gone off road, on to the rough terrain and is now back on the smooth roads, but with some damage.
For Indian cricket's sake, let's hope the repair work is done soon for its more for the smooth roads that we need Rahane.
Manjrekar, former cricketer, is a commentator.
editor@theweek.in