When it comes to chutzpah, one has to hand it to Finance Minister Arun Jaitley. Having completely messed up GST, both in conception and execution, Jaitley now preens and pats himself on the back for correcting egregious errors that were obvious when he chose to roll out this half-baked scheme.
For one, he already had before him the GST Constitution Amendment Bill tabled by former finance minister Pranab Mukherjee. But because that was a bill opposed tooth and nail by the ever-inconsistent Narendra Modi when he was Gujarat chief minister, Jaitley could hardly be expected to suggest that the Modi government adopt lock, stock and barrel the Mukherjee GST. Therefore, just to make the Modi/Jaitley GST look different to the Mukherjee GST, a poorly drafted alternative was prepared. By using (misusing) the government's brute majority in the lower house, it was rushed through the Lok Sabha despite Congress MP M. Veerappa Moily's well-argued reservations.
However, in the Rajya Sabha, we were able to stall the matter by insisting that the bill be referred to a select committee. I was among the three Congress MPs appointed to the select committee. We told Jaitley what was wrong with his proposals and how they could be corrected. We argued the obvious, namely, that if the BJP GST were to exclude virtually all high revenue items such as petroleum products, alcohol, tobacco, electricity and real estate, GST rates would have to be very high to ensure that Central government revenues did not fall dangerously. We suggested that Jaitley either widen the ambit of coverage of his GST or accept a constitutional limit of 18 per cent.
Jaitley haughtily refused to accept either alternative. Apart from keeping all high revenue items out of GST (to, effectively, bribe state governments to come on board), he also rejected any constitutional limit on GST rates. That is how 28 per cent became the norm for a back-breaking number of products. The public rumpus that we—but not the government—had foreseen swept the markets and Jaitley has now had to beat a humiliating retreat at the last GST Council meeting in Guwahati. It amounts to a confession of mea culpa—I am guilty—but, of course, the arrogant Jaitley won't admit he made a huge mistake and instead portrays his running from the field of battle as a great strategic victory for the BJP!
The moot question is: what becomes of government revenues? The entire exercise was always predicated on "revenue neutral" outcomes. That is, government revenues must not fall because of GST but, at least, remain the same. Now, without any inclusion of excluded revenue-generating products in the scheme, but a sharp reduction from 28 per cent to 18 per cent on all but 50 items, government revenues from GST will inevitably fall, thereby seriously endangering the fiscal deficit. The Central government will thus be left with little headroom to fund popular social inclusion programmes like the Mahatma Gandhi National Rural Employment Guarantee Act.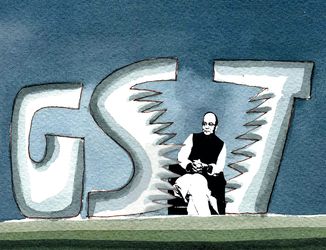 This explains another Modi/Jaitley retreat. For it was but a while ago that 'M&J' were boasting that they were overthrowing another colonial legacy by shifting the fiscal year from April-March to January-December. We have heard nothing about that in recent times because the government is in a blue funk. Presenting a budget in January 2018, would not only mean doing it in the midst of a self-induced recession but also confessing its gross failure on reining in the budget deficit.
The choice before Jaitley is either to bankrupt the country or face the music when markets come crashing down even as he is presenting his budget. This is called hubris in Greek tragedy. The gods are punishing those who have betrayed them.
Aiyar is a former Union minister and social commentator.